Syrian People with Disabilities Left with Nothing but Hope to Survive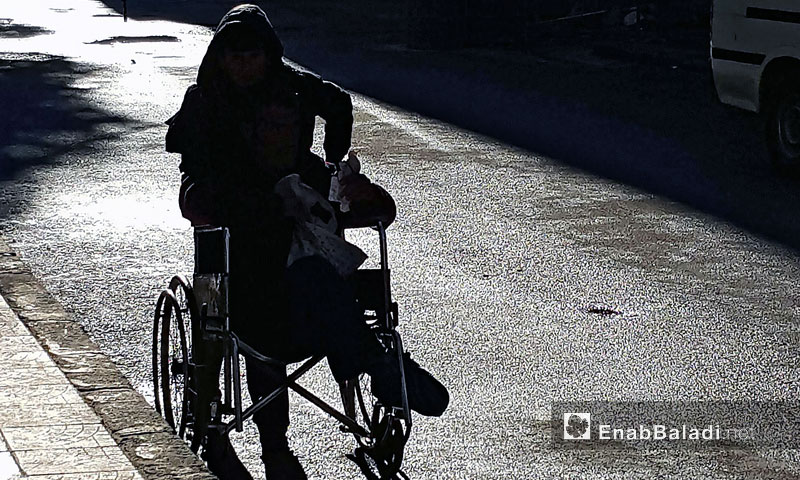 "Strong, dirt started to fall above me until I was buried alive beneath it. Every time the neighbors tried to save me, another mortar would strike to push them away from me and bring death closer. I began to close my eyes slowly and surrendered myself to destiny," this how Um Ammer described the cruelest moments of her life to Enab Baladi, when her house in southern rural Idlib was targeted.
Um Ammer, a divorced woman and a mother of four, survived death when the Civil Defense managed to transfer her to the hospital. Once her exhausted body started to wake of the effect of anesthesia, she knew that she lost her leg and was unable to support and raise her children again.
Um Ammer, 38 years old, stayed at the hospital for three days, wondering about her children's fate. She, then, knew that they, accompanying some of her relatives, were taken to a neighboring town in southern rural Idlib, where she also went later on, as she told Enab Baladi.
Forced to deal with her new condition, Um Ammer decided to challenge the bitterness of displacement and the responsibility she has towards her children with one leg. She was also coerced to forget about getting a prosthetic leg, as she has no money but that she receives in return for selling the products of her sheep and hens in summer and what charitable people usually offer her, as she put it.
With this injury, Um Ammer joined a long list of war wounded people, for the number of the persons who suffered the amputation of a limb, after 2011, in Syria has reached 86 thousand, according to a report issued by the World Health Organization (WHO) and the "Handicap International" organization in December 2017.
Safaa al-Sbaih, director of the Will Steps Center for Prosthetics, told Enab Baladi about the pain with which amputees have to live in the areas held by the opposition, attributing this state to "the field surgeries conducted instantly at injury due to the absence of specialized doctors and  disinfectants during the amputation operations, for the majority of the amputations require another to fix the amputation, especially on the cases of post-injury emergencies."
"Today, there are several prostheses centers inside Syria. But the amputees are yet forced to travel between cities to reach these centers." This inflates the suffering of the injured people "who need someone to transport them to the center, which results in financial burdens while they are mostly unemployed and do not have the costs of transportation between their homes and the centers," al-Sbaih added.
Omar al-Mushakal, from the town Kafrsajna, rural Idlib, has also lost three of his body parts, which enhances his suffering that only get worse with his lack of financial resources.
He recounted the moment of his injury to Enab Baladi, saying: "I heard someone calling out on the walky-talky, announcing the start of the Murak liberation battle. I could not control myself, I answered the call and joined in to defend my town with a group of my sons," this was the last thing he remembers before losing consciousness.
"Upon waking up, I found myself at a Turkish hospital, and I have lost three of my body parts," he added.
Since then, his life dramatically changed, ending up under the "persons with disabilities" category.
Omar, a father of six, started the difficult journey of treatment in Turkey, the expenses of which were covered by friends and "philanthropists" but to no avail, amidst the doctors' inability at offering a therapy to his case in Turkey. He, thus, packed his things and returned to his town in Idlib after about 15 days.
The prostheses fitted in Turkey failed to help Omar because they were "simple and traditional."
"They are like sticks; they are totally useless," he described them, for he needs two people to help him stand and sit.
It was not easy to provide the smart protheses he needed because they cost about 60 thousand euros, as he told Enab Baladi. Similarly, all his attempts at contacting humanitarian organizations inside Syria and abroad as to provide them have failed.
Omar pointed out that he addressed the organizations in Gaziantep, Reyhanlı and Adana in Turkey but to no avail. "I ma not talking about myself individually; I am speaking on behalf of every injured person. All that we need is an electric wheelchair that help us reach the toilet only," he added.
Safaa al-Sbaih, director of the "Will Steps" Center for Prosthetics, believes that amputees need more than this, calling for "their rehabilitation through providing job opportunities and training them on jobs to be their source of living."
Despite the efforts mad by the prosthetic centers in opposition-held areas, the suffering of a massive number of people continues, for Omar al-Mushakal, who is today using an electric wheelchair sent by a friend from the Gulf area, is not receiving aid from any entity, except for the salary he used to get from the faction he fought for, which in itself covers only a quarter of his family's needs, as he said.
As for Um Ammer, who so far has not received any sort of help to support her body, she still wakes up in the midnight to feed her four months old little boy or to do something else, forgetting her lost leg she falls to the ground with many dreams and a lot of pain.
if you think the article contain wrong information or you have additional details Send Correction