Psychological Support Activities for Children with Disabilities in the Turkish Town of Reyhanlı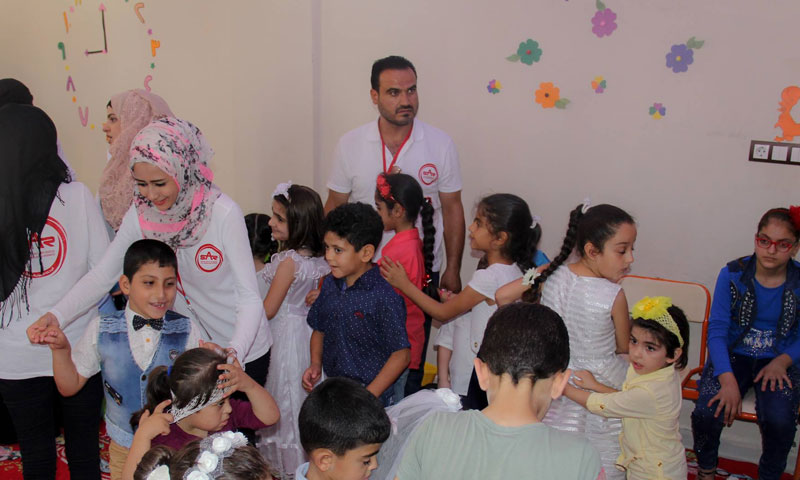 The "Syrian Agency for Rescue" (SAR) has organized a psychological support event at "SAWAKON" Skills Development Center at the town of Reyhanlı, Syrian-Turkish borders.
According to Sarah Abduljalil, the events coordinator at "SAR," the psychological support event took place on the fourth day of Eid al-Adha, Friday (August 24), at "SWAKON" center, specialized in developing children with disabilities' skills in the town of Reyhanlı. The event included games and entertaining competitions within psychological support enhancement programs targeting the beneficiary children.
About 40 children with disabilities benefited from the event's activities, according to the Agency's events' coordinator.
In cooperation with "MEDPRO" center, the event ended with offering gifts to all the children benefiting from "SAWAKON" center's services.
"SAWAKON" center provides educational services to Syrian children with disabilities, including those with "Down" syndrome, autism, hearing and speaking impairments, as it seeks to develop their cognitive awareness, enhance their linguistic abilities and strengthen their muscles through intellectual and motor activities.
The center was launched in 2016, with the efforts of Syrian young people based in the Turkish town of Reyhanlı, which many Syrians resorted to as a refuge since 2011; it offers its educational and psychological services to about 45 children with disabilities.
Scientific studies warn against the dangers of psychological disorders on Syrian children as a result of the war's repercussions despite the exaggerated numbers, which specialists consider as "far from reality."
Last April, the University of "Marmara" has conducted a study, reaching the following conclusion: "Six out of every ten Syrian children in Turkey suffer psychological disorders," because of the shock they went through in Syria. The disorders are mostly post-traumatic stress and depression. As for adults, the majority are coping with psychological disorders and crises.
In a report titled "2017 the deadliest year for children," issued on March 2019, "UNICEF" says that a whole generation of Syrian children suffers from psychological disorders, stressing that there is almost no hope for them to get better.
The Syrian Agency for Rescue (SAR)
It is a non-government, non-profit Syrian agency established in January 2013, based in Turkey, addressing children, adolescents and women affected by the killings and violence practiced against them by the different parties to the conflict.
It works to draw the attention of the world to the tragedy of the Syrian people and helping them overcome the "crisis," through several activities organized inside and outside Syria.
The agency has a number of activities at various levels, including the "SAR" Music Academy, which is composed of refugee Syrian children in the Turkish city of Antakya, which aims to convey the voice of Syrian children to the world.
if you think the article contain wrong information or you have additional details Send Correction