As hardships pile, elderly women beg in Idlib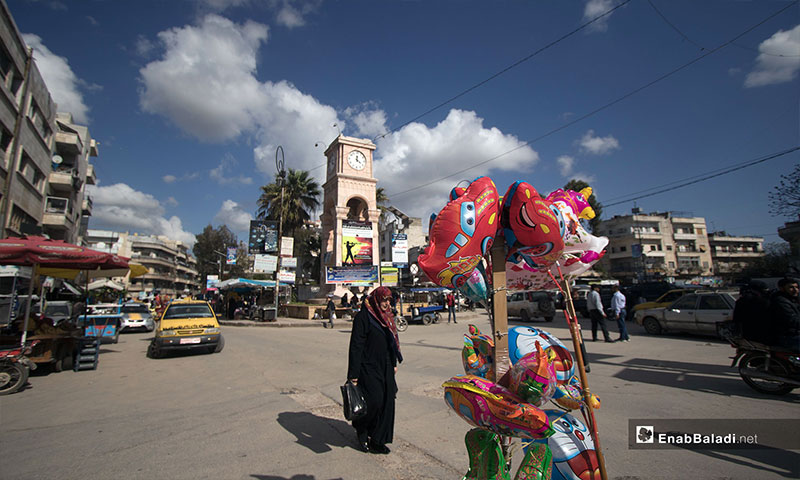 Enab Baladi – Huda al-Kulaib
Absiyah al-Jaber struggles with life without anyone from her family but her elderly husband, who cannot move, in a miserable camp on the outskirts of the northwestern city of Idlib, amid poverty, destitution, and lack of care and services.
While sitting on one of Idlib's roads in the early morning, begging passersby for coins or food, the woman in her sixties told Enab Baladi that she chose to beg forcibly to secure her daily food after she and her husband had lost all hope and aid.
Al-Jaber and her husband were forced out of their village to escape death by the Syrian regime's planes and shells, only to face a different kind of death, which is poverty, need, and destitution.
"We have no children left to help us," al-Jaber continued, as she and her husband had become forgotten and alone in a tent that did not protect them from the heat of summer or the cold of winter.
She complained about the lack of any assistance for the elderly in the informal camps, as she suffers from heart disease, blood pressure problems, and diabetes, and her husband suffers from joint, bone, and spine pain that prevents him even from moving, while she has no ability to buy medicines or make a medical diagnosis.
The Syrian war has left many social ills, including poverty and beggary, affecting all age groups, males and females, who are looking for food to support their poor families.
The scene of elderly beggars remains the most painful, as displacement has deprived many families of their homes, livelihoods, and basic sources of income, and they have been forced to live in camps amid tragic conditions or unequipped homes or semi-destroyed homes that are in danger of falling at any moment.
Living hardships are the reason
Women beggars in Idlib often find a fixed place in one of the streets, parks, or markets, to seek help from passersby, given their inability to roam and travel distances in search of donors and sympathizers, which was confirmed by the elderly Fattoum al-Ahmad, who is in her seventies, exhausted by disease and poverty.
Al-Ahmad, an IDP from the village of Heish who is based in the Ma'aret Misrin camps, was one of those who were forced by the need to practice beggary to collect some money in order to cover their expenses.
She often sits all day without getting help from anyone, while on other days, she finds modest help, according to what she told Enab Baladi.
Regarding her situation before the displacement, Fattoum said, "When we were in our village, we had a plot of land to farm and live from, and good people who knew our situation would give us charity." Now, "we may die inside the tent without anyone checking on our conditions."
Begging phenomenon requires solidarity
Begging in Idlib portends many consequences, the most important of which is "dependence and self-contempt" that threatens society, and it is a dangerous social phenomenon whose causes are due to the population density resulting from repeated displacement, and the accompanying poverty, unemployment, and difficult economic and living conditions, in the absence of assistance from the responsible authorities in the area, according to social worker Asmaa al-Halabi.
Reducing this phenomenon is through the solidarity of civil society organizations and their efforts to secure adequate job opportunities and guarantees for women, especially elderly women, who are unable to work and exert effort, and the need to secure monthly financial guarantees for them and improve their living conditions, and establish several homes for the care of elderly women in Idlib and its countryside, al-Halabi told Enab Baladi.
Fighting beggary is an international responsibility, and international organizations must intervene to prepare integrated programs to get rid of beggary, according to the social specialist.
Local organizations "are now concerned with working in accordance with policies and an agenda that serve their interests regardless of the problems and obstacles facing the population in Idlib, especially the elderly category," al-Halabi added.
More than 6.9 million people are displaced inside Syria, in addition to 14.6 million people who need humanitarian and other forms of assistance, according to a report by the United Nations High Commissioner for Refugees (UNHCR) last March.
The UNHCR added that 5.9 million people need assistance to secure safe housing, and many continue to face challenges in accessing basic services such as education and health care.
if you think the article contain wrong information or you have additional details Send Correction