Edible mushrooms in Idlib can partially substitute lack of food and vitamins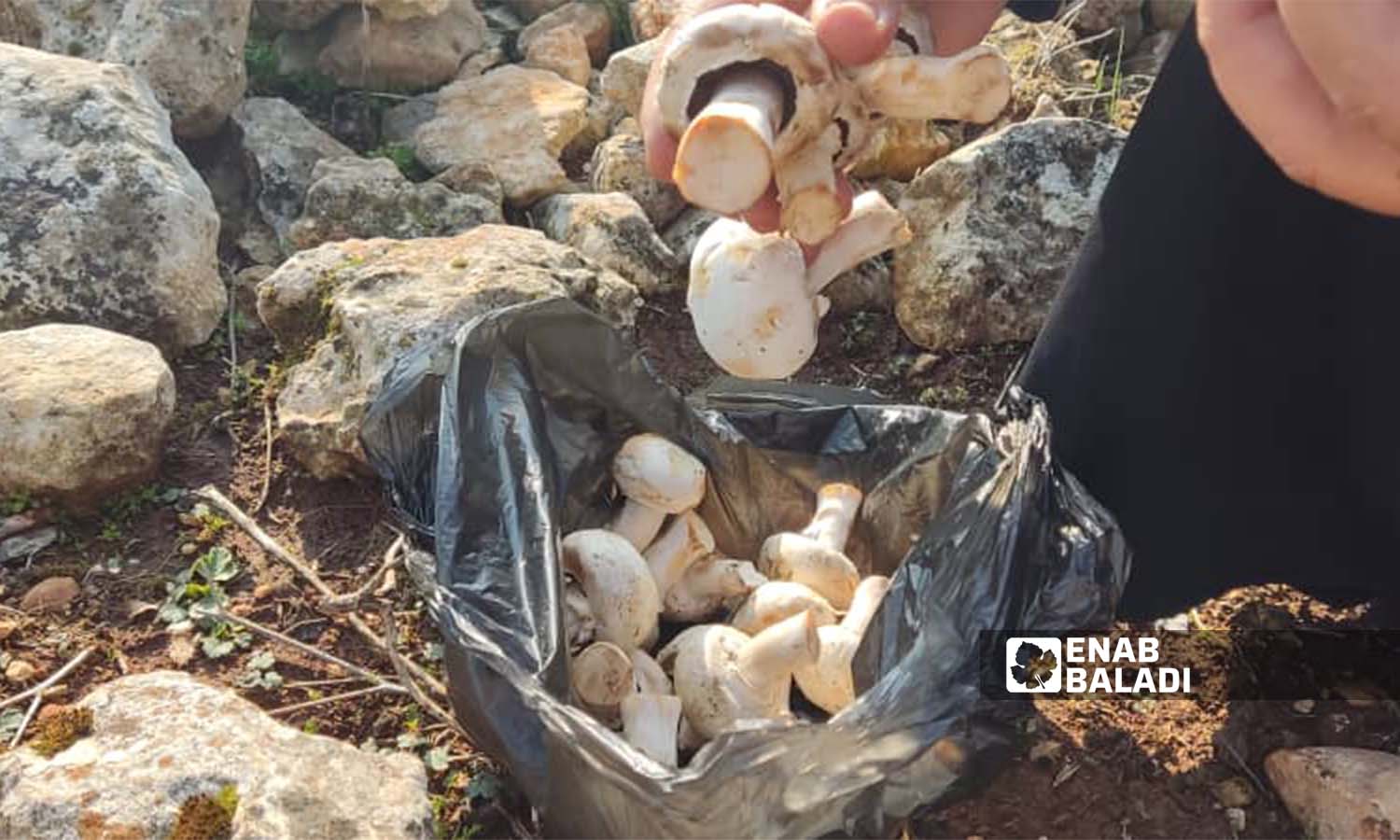 Idlib – Hadia Mansour
Early in the morning, Hiyam al-Sukkari, 30, and her 12-year-old son Diaa spread around their camp in the northern Idlib region, searching for edible mushrooms.
Since the beginning of the harvest season of the delicious fungi last February, al-Sukkari and her son have depended on it as an opportunity for work to secure basic needs and cook a free and vitamin-rich meal for her children who live in the IDP camps in Idlib governorate.
Not only al-Sukkari and her son look for edible mushrooms covered by thorny bushes or hidden between the mountain rocks near their camp in the Harbanoush area, but most of the IDPs of the camp collect mushrooms.
A large number of IDPs, especially children and women, depend on collecting and selling edible mushrooms, which brings them a financial return to secure some of their basic needs at a time when the displaced suffer poverty, aid shortage, and lack of job opportunities.
The elderly Khadija al-Shawarghi, who lives in the Barisha camps, northwest of Idlib, told Enab Baladi, "If it were not for the daily breakfast meal, my old husband and I would have starved to death," as the elderly do not have a source of income after they found themselves alone in a shabby tent without a breadwinner carries the burdens of their old age and chronic illness.
With a tired voice and features trying to hide a deep pain, al-Shawarghi said, "I have two sons, one of whom is detained in the prisons of Bashar al-Assad's regime."
"The other was killed by the regime's treacherous missiles, and I stayed with my husband in pain and alone, experiencing all kinds of oppression, poverty, and loss."
The elderly woman goes out on a wooden crutch almost daily with her husband to search for wild mushrooms, which become their main meal amid the high prices of all kinds of meat and vegetables and their inability to buy any of the types of foods, as she described.
Preparing the mushroom dish requires only a little olive oil, salt, and some cooking, and this is important for her so that the meal will be ready within a few minutes.
The old woman considers the mushroom meal to be a good nutritious, and delicious food as well as it is one of their favorite foods.
Children and women usually go out in groups to harvest edible mushrooms for fear of being attacked by stray dogs in remote mountainous areas and far from residential areas.
 "If the numbers are large, dealing with such animals will be easier," Mohab al-Bakr, 14, told Enab Baladi, who was attacked by stray dogs more than once.
Al-Bakr sells a kilo of edible mushrooms to vegetable stores for 20 Turkish liras (1.37 US dollars). His daily harvest is about two to three kilograms, which allows him to help his parents and his four eldest brothers after the family was displaced from Basqala village in the southern countryside of Idlib.
Mushrooms are among the popular foods preferred by many, and they have many types and shapes, which grow after the rains, and their varieties vary in the Idlib region between white, agricultural, and deer (Pluteus).
Most of the mushrooms that grow in the Idlib region are good species, with a small quantity of poisonous mushrooms that differ in shape from the rest of the edible mushrooms.
The Syrian displaced who collect mushrooms can easily distinguish the poisonous mushrooms because of their different shape. As a result, there have rarely been any cases of poisoning.
More types of mushrooms grow in Syria, including oyster mushrooms, locally known as al-Mahari; Pleurotus eryngii, locally known as al-Kalakh and rarely demanded by customers; and big sheath mushroom, locally known as Bouz al-'jil, either white or brown in color, and considered the finest and most appetizing of all these types.
Other mushrooms are poisonous, including those with yellowish caps and dark brown stems, or white ones that have no stems, or mycelium.
Mushrooms are low on calories, carbohydrates, and sodium and are completely free of fat, cholesterol, and gluten. Mushrooms are also high in vitamins, such as B and D, antioxidants, copper, potassium, and magnesium.
if you think the article contain wrong information or you have additional details Send Correction