In Quneitra, people turn to fungi to fend off hunger and poverty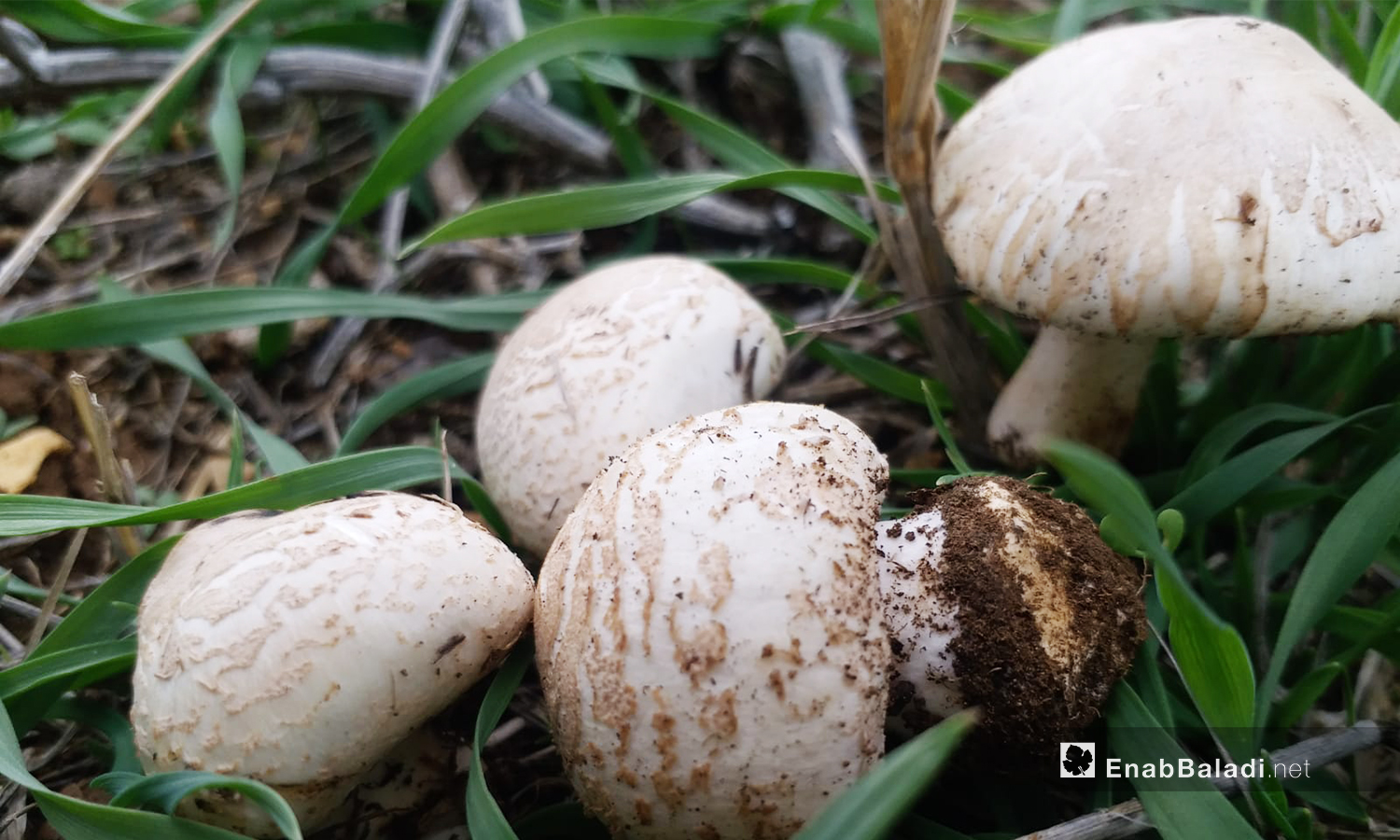 In Quneitra, a province in southern Syria, winter does not only bring rain, but also an abundance of mushrooms that locals collect from sparsely inhabited areas and uncultivated swathes of land. Some gather mushrooms for eating; others do it for sell. 
Hussain from Ufaniya, a village in northern rural Quneitra, was a boy when he first started collecting mushrooms. He would wait for heavy rain and a thunderstorm with a variety of lightning strikes to begin his journey in search of the now valuable crop.
"The climate in Quneitra provides just the ideal conditions for wild mushrooms to multiply," the thirty-something young man told Enab Baladi.
Various types of mushrooms grow in Quneitra; a few of these are even sold for 4000 Syrian pounds (SYP=1,5 USD) per kilo. However, these types are difficult to collect since identifying edible mushrooms from poisonous ones requires a vast knowledge.
Other obstacles hamper the process of collection. The types people tend to search for grow in small amounts and nonadjacent areas; the locals thus comb large plots of land to collect one kilo at times.
The novelty lies in how widespread this surviving mechanism has become, not in its existence in the first place. Today, collecting mushrooms is the stopgap source of income for several of the province's locals, who are unemployed or make profits that hardly cover their financial needs.
Since mushrooms need specific weather conditions to grow, the income remains "unstable," said Hussain.
The 13-year-old Alaa also waits for the mushroom season with much eagerness. He uses the profits, he calls "fair," to help his family that was displaced from rural western Damascus.
It often takes mushrooms two days after the rain falls to become collectable, marking the beginning of Alaa's journey into the spots where the fungi grow. Men, women, and children tend to gather only types known to them, afraid of the rather poisonous ones.
People spend up to five hours looking for edible mushrooms every day. They can be seen walking or squatting, spotting mushrooms that are covered by thorny bushes, tree leaves, or lay between the rocks, and then dividing them into type-based amounts. Even when the yield is the highest, the locals barely score three kilos each, particularly since many people would be seeking the same areas and for the same purpose.
"Poor man's meat" 
Cuisine made with mushrooms, olive oil, and onions are a local sensation. "I think mushrooms are far more important than meat," Abu Taha told Enab Baladi. He even called mushrooms the "poor man's meat," as it grows without cultivation.
Mushrooms are made into soup and added to several dishes, including meat or chicken.
Various types of mushrooms are found in the area, including oyster mushrooms, locally known as al-Mahari; pleurotus eryngii, locally known as al-Kalakh and rarely demanded by customers; and big sheath mushroom, locally known as Bouz al-'jil —either white or brown in color, and considered the finest and most appetizing of all these types.
Other mushroom species are poisonous, including those with yellowish caps and dark brown stems, or white ones that have no stems, or mycelium.
Affecting the nervous system, such poisonous mushrooms might turn deadly when symptoms including dizziness; stomachache; diarrhea; chest pains; vomiting; and kidney failure are not addressed immediately.
When resorting to medical help, patients are required to bring a sample of mushrooms that they suspect as poisonous. Doctors then subject these to tests to prescribe proper medications.
Mushrooms are low on calories, carbohydrates, and sodium and are completely free of fat, cholesterol, and gluten. Mushrooms are also high in vitamins, such as B and D, antioxidants, copper, potassium, and magnesium.
A diet containing mushrooms protects people from cancer; boosts their immune system; and helps them keep their weight under control.
if you think the article contain wrong information or you have additional details Send Correction