Northern Syria's seasonal economy affected by suspension of Eid visits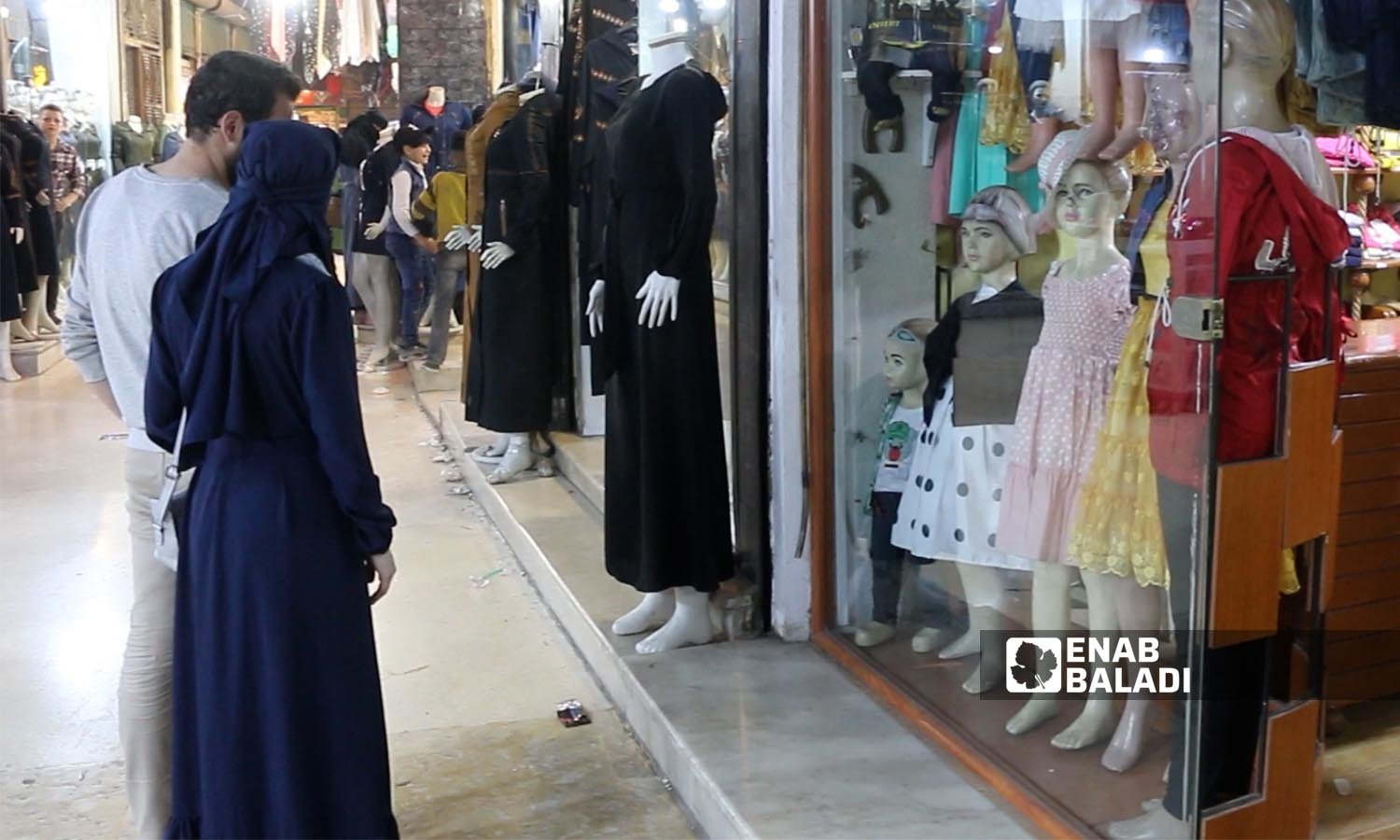 Enab Baladi – Amal Rantisi
"The daily wage for a worker here does not exceed 100 Turkish liras, which is barely enough for his daily living without the additional Eid expenses. Day laborers' wages cannot create the buying and purchasing movement that sellers are used to on holiday visits during the Eid".
This is how the vegetable vendor in the city of al-Bab in the eastern countryside of Aleppo, Sharif al-Shami, described the situation during the Eid al-Fitr season in light of the lack of commercial activity caused by the absence of Syrians coming from Turkey from the markets of northern Syria during the Eid period.
Al-Shami told Enab Baladi that last Eid was "more active" than this year's Eid, which saw a heavy market standstill due to preventing Syrians from Turkey from entering on the Eid visit, which Turkey previously allowed.
During the Eid period, Syrians head to markets to buy clothes, sweets, meat, and vegetables. The clothing sector in the city of al-Bab has been hit the hardest, with some deeming clothes a luxury, as al-Shami told Enab Baladi.
Syrians' failure to visit came after Turkish authorities issued a decision on 20 April banning the Eid holidays to Syria, after 2,123 people arrived in four days through the Bab al-Salama border crossing between Syria and Turkey, while the rest of the border crossings stopped receiving visit requests.
People are "broke," market is "stagnant"
Syrians' visits to markets in the northwest used to stimulate market activity, as well as traffic and commutes. Visitors usually try to take advantage of the limited number of vacation days to visit places they frequent with relatives in the area.
During this year's Eid al-Fitr holiday on 1 May, Enab Baladi met a number of vendors in the countryside of Aleppo and Idlib. Most of them talked about the effect of diminishing demand on commercial activity and on their stores.
Hammoud al-Mohammad, who hails from eastern Ghouta and works as a meat vendor in the city of al-Bab, said that markets began to experience "stagnation" since the last ten days of Ramadan, a stagnation that was not limited to meat shops. He added that everyone complains about the situation and calls the markets "stagnant."
In the view of the vendors, the population is already "broke," and visits allow their more fortunate relatives to purchase what they need for them, according to what vendors in the clothing sector had told Enab Baladi.
Mohammad Obeid, a clothing and fabric merchant in Idlib, said that merchants had become aware of the "season" that the Eid period constitutes, during which ample quantities of goods must be presented for disposal.
"We were doing fine these past holidays. However, this Eid's holiday surprised us and increased our losses with the decision to close the crossings since mid-Ramadan. This decision came after I bought the goods and paid the customs, and prepared them, but it is now stacked up in front of me. Before, a single visitor used to buy for at least ten people, even without haggling (bargaining)", he added.
Besides clothing imported from Turkey and those manufactured locally in opposition-controlled areas, there are imported European used clothes and ready-made Chinese clothing, which enter the opposition-held areas through Turkey as a transit country. 
Obeid complained that the merchandise displayed on the front facade had not been sold and that visitors to the shop were content with "watching" (looking at the clothes). He also expressed his dissatisfaction with the Turkish government's decision to cancel the visits, saying, "If we merchants had known, we would not have bought all these goods."
According to Obeid, what made matters worse for merchants was the owners of the stands, who offered their goods at a cheaper price than the shops, thanks to the lack of rent costs.
"We live in a rent nightmare in the city. For example, the rent of my store of up to two by three meters is 600 US dollars," added Obeid, who wondered how to pay the rent monthly, given that customers tend to buy from stands or second-hand clothing shops because of their lower prices.
"We leave loaded, and we come back empty-handed"
Abu Yahya is a married resident of Aleppo with eight children who currently live in Hatay, Turkey. He was planning to visit his and his wife's relatives in Idlib and the countryside of Aleppo this Eid before the decision to close the crossings. Enab Baladi met him to inquire about the nature of his family's spending in the event of a visit.
Abu Yahya was preparing to visit his relatives after two years of estrangement. However, his hopes were dashed, and he expressed his annoyance at the crossing's closure, saying, "despite the difficulties and problems we faced when booking appointments on links launched by the crossings as a result of overwhelming traffic to the links, this has not prevented us from visiting to see our people in the north. We were bringing gifts and sums of money of at least 20 or 25 thousand Turkish liras".
Abu Yahya works in Hatay, distributing Syrian bread to homes in a "grocery store." He would occasionally send financial assistance to his relatives in the countryside of Idlib and Aleppo.
The man in his forties said that they "used to leave loaded and come back empty-handed," noting that Syrians usually work overtime or in other jobs prior to visits in an attempt to afford gifts and cover expenses back home. He estimated the total expenses of visiting his family of ten persons at approximately 3,000 US dollars in daily expenses, feasts, gifts, and transportation costs.
Eid visits are a form of temporary inflation
Speaking to Enab Baladi, political economist Professor Yahya al-Sayed Omar said that Syrians' visits to the north contributed to revitalizing the commercial activities in the north of Syria, but only to a limited extent. And because these visits are temporary, they cause a temporary, seasonal demand. Seasonal demand may cause some damage to the poorest segment as a result of high demand and steady supply, causing a form of temporary inflation.
With regard to the commercial movement's dependence on visitors in northern Syria, the researcher added that this is minimal since visits are not intense under obstacles on both sides of the border. In addition, spending resulting from off-holiday visits is average and does not constitute significant economic support.
In view of the decline in the value of the Turkish lira dealt with by the north of Syria to around 14 liras per dollar, after 1 dollar was worth about 8 liras in 2021, and in light of the soaring living costs, most Syrians in the countries of asylum tend to help their relatives and acquaintances by sending financial assistance.
With regard to the impact of such foreign assistance, al-Sayed Omar said that its role was important and significant, noting that it was carried out through several channels, the most important of which was the remittance system, as direct visits have a low impact compared to remittances. Therefore, the role of visits in stimulating spending is not greatly considered, with a focus on external remittances, according to the researcher.
In turn, the Minister of Economy of the Syrian Interim Government (SIG), Abdulhakim al-Masri, explained to Enab Baladi that Syrians' visits definitely stimulate the markets, but not to a large extent as most people would expect; for example, only 40 or 50 thousand people visited the north last year. As for the population originally present in these areas, the visitors constitute only 2 to 3 percent.
However, it has become common for visitors to save some money to spend in markets when buying clothes, food, and sweets, which have somewhat helped their relatives as well. He stressed that remittances are also important in the context of spending.
Most of Syria's northwestern population has difficulty securing basic needs. Eighty-five percent of families rely on daily wages for their income, and 94 percent of families are unable to afford basic necessities.
According to the reports of the humanitarian REACH Initiative, a daily laborer in Idlib needs 65 days to earn the monthly cost of securing basic needs.
Of the city's total population of four million, some 2.7 million are estimated to be in need of humanitarian assistance, according to the United Nations High Commissioner for Refugees (UNHCR)'s reports.
if you think the article contain wrong information or you have additional details Send Correction