Opening of border crossings revitalizes markets in northwestern Syria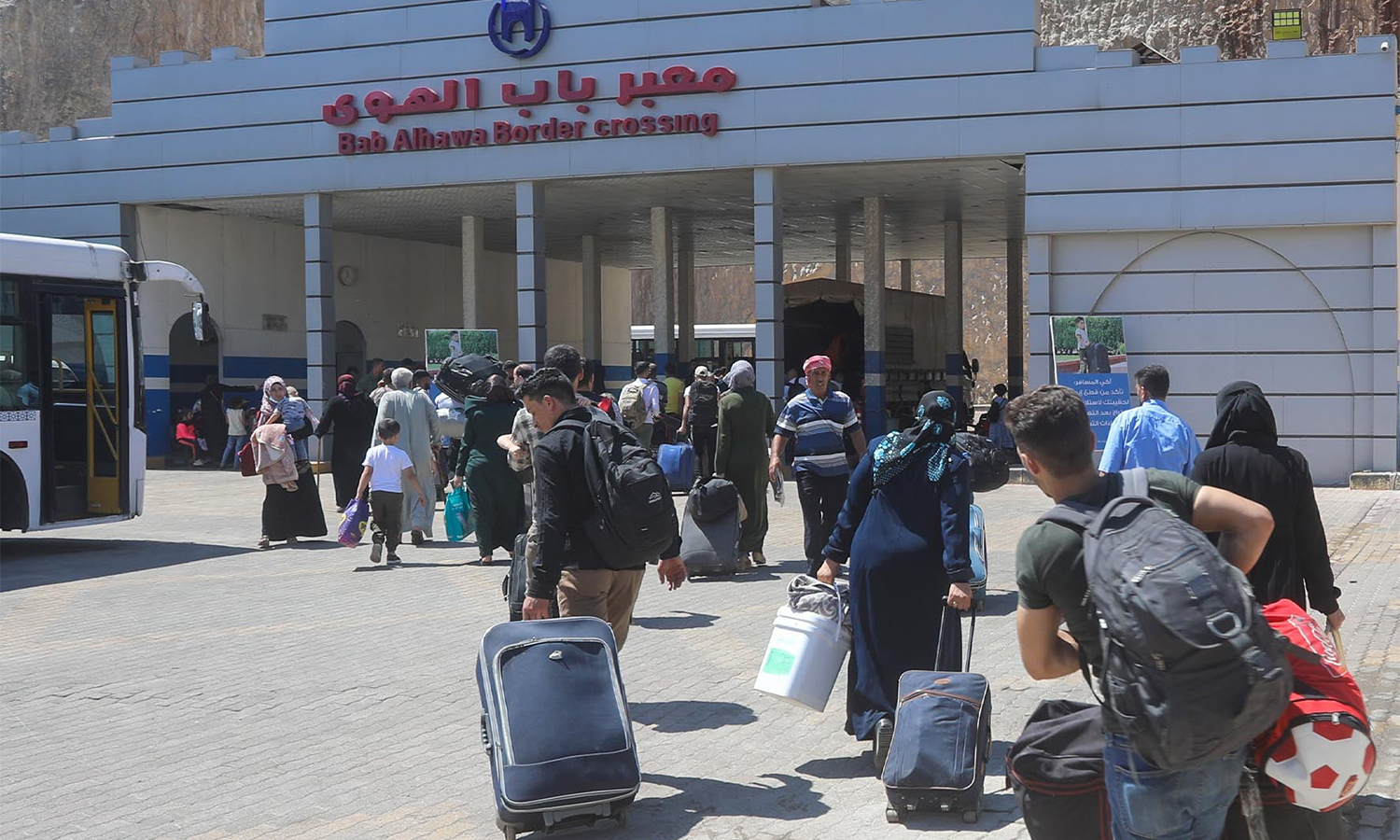 Enab Baladi – Amal Rantisi
"The first thing I want to buy when I arrive in Azaz city is traditional Syrian sweets, local meat, and other goods missing on Turkish markets, such as locally handmade accessories. I will also buy fast food sold at old and famous restaurants in the area."
This is how Odai al-Mustafa intends to spend the Eid al-Adha holiday after entering the Bab al-Salam border crossing from Turkey to visit his family in Azaz city, northern Aleppo.  
In commemoration of Eid al-Adha and to allow Syrians residing in Turkey to visit their relatives in northwestern Syria, Turkey opened three border crossings on the Turkish-Syrian borders in early July after visitings between the two countries were banned last year as part of preventive measures to stop the spread of the coronavirus (COVID-19) pandemic.
The official Facebook account of the Bab al-Hawa border crossing, which links between Turkey and Idlib countryside, published that up to 15 July, 31,000 persons entered Syria in ten days.
As for the Bab al-Salam crossing that bridges between Turkey and Aleppo countryside, it was said that 1,749 persons entered northwestern Syrian regions in 11 days.
Meanwhile, the Jarablus crossing's administration registered a daily visit rate of nearly 1,300 persons, according to the crossing's official Facebook account.  
The number of arrivals through the three crossings has positively impacted northwestern Syria markets, as monitored by Enab Baladi.
With a limited number of allowed visit days, arrivals to northwestern Syrian regions were trying to make the most of their time by visiting all the places they desired and meeting with their relatives. 
The impact of visitors' arrival on economic sectors
Enab Baladi's correspondents surveyed the northwestern Syrian region's markets and reported that Syrian visitors coming from Turkey through border crossings have been heading to clothing stores, restaurants, and butcher shops in preparations for the Eid al-Adha feast.
Twenty-two-year-old Mohammed al-Sayyed from Sheikh Idris village in Idlib countryside, who has not visited Syria for four years, told Enab Baladi that he went shopping to buy new clothes for his parents and buy the Eid's sacrifice animal. 
Cloth merchant and owner of a men's wear store in Korkanya town in northern Idlib Firas Sbei' told Enab Baladi that his business had seen increasing demand as visitors arrived in town.  
Sbei' added that the sales of his store increased at the period leading up to Eid al-Adha, noting that this Eid's sales are more than that of the past Eid al-Fitr.  
Enab Baladi surveyed several garment store owners In Azaz city, where many visitors entered the area coming from Turkey, and spoke to one of them named Ahmed Jamal, who said that clothing and food markets witness the biggest demand during Eid celebrations, particularly with the arrival of visitors from Turkey. 
Jamal added that the markets of northwestern Syria are revitalized and that selling and buying had increased before and during Eid al-Adha, thanks to Syrians who came as visitors from Turkey to celebrate with their relatives.
Opposition areas' clothing markets sell locally made clothes, Turkey-made garments, used European clothes, and ready-to-wear clothes from China, which enter northwestern regions through Turkey. 
An opportunity for future investments
The Minister of Economy of the Syrian Interim Government (SIG), Abdul Hakim al-Masri, told Enab Baladi that nearly 100,000 persons are expected to enter northwestern Syrian regions through border crossings, which, in turn, would increase economic activity and domestic consumption temporarily.
Al-Masri pointed out the importance of entrepreneurs' entry to the region as some of them might be encouraged to undertake investment projects even on a limited scale. 
Al-Hakim noted that food items, especially sweets and ready-to-wear clothes, will witness high demand as "most people rushed to enter the crossings before buying Eid garments for their children." The Minister added that prices of animals to be sacrificed are also expected to increase as their demand increases during this period. 
In early July, Turkey gave the green light to Syrians wishing to be reunited with their relatives in northwestern Syrian regions on the occasion of Eid al-Adha. Soon, the Bab al-Hawa, the Bab al-Salam, and Jarablus border crossings between Syria and Turkey released online links for entry registration. As a result, thousands of Syrians rushed to register their names, causing links to break down and eventually be closed.  
Many Syrians who decided to spend the Eid al-Adha holiday in Syria did not have time to prepare their things before leaving.
A positive but limited impact
Political economy researcher Yahya al-Sayyed Omar said that a region's economic activity is directly influenced by the movements of its individuals, especially in large groups, similar to domestic and foreign tourism. 
Most governments undertake investments to support in-bound and out-bound tourism because they recognize tourism's role in revitalizing economies and generating substantial revenues. In some countries, tourism is considered the main source of income, Omar said. 
The researcher added that the same approach applies to northwestern Syria, with Eid celebrations being periods of great spending, thus accelerating the economic cycle and reducing the duration of the inventory turnover (achieving economic growth and better sales). 
Nevertheless, the economic improvement currently taking place in northwestern Syrian markets must not be viewed with extra excitement for many reasons, Omar said.
The first reason is that the recent boom in commercial activity is linked to the opening of the crossings, which may be closed back any time soon or impose restrictions on traveling between Syria and Turkey.
External factors such as opening crossings to visitors would take time to impact the region's economy, at least a couple of months.
The second reason is that the flourishing economic activity may directly affect only a specific social group such as merchants, while for the public, it will take months for the economic impact to appear. 
The economic impact will also be visible but limited to farmers, laborers, and other groups in society whose products' selling would be increased as more currency would be pumped into the market by the visitors.
Omar said that, in general, the recent economic activity is positive, but for it to have a longer and more tangible effect, certain moves must be taken to facilitate movement between the crossings so that it would be permanent or semi-permanent movement.
Military escalation hinders economic stability in northwestern Syria
The ongoing military escalation in northwestern Syria represents a constant threat to transit traffic from Turkey and visitors' movement in the region. 
On 15 July, the regional director of the UNICEF office in the Middle East and North Africa, Ted Chaiban, commented on the situation in northwestern Syria by saying that "In the past two weeks alone, at least ten children have been verified killed in Syria." He added, "This is a terrifying sign that violence is coming back to Syria. Communities face a serious risk of losing the little respite they had during the lull in violence."
Areas under the control of the Turkey-backed Syrian National Army (SNA) in Aleppo countryside have been subjected to explosions and several attacks that increased considerably in early May. The latest attack on 15 July targeted Afrin city in Aleppo countryside with a missile strike leaving two people dead, including a child.  
The military escalation on Afrin coincided with an artillery shells attack on the environs of al-Fu'ah village in Idlib countryside by the Syrian regime forces, killing six people and injuring several others. 
Between early 2021 and 5 July, Syria Civil Defence (SCD) volunteers responded to more than 702 attacks against civilian houses and vital facilities in northwestern Syria, waged by the regime and Russian forces and their affiliated militias.
if you think the article contain wrong information or you have additional details Send Correction