Syrian refugees in Turkey allowed to head home for Eid: a right or a pretext for deportation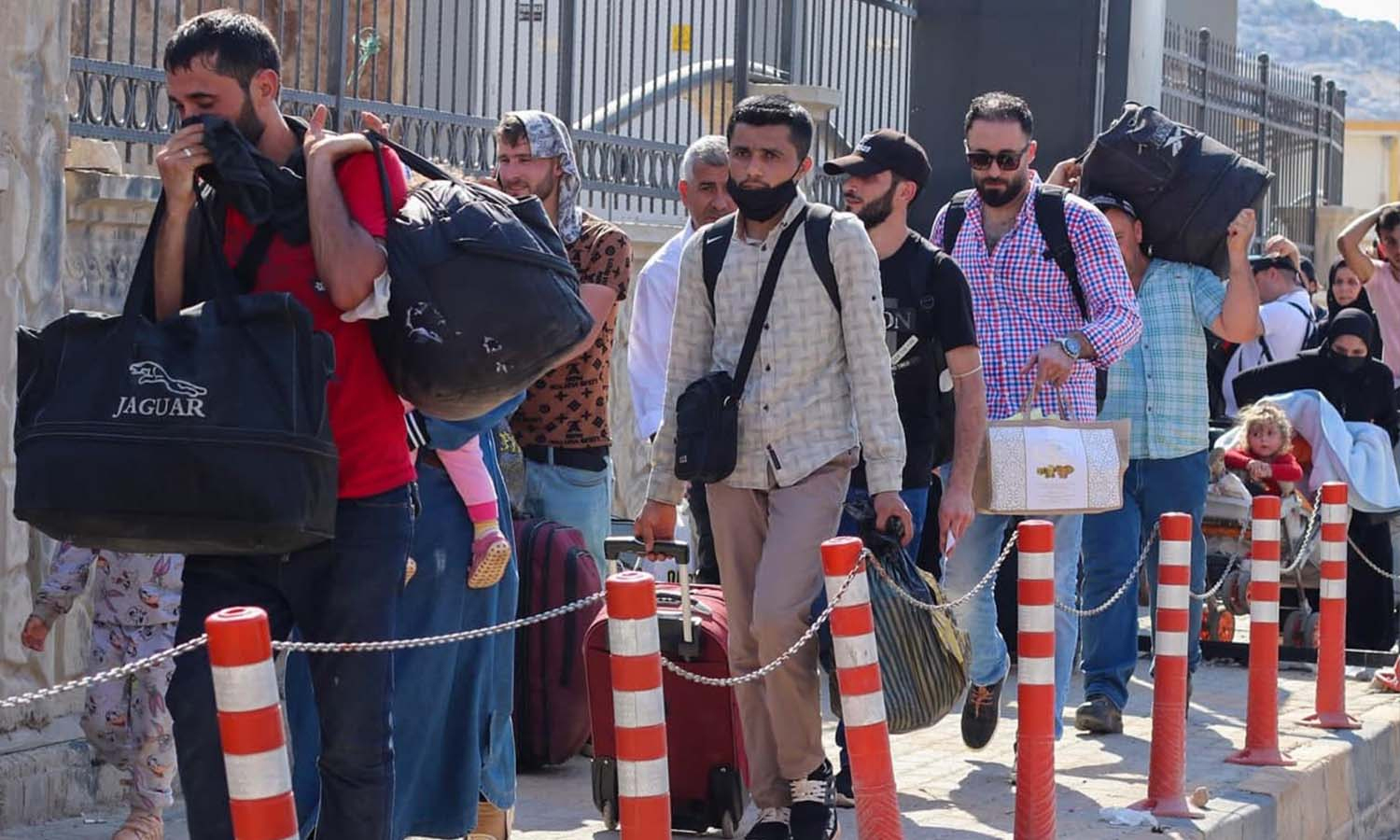 Enab Baladi – Hussam al-Mahmoud
Tens of thousands of refugees are heading to Syria from Turkey to celebrate Eid al-Adha, the Muslim Feast of Sacrifice. This has reignited the debate as to whether Syrian refugees residing in Turkey have the right to stay or should be sent back to their country. 
Many Turks demanded the return of Syrian refugees to their country because they believe that since a sizable number of Syrian refugees can visit their families and relatives in northern Syria, the region is "safe" and thus refugees should stay there and not go back to Turkey. 
On the other hand, Syrian refugees argue that their visits to Syria are authorized by the Turkish government and that they have the right to visit their families and relatives.  
The Turkish authorities have reopened three border crossings with Syria for the occasion of the Islamic Eid al-Adha holiday this month: Bab al-Salam, Bab al-Hawa, and Jarabulus. 
Nearly 100,000 Syrian refugees in Turkey are expected to cross into Syria via the above-mentioned border gates, now that the number of daily coronavirus cases has decreased. Earlier, the crossings were closed for months to curb the spread of the pandemic. 
Turkish authorities set up the deadline for entry to Syria on 18 July, while refugees have to return to Turkey by 31 December at the latest.  
Situation in destination areas 
Even though northern Syria is witnessing relative calm as active combat abated, many Syrians, triggered by different causes, still attempt to flee their country and seek refuge in Turkey or head to Europe.   
Previously, Syrians were forced to flee their country for fear of their lives. However, after Turkey and Russia signed a cease-fire deal—which is often violated— Syrians are coerced to leave their homes due to the dire economic conditions, lack of job opportunities, instability, and rampant insecurity.
In addition to these reasons, Syria is still the focus of political disputes between international parties, over the regime's continued military violations of the "de-escalation" agreement.    
Financial crisis pushes Syrians away from their home country
Ahmad Khaled al-Sharroud, a young man from the village of Tell Silmo, located in the governorate of Idlib, is currently visiting his family residing in the Hajira Camp in the village of Harbanush, west of the town of Maarat Misrin, 30 kilometres away from the Bab al-Hawa Border Crossing.
Ahmad Khaled al-Sharroud's father told Enab Baladi that his son had to flee to Turkey because he needed to find a job to provide for himself and his family of eight members.  
He said that his 22-year-old son Ahmad has been working in Turkey for two years. Ahmad could not visit his family last year because Turkey had closed its border with Syria for fear of the coronavirus (COVID-19) outbreak.  
About 4.8 million Syrians rely on lifesaving food assistance from the United Nations World Food Program (WFP) to survive. After ten years of conflict, nearly 84 percent of Syrian families lost their savings, as published by the WFP on 1 May. 
"We are poor. And if our son had not found a job in Turkey, and had not sent us money to meet our needs, our living conditions would have been much worse," said Ahmad Khaled al-Sharroud's father. 
He pointed out that they have only one source of income, his son's salary, stressing that food assistance is insufficient to support a family of nine people. 
Syria tops the list of the poorest countries in the world at a rate of 82.5 percent, according to data on the global World By Map website. 
The WFP indicated on 5 July that 90 percent of Syrian refugee households have adopted negative coping strategies to survive, such as buying less food, reducing the amount of food they eat, and going into debt to purchase non-food essentials. 
Security concerns
The scope of Syrian refugees' Eid visit to Syria is limited. Refugees cannot go back to their homes and lands and recover their properties. Actually, they can only meet their families, who were displaced from areas controlled by the Syrian regime.
It is noteworthy that around 2 million people are displaced in northwestern Syria.
Ahmad, 27 years old, visited his family, who were displaced from the town of Jarjanaz and resides now in the school of Arshin, the northern countryside of Idlib. 
He told Enab Baladi that he had to leave for Turkey and work there because he could not find a job in Syria, which is deeply affected by the economic crisis. He got a wife, one little girl, his parents and eight siblings to provide for. 
Ahmad said, "I went to Syria to meet my mother, whom I have not seen for two years. I wanted to spend Eid with my family. However, I have to go back to Turkey after Eid." 
Ahmad added that he does not feel safe enough to stay in northern Syria because of the Syrian regime's constant violations of the latest ceasefire agreement between Turkey and Russia via repeated artillery shelling. The Syrian regime recently has attacked villages and districts south of Idlib with krasnopol, Russian laser-guided artillery shells. The attack, which took place on the third day of Eid, led to the death and injury of more than ten civilians, as reported by the Opposition's Syrian Civil Defence(SCD).   
From the beginning of 2021 until 5 July, the SCD responded to more than 702 attacks that targeted civilian homes and vital installations in northwestern Syria by the Syrian regime forces, Russia, and their affiliated militias. 
Their visit against refugee protection law
President of the Free Syrian Lawyers Association in Turkey, Ghazwan Kronfol, told Enab Baladi that if a person is accorded asylum or protection in a country fully committed to the 1951 Refugee Convention, he is not entitled to return to the country from which he fled to seek protection in another country because this means that he is not in danger and he does not need protection or asylum, based on the evidence that he can enter his country of origin without being exposed to persecution.  
Refugee protection is granted on the presumption that it is unsafe to return; a person seeks asylum or protection in another country because in his home country, he experienced past persecution or he is at risk of future persecution, murder, and serious violations of his human rights and dignity. In other words, his personal safety is threatened in the prevailing circumstances. 
Generally, refugees are not allowed to travel back to their home country. Going back would imply that the situation in their country has improved and refugee status is not necessary anymore. Authorities could also conclude that the grounds on which they granted protection are no longer applicable. 
However, Kronfol said Syrians residing in Turkey are not refugees in legal terms because Turkey retains a geographic limitation to its ratification of the 1951 UN Convention on the Status of Refugees. This means that only those fleeing as a consequence of events occurring in Europe or countries located north of Turkey can be granted refugee status.  
When Syrians fled horrors of war, including relentless bombing and indiscriminate death to their neighbouring country, Turkey, the Turkish authorities issued a "temporary protection" law that protects Syrian refugees from forcible repatriation. Thus, the legal status of  Syrians in Turkey has been the "temporary protection" within the framework of the "Temporary Protection Regulation."
Syrian refugees who returned to Syria from Turkey to celebrate Eid can live under the de facto authorities. This also means that they feel "safe", especially since they take their children with them to Syria. In this case, they have lost their rights as refugees, Kronfol believes.  
He added that when the Turkish authorities allowed Syrians to cross into their country for Eid, they intended to encourage Syrians to examine the situation in the areas outside the control of the Syrian regime. Maybe, they would be motivated to return and settle in these areas.   
Even though their visit is authorized by the Turkish government, it contravenes the protection law that Turkey itself established for the Syrians on its territory, Kronfol indicated.
Kronfol criticized the visit of Syrian refugees in Turkey to northern Syria. He simultaneously warned that their visit could be used as a pretext to deport them later. Maybe, the government has unannounced considerations that might unfold later, especially if the Turkish opposition came to power.
He pointed out that the temporary protection law could be cancelled any time. This indicates that Syrians, or at least those who visited northern Syria on Eid days, could be deported at that time.
The Syrian refugees' visit to northern Syria continues to reverberate, even among Turkish politicians. Republican People's Party (CHP) leader Kemal Kılıçdaroğlu used it; he announced on his Twitter account on 16 July that he intends to deport Syrian refugees within a two-year plan in the event of his ascension to power.
Commenting on the statements of Kemal Kılıçdaroğlu, President Recep Tayyip Erdoğan reaffirmed his previous position not to deport Syrian refugees. "As long as we are in power in this country, we will not throw the servants of God, who took refuge in [our country], into the arms of the killers."
He added, "I say it clearly, these people knocked at our doors and took shelter in our country. And we cannot just tell them to go back to where they came from."
According to figures from the UN High Commissioner for Refugees, Turkey hosts some 3.6 million registered Syrian refugees, most of whom entered between 2014 and 2018. The number has increased by about 100,000 people since the beginning of 2020.
if you think the article contain wrong information or you have additional details Send Correction