Syrian regime hardliner loyalists terrorize civilians in Homs after presidential elections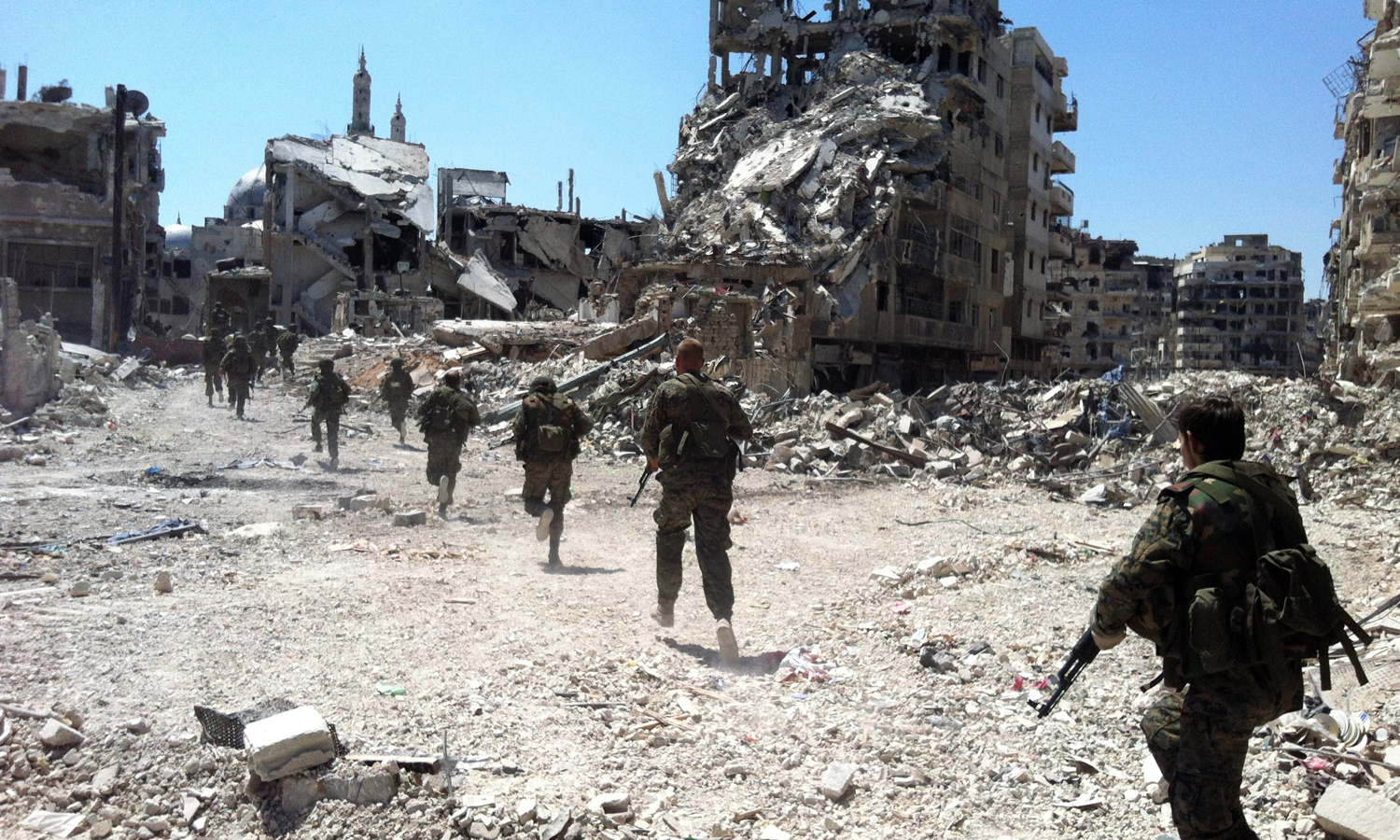 Enab Baladi – Orwah al-Mundhir
Once the Syrian presidential elections' ceremonies and celebrations ended, pronouncing the re-election of Bashar al-Assad for a fourth term, social life in Homs governorate started to return to its previous state if not for the worse, as living conditions became direr amid an acute humanitarian crisis in Syrian regime-controlled areas.
Having ensured presidential elections victory, the regime, represented by Bashar al-Assad, unleashed his shabiha (thugs) into the streets of Homs city to terrorize its residents. 
Moreover, the regime's security branches' inhuman practices increased considerably, pulling the city back into the pre-2011 swamps of harassment and prosecutions.  
Civilians forced to hang costly Bashar al-Assad's posters 
Regime thugs reportedly broke into shops and scolded owners for not hanging posters of Bashar al-Assad on their storefronts in the city and countryside of Homs governorate. They even went far to threaten owners with arrest in case they did not obey given instructions. 
An owner of a cell phone repair business in al-Dablan Street in Homs city center told Enab Baladi that a resident of the same area who has ties with the regime's Military Security Branch had taunted him for not putting up posters of al-Assad on his shopfront even though he did hang a poster for al-Assad inside the shop. 
Eventually, the shop owner conceded to the regime's supporter's demand and hung al-Assad's poster on his storefront, blocking the view of his goods to people. 
Posters of al-Assad are sold at high prices at selected shops whose owners have obtained licenses from the regime's Political Security Branch for this purpose. 
The shop owner pointed out that the selling of al-Assad's posters is confined to three shops in Homs city at the price of 15,000 Syrian pounds (SYP = 4.6 USD) for each, five times more than the real cost, adding that those being intimidated to buy the posters buy them at any cost. 
Security chaos rules Homs streets
Homs countryside had its share of insecurity as thefts increased significantly, despite the proliferation of security checkpoints and patrols in many cities and towns and on main roads, and the inspection of vehicles and tightening of measures, demanding official documents and bills of any freight shipments. 
Motorcycles and women's purses thefts, as well as copper electric cables stealing, have become widespread in the governorate's neighborhoods.
Yousef, a resident of al-Rastan city, told Enab Baladi that motorcycle thefts occur daily and that most stolen pieces are of new models, valued at more than 2.5 million (SYP = 773 USD).
He added that members of the police station do not pay attention to robberies happening nor make any effort to put an end to them, despite the exacerbation of the situation and thefts becoming organized phenomena.
Yousef held pro-regime groups members responsible for these violations, noting that they transport stolen goods to other governorates to sell them and bring other governorates' robbed items to Homs.
Side roads with no lighting poles are the center of women's purses stealing incidents. Women walking these streets are approached by speedy motorcycles and robbed of their purses by the riders. 
Sanaa, a school teacher from Talbiseh city, recounted to Enab Baladi how her bag was stolen near the highway. The bag contained her salary, mobile phone, and personal identity documents, which the snatchers returned after two days by throwing them to her house's balcony.
Arbitrary interrogations and intimidation practices
Homs' security branches have been summoning civilians for security checkups, forcing them to come and go repeatedly for no reason. To cancel the summon notice, civilians have resorted to brokers and paid them large sums of money. 
Mohammed, a young man from al-Qusour neighborhood in Homs, told Enab Baladi that he was handed a notice by a security branch element telling him to head to the Air Force Intelligence Branch.
Mohammed kept going to the branch for more than 20 days without being questioned by anyone. He used to go there, wait in one of the rooms, and then head home after a branch member tells him to come on the following day. Fortunately, Mohammed solved the issue by paying 350,000 (SYP = 108 USD) to a broker linked to the Air Force Intelligence Branch.
During preparations for May's presidential elections in Syria, the city of Homs was put on high-security alert, where temporary checkpoints were set, and patrols were run by various security branches in different parts of the city.
Employees were pressured to participate in the elections and join "national" celebrations organized by al-Assad's supporters, who threatened to list the names of those who would abstain from participating.
if you think the article contain wrong information or you have additional details Send Correction