Formalities and increased prices of building materials hinder restoration in Damascus old city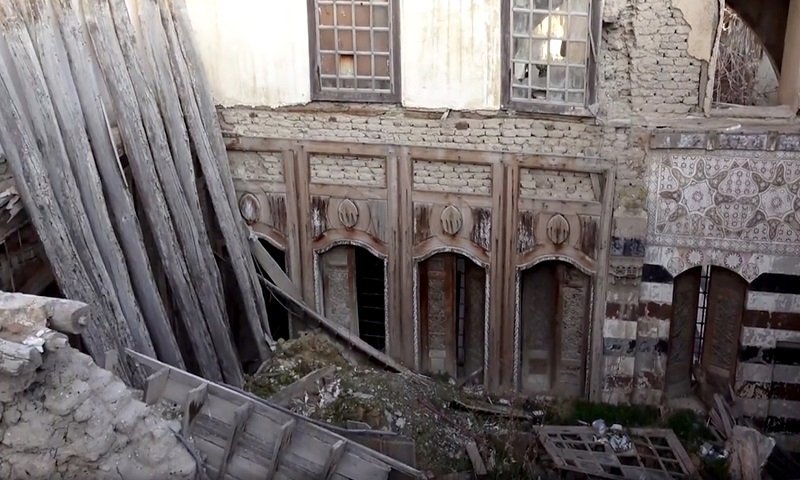 Enab Baladi – Khawla Hefzy
In an almost daily tradition, Jana al-Abdullah puts her hand on her children's heads and starts reciting Quranic verses. She hopes that these paryers would protect them from a dilapidated roof collapse or a cracked wall fall in their old school building located in the al-Amarah al-Barraniyah neighborhood in Damascus. Al-Abdullah lives in fear for her children's safety, which only goes away when they return home. 
The collapse of one of the ramshackle pillars, roofs, or walls in  Damascus neighborhoods' old buildings has become a source of constant fear for most of these areas' inhabitants. The collapse of a building or parts of it has become a familiar scene to most people, al-Abdullah, a mother to three children who resides in the al-Amarah al-Barraniyah neighborhood of Damascus, told Enab Baladi.
A shop owner in the al-Uqayba neighborhood in Damascus spoke to Enab Baladi on the condition of anonymity and mentioned that he witnessed the fall of a house roof in front of his shop. The old roof gave way to heavy rainfall.
"Since the fall of the roof, the house has become exposed to passers-by," the sixty-something-year-old man added to Enab Baladi. "The municipality did not remove the debris; it is still in the house because the heirs, who live abroad, have refused to make any move due to inheritance disputes," he said.
The man mentioned that the house had become an "abandoned ruin" and a shelter for stray cats. The dust filled the area and disturbed the neighborhood's residents. He also spoke of a number of similar incidents in the area.
Recently, Damascus city witnessed the collapse of a number of old houses, including a house in the al-Suwaiqa neighborhood, on 28 December 2020. The collapse inflicted minor injuries on nine people, including a disabled man, according to the Damascus Fire Brigade.
Another old building, including apartments, shops, and warehouses, collapsed on 18 December 2020 in the al-Shaghour neighborhood without causing casualties.
Who is responsible for the restoration of old buildings?
According to Syrian lawyer Ghazwan Koronfol, the responsibility for restoring, demolishing, and rebuilding properties is borne in principle by their owners, if legally permitted.
"If the property was classified as an ancient building prevented from being demolished, then it is the responsibility of the owner to restore it. However, the owner can resort to the government, particularly the Syrian Ministry of Tourism, to ask for a soft loan to help him/her to carry out restoration works," Koronfol explained to Enab Baladi.
The government is responsible for restoration works in one case only, and that is when it takes over a property in exchange for material compensation to the owner. 
Associations' support is turned to war-damaged houses
Enab Baladi contacted a civil engineer working in Syria's Ministry of Local Administration in Damascus, who asked to remain anonymous. He pointed out that some associations were providing nominal financial assistance to residents for years to help them restore their houses in old Damascus areas.
The associations, which were working in coordination with the United Nations (UN), stopped providing support many years ago. Their support turned to the rehabilitation of houses in war-damaged areas, which the Syrian regime's government has been working to return their inhabitants to, instead of financing the restoration of old Damascus' houses, the civil engineer added.
Enab Baladi could not obtain further data on the names of associations involved in the reconstruction of war-affected areas, except for what the Director of the Relief and International Organizations office of Rif Dimashq, Tayseer al-Qadri, said in mid-2020.
Back then, al-Qadri spoke of a plan to restore destroyed houses involving international organizations, the Syrian Arab Red Crescent (SARC), the Syria Trust for Development, and other associations such as the Syrian society for social development (SSSD) and church-led initiatives.
The Syria Trust for Development was established in 2001 after Bashar al-Assad came to power. The Syrian Ministry of Social Affairs licensed it in 2007.
Asma al-Assad, the wife of Bashar al-Assad and chairwoman of the Syria Trust for Development, has used the charity to pass political messages supporting the Syrian regime in many speeches on several occasions.
Why are homeowners unable to restore their houses?
Some residents are unable to rehabilitate their dilapidated houses, despite knowing the seriousness of their conditions. The high prices of restoration materials and the lack of financial resources hinder the residents' endeavors.  
Mouaz Shura, a retired employee living in the Sarouja neighborhood whose pension does not exceed 35,000 Syrian pounds (SYP = about 12 USD), said that the roof of his house that is made of medium-density fiberboard (MDF) softwood started to absorb water in winter, and that water entered the rooms of his house. He said sarcastically, "How can I repair my house?!. I can barely afford to eat amid the high prices of everything."  
On 19 December 2020, the regime's government raised the ton price of all cement types.
The price increase was based on decision No. 2603, which determines the selling prices per ton of bulk and packed cement produced by the factories and companies affiliated with the General Company for Cement and Building Materials. 
According to the decision, the selling price of a ton of 32.5N packed portland cement reached 125,500 SYP (about 43 USD) after it was 66,900 SYP (22 USD). This increase by 58,600 SYP (20 USD) is over 87 percent.

The price of 42.5N portland cement rose to 151,600 thousand SYP (52 USD) per ton, while the 23.5N pozzolanic cement ton price became 114,300 SYP (39 USD).

A ton of oil-well cement cost increased to 167,700 SYP (58 USD), while sulfate resisting cement price rose to 161,500 SYP (55 USD) per ton.

As for bulk cement, the government raised the price of 32.5N portland cement from 60,489 SYP (20 USD) to 106,350 SYP (37 USD) per ton. This price increase of 46,000 SYP (15 USD) is over 76 percent.

The government also set the price of the 42.5N bulk portland cement at 130,850 SYP (45 USD) and the ton of 32.5N pozzolanic cement at 94,650 SYP (33 USD).

The price per ton of oil-well bulk cement was set at 146,000 SYP (50 USD) and sulfate resisting cement at 140,150 SYP (48 USD).
Routine procedures and high costs
Damascus government requires obtaining permits for restoration and emergency repairs for real estates and plots in Damascus old city to preserve them in cooperation with the Directorate-General for Antiquities and Museums (DGAM). It also requires providing ownership proving documents for residential and commercial properties. Once the requirements are met, the relevant person can submit an application to Damascus old city's Citizen Service Centre.
However, it takes time, effort, and a certain cost to obtain official documents, which could impede the restoration process, owners of old houses in Damascus told Enab Baladi.
"Just when I decided to have some restoration works in one of my house's rooms, obstacles began to float to the surface. Damascus governorate requires several official papers to allow restoration, and it takes about 1 million SYP (340 USD) to conclude the restoration transaction before starting the work.  In addition, there is the cost of the restoration permit, which amounts to 50,000 SYP (18 USD)," Thaer Allaf, an owner of a traditional old Damascus courtyard house in Sarouja neighborhood, told Enab Baladi.
Additional obstacles 
A resident of Sarouja neighborhood, who asked not to be named for security reasons, recounted to Enab Baladi the suffering of occupants of dilapidated houses that need restoration in the area. He said that the government's conflicting decisions had hampered house renovations.
"The architectural identity of the area is in danger of disappearing after the collapse of many houses, given that their average area is about 4000 square meters each," he added.
He criticized the inconsistent administrative divisions by Damascus government, explaining that Sarouja area is sometimes classified as an archaeological area affiliated to Damascus old city whose restoration must be done according to certain conditions by the governorate.
In other cases, Damascus governorate categorizes Sarouja as an area administratively affiliated to the western al-Hal market's real estate zone.
He added that after he obtained a restoration license for his house in Sarouja as being affiliated to the western al-Hal market's real estate zone, the municipality and the Directorate-General of Antiquities and Museums stopped the renovation works. "They told me your house belongs to Damascus old city, which is classified as an archaeological area," he said.
In 1979, the historical center of Damascus old city was declared a World Heritage Site by the United Nations Educational, Scientific and Cultural Organization (UNESCO) for its outstanding architectural planning. In 2013, UNESCO included the ancient city of Damascus on its List of World Heritage Sites in Danger to warn against the risks it is exposed to because of the Syrian conflict.
if you think the article contain wrong information or you have additional details Send Correction