Cement prices rise in Aleppo, construction and restoration decline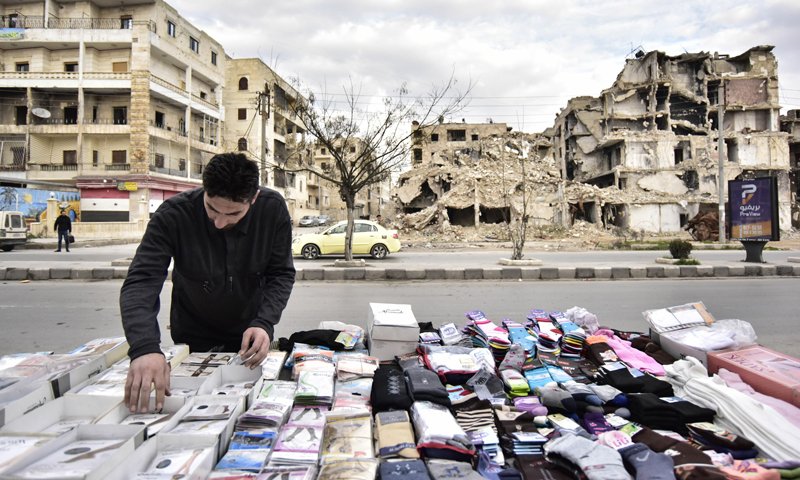 Enab Baladi – Aleppo
Sales of building materials in Aleppo have stopped owing to the rising cement prices in the black market, hampering thus most of the construction work in the city districts.
Owners of building materials stores have stopped selling goods, fearing another price increase that would cause them additional losses.
On 19 December, the Syrian regime's Ministry of Internal Trade and Consumer Protection issued a decision, raising the cement price to 125.5 thousand Syrian pounds SYP (about 43 US dollars) for every ton of portland cement 32.5N.
Under the same decision, the prices of 42.5N portland cement rose to 151.6 thousand SYP (52 USD), pozzolanic cement to 114.3 thousand SYP (39 USD), oil-well cement to 167.7 thousand SYP (58 USD), and sulfate resisting cement to 161.5 thousand SYP (55 USD), while the price of a ton of iron amounted to 2.25 million SYP (700 USD).
The reported price increase marks the fourth year into the Syrian regime forces' takeover of Aleppo city and the advance of the regime's reconstruction propaganda, which focused on reconstruction accomplishments in the city's decimated neighborhoods that were subject to severe destruction caused by the shelling during active combat with the armed opposition groups.
High prices threaten construction workers' livelihoods
The suspension of construction works stripped many families of their income since restoration activity provided the city's people with the largest number of job opportunities.
The price increase decision brought construction works to a halt after the cement ton price amounted to over  290 thousand SYP (about 100 USD) at building material stores, Issa, a construction expert, told Enab Baladi.
Families that planned to renovate their destroyed houses changed their minds because they could not afford the prices of the cement bag, over 24 thousand SYP (8 USD), a concrete brick, 600 SYP (0.208 USD), and the aggregate bag, over 1,000 SYP (0.347 USD).
"We lost our jobs after the price increase," Issa said, noting that winter usually slows down construction works.
Construction and restoration activities in Aleppo were good, and they made the only source of income for a large proportion of the city's population, Issa added.
Hassan, a former construction worker, is looking for a new job. "The rehabilitation of residential buildings was my primary work for three years, but this profession is going down day after day thanks to high prices of cement, bricks, and iron," he told Enab Baladi.
Hassan is familiar with all construction and restoration works, from building collapsed rooms, to the restoration of balconies, to the complete reconstruction of houses. However, after the price hike, Hassan lost his job as homeowners could no longer afford the restoration.
In some neighborhoods, building materials merchants control the prices, not the regime's government. For instance, the price of a cement bag in the al-Jazmaty neighborhood rose to 26 thousand SYP (9 USD), while the price of a concrete brick increased to 750 SYP (0.26 USD).
Construction workers earn daily wages amounting to 10,000 SYP (3 USD), but a building expert is often paid twice that value.
Cement prices to rise again in early 2021
Owners of construction materials shops expect cement prices to rise again because massive numbers of residential buildings still need restoration. This interruption of restoration and reconstruction activities is temporary, and is due to end when prices are stable again, a construction material merchant in the Karam al-Qaterji area told Enab Baladi.
"Prices are expected to rise again within the next two months because construction and rehabilitation works are at their best in summer," the merchant said.
He pointed out that the selling price depends on the initial value of a cement ton that includes taxes and import duties, which raise the price of the packaged portland cement ton to 194.5 thousand SYP (67 USD).
Upon selling, shop owners add transportation, loading, and unloading fees and determine their pricing according to the black market's rate. As for the price of the Internal Trade and Consumer Protection Ministry, "it does not demonstrate the additional costs we pay," the merchant added.
When they adhere to government prices, merchants tend to pay double the purchase price. "We sell materials at a high price. And then use revenues to purchase materials again," he said.
Destruction and reconstruction
Thousands of structures in Aleppo's neighborhoods, including houses, schools, and hospitals, particularly in the eastern parts of the city, were destroyed in the bombing initiated by the regime forces and allies when the city was under the control of the armed opposition groups.
According to a REACH Initiative report,  Aleppo governorate witnessed the highest destruction level in Syria, with more than 35.7 thousand buildings destroyed.
Residents who have returned to some eastern Aleppo neighborhoods have restored their houses, such as in the Masaken Hanano area, al-Shaar, the al-Bab road, and the al-Maysar. In most cases, rehabilitation work was limited to partial maintenance.
Barriers to restoration works also hampered the return of many residents to their areas in Aleppo, since families wishing to return prefer to restore their own homes, rather than pay rent.
Even residents who did not leave the city in the first place and rented houses in Aleppo's western districts opted for return before the cement price hike.
Abu Nidal, an owner of a workshop for building works, considers the price increase of construction materials as the main obstacle to the return of displaced people. The hikes will cause future construction and restoration to decline too.
"There will be no drop in the prices of construction materials; the higher the prices are, the more expensive rehabilitation will be. People who want to restore their homes cannot afford to demolish and rebuild them again," he said.
The residents of eastern neighborhoods started returning to Aleppo before the price rise, Abu Nidal added. The restoration and reconstruction of houses in the neighborhoods of al-Sukari, al-Ferdous, and al-Saliheen were "booming" between September and November.
On its part, the regime's government has limited its restoration and rehabilitation activity to government facilities, and some schools in the neighborhoods of al-Jazmaty, al-Ferdous, and al-Saliheen, without restoring damaged residential buildings and houses despite its previous promises to the civilians.
The regime rehabilitated 52 health centers and hospitals, in addition to 1,620 schools, with over one thousand projects being announced by the local administration sector, SANA reported last December.
The soaring prices of building materials caused a rise in real estate prices as well. Consequently, a house of two rooms and utilities in the Suleiman al-Halabi neighborhood is being advertised for over 25 million SYP (8,710), after it was offered for sale for less than four million SYP (1,393 USD) early last year.
Meanwhile, the prices of some houses in the western districts of Aleppo reached over 300 million SYP (104,529 USD), while they were previously sold for nearly 50 million SYP (17,421 USD) in neighborhoods such as al-Furkan and Salaheddine.
if you think the article contain wrong information or you have additional details Send Correction