Building collapses in al-Shaghour neighborhood in Damascus; official clarifies reasons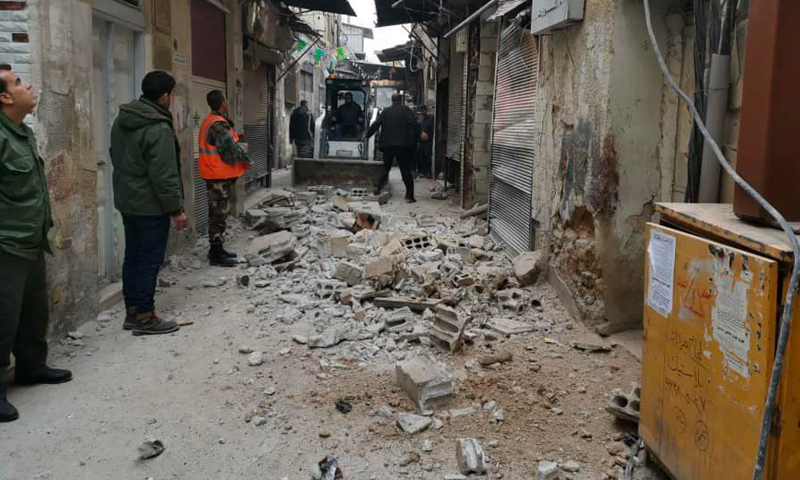 An old building of rooms, shops, and warehouses has collapsed without any casualties in the al-Shaghour neighborhood in Damascus.  
In its investigation of the causes of the collapse, the pro-government al-Watan newspaper cited on 17 December the head of the services department in the al-Shaghour neighborhood, Haitham Burish, saying that the collapse occurred because the building's owners removed parts of it improperly after it was burnt about a month ago.  
Burish added that the services department had warned the building owners, after inspecting it, to remove the dangerous parts that may collapse. For its part, the Damascus Governorate Police Department sealed the rest of the building's parts until removing the damaged parts.  
He pointed out that part of the building wall, five meters long and three meters wide, collapsed during improper removal operations.  
The municipality cadres and members of the maintenance department in Damascus governorate worked on removing the destroyed part of the road in the presence of the civil defense elements, he added.  
Burish said that the municipality would remove the building's dangerous parts at its owners' expense because they did not commit to carrying out the warning's full contents, as he said.  
On 23 November, one person died, and four others were injured, following the collapse of a residential building under construction, in Beit Sahim town in the western countryside of Damascus.  
"Rescue teams made strenuous efforts for several hours to save a worker trapped under the rubble of a collapsed building, but he died," the state-run Syrian Arab News Agency (SANA) cited the area manager of Babbila town, Lieutenant-Colonel Farid Askar.  
A source from the rural police command told SANA that the four-story building collapsed while there were five workers in it. Four wounded people were brought to al-Mujtahid Hospital in Damascus, while the fifth worker remained under the rubble, and efforts will continue to pull him out, according to the source.  
Regarding the collapse reason, the source said that "the cause of the building's collapse is still unknown, pending the assessment of the Structural Safety Committee."   
The "Beit Sahim Now" Facebook page mentioned that a mortar shell targeted the building in 2012 and that its owners tried to complete its maintenance before it was collapsed completely.    
if you think the article contain wrong information or you have additional details Send Correction