Several Hundred protest Russian intense attacks on Idlib in Istanbul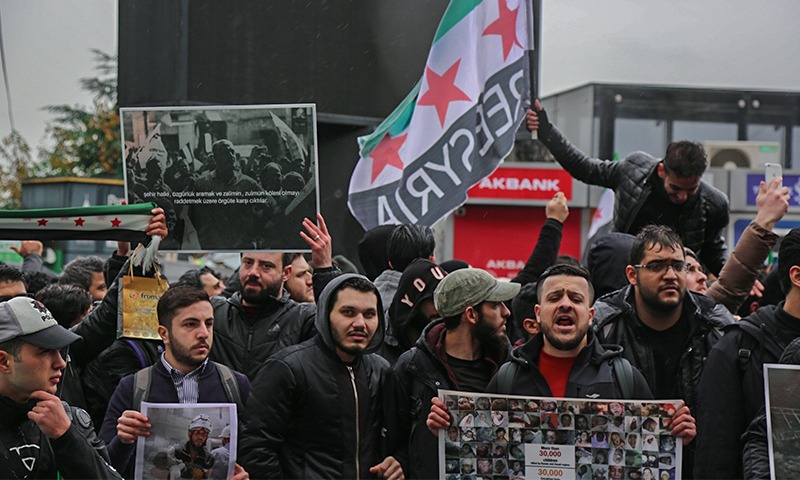 Hundreds held demonstrations in protest of the intensifying Russian campaign waged in northwest Syria.
Several hundred Syrian and Turkish protesters, gathered nearby the Russian consulate in Istanbul, on Saturday evening, 28 December, demonstrating against the Russian and Syrian regime bombing campaign on Syria's last rebel-held province of Idlib.
Protesters in Istanbul, mostly Syrians living in Turkey, marched through the downtown of Istanbul chanting anti-Russian and anti-Assad slogans, such as "Putin is a murderer," "free Syria, Russia get out."
The Protesters, including women and children, brandished banners that read: "Idlib is burning," "Russia is killing the children of Idlib," "Idlib's children are not terrorists."
And pictures of children who were killed during the latest Russian-backed Syrian regime violent attacks on Idlib, were held.
"My nationality and Identity do not matter, I am only human, and I need to understand the pain of other humans," said one of the demonstrators to Enab Baladi, "enough killing already."
Speaking to Enab Baladi, Amjad al-Sari, one of the demonstration organizers, said that a number of students including himself got a permit from the ÖZGÜRDER Turkish organization to protest near the Russian consulate.
Maaret al-Numan has been subjected to intense airstrikes carried out by Russian-backed Syrian regime forces for the past days deliberately targeting essentials of life and civilian infrastructure: the Syrian Civil Defense (SCD), public markets, the electricity company of the city, and first-aid center, according to the SCD's statement.
A humanitarian catastrophe in Maraat al-Numan threatens the lives of more than 100,000 civilians as ongoing Russian and Assad airstrikes continue unabated in the city, even targeting the vehicles of civilians who attempt to flee the violence in search of shelter outside the danger zone.
The assault comes despite the August ceasefire that calls for de-escalation from Turkey, France, and the UN.
Controlling 70% of Syria, Assad's regime has repeatedly vowed to take back Idlib which is the last major rebel-held region in Syria.
if you think the article contain wrong information or you have additional details Send Correction