Syrian government forces violate Russian-Turkish agreement in Idlib again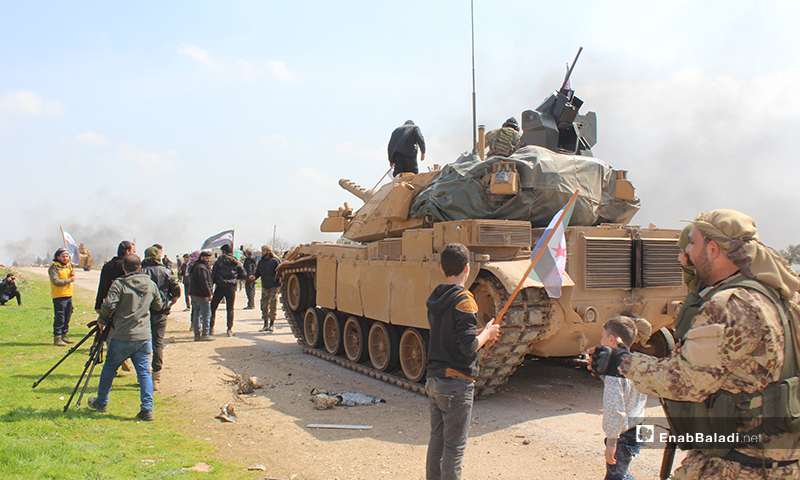 The Syrian regime forces continue to violate the Russian-Turkish agreement concluded in the Russian capital, Moscow for a cease-fire in Syria's war-battered Idlib province.
Enab Baladi's correspondent in the province of Idlib reported that the Syrian regime forces hit the town of Ftireh, south of Idlib on Tuesday, 17 March, with artillery shells.
Two days ago, several protesters gathered on the M4 highway, rejecting the conduct of Russian patrols and their military presence in the region. These protesters were also shelled.
The correspondent of Enab Baladi explained at the time that the artillery shelling that was launched from the sites of the Syrian regime forces near the M4 international highway took place several meters away from the gathering of the protesters, leaving no casualties.
A protester interviewed by Enab Baladi said that Russian aircraft flew over the sit-in this morning.
On 5 March, the presidents of Russia and Turkey reached agreement on a cease-fire in Idlib. The cease-fire agreement was announced at a press conference between the two presidents following five-hour talks in the presence of senior officials of the two countries in Moscow.
The accord stipulated a cease-fire in Syria's war-torn Idlib province on the demarcation line that was established within the "de-escalation" areas.
The agreement also provided for the creation of a "security corridor." The security corridor will run 6km (four miles) north and 6 Km south from Idlib's major M4 highway, which is connecting the Syrian regime-held cities of Lattakia and Aleppo.
The agreement called for further negotiations to limit the humanitarian crisis in the region and facilitate the return of the internally displaced persons (IDPs) to their homes. Besides, it stated that joint Russian-Turkish patrols would start on 15 March along the M4 international highway between Trinbeh area, west of Saraqib city, and Ain al-Hawr village in western rural Idlib.
The Syrian regime has accused the opposition factions in Idlib of breaching the agreement on more than one occasion, through the Syrian state news agency (SANA).
According to SANA, the bridge of the Mahmpel town, west of Ariha, on the "M4" international road, was exploded by the opposition factions to prevent the Russian-Turkish forces from carrying out their patrols.
Terrorist groups destroying the Mahmpel bridge to prevent traffic on the Aleppo-Lattakia highway
SANA  also quoted the head of the Russian Reconciliation Center in Syria, Oleg Goravlyov, on 7 March, as saying the Russians monitored 19 violations of the cessation of hostilities agreement by opposition factions.
The Russian Armed Forces and their Turkish counterparts tried to implement one of the Moscow deal's provisions: conducting joint patrols on the M4 international highway, in the part that is under the control of the opposition factions in Idlib countryside.  However, their first joint patrol was shortened due to protests organized by the civilian population
if you think the article contain wrong information or you have additional details Send Correction