National Army Controls Two Villages In Vicinity of Tel Abyad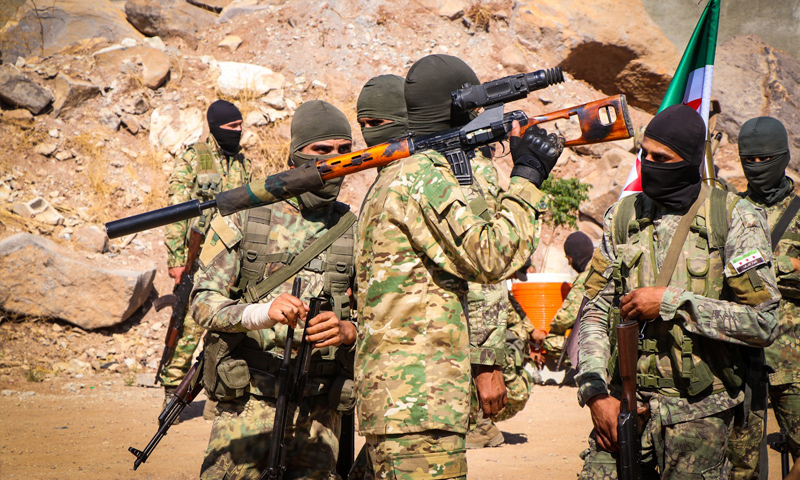 Factions of the National Army (NA) announced taking over two villages in the surrounding of  Tel Abyad city,  the northern countryside of al-Raqqa, as they participate in the military operation launched by Turkey against the Kurdish People's Protection Units (YPG) in Eastern Euphrates.
Official channels of the NA announced today, Thursday, October 10, that its fighters gained control of farmlands in the villages of al-Yabisa and Tel Fandar to the west of the city of Tel Abyad after clashes with the YPG in the context of Operation 'Peace Spring'.
Al-Yabisa and Tel Fandar are the first villages to be controlled by the NA forces east of the Euphrates after being under the control of the YPG in recent years.
There was no comment from the Syrian Democratic Forces (SDF), whose military backbone is formed by the YPG, on the announcement by the NA.
A video report from the ANHA,  the Autonomous Administration-affiliated news agency, posted on Facebook shows YPG fighters preparing for battle in the border town of Ras al-Ayn/Sari Kani.
In early 2018, the NA had participated in the Operation Olive Branch in the region of Afrin. The operation was launched by the Turkish Army against the YPG and led to complete control over the whole region.
The current military structure of the NA, however, is different than it was at the time. The army merged with the factions of the National Front for Liberation (NFL), which operated in Idlib province. It is currently made up of seven legions instead of three, which the NA used to encompass earlier on.
According to the latest maps of control, ground troop advances of the NA and the Turkish forces are concentrated on two axes: the first in the vicinity of Tel Abyad, and the second in the vicinity of Ras al-Ayn/Sari Kani further to the east.
The Turkish Ministry of National Defense announced this morning that Operation 'Peace Spring' had continued overnight and was successful, by land and air, in obtaining its specified objectives.
The announcement came in a tweet by the official Twitter account of the ministry which said that the operation continues as planned.
if you think the article contain wrong information or you have additional details Send Correction