"National Army" Restructured Having Merged With "National Front for Liberation"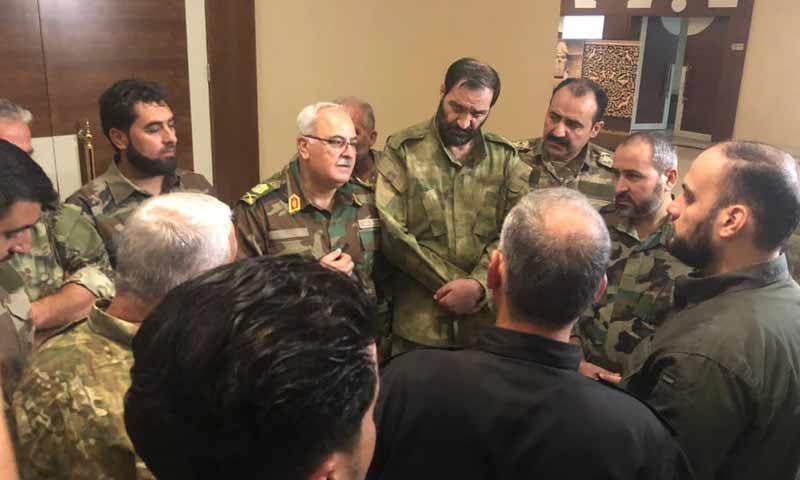 The Ministry of Defense, under the Syrian Interim Government, embarked on restructuring the National Army (NA) after it joined forces with the National Front for Liberation (NFL).
On October 4, the NA spokesperson, Youssef Hamoud, told Enab Baladi that the Army is to comprise seven legions — three formed in the northern countryside of Aleppo and four belonging to the NFL.
On Twitter, the National Coalition for Syrian Revolutionary and Opposition Forces, to which the Syrian Interim Government is affiliated, stated that, with the incorporation of the NFL factions, the NA now consists of 80 thousand fighters, divided into seven legions.
Mustafa Saijari, a commander of the Free Syrian Army (FSA), functioning as the Director of the Political Office of the Mu'tasim Division, declared that the NA's new structure, involves the Minister of Defense and the Chief of Staff, General Salim Idris, and the Brigadier General Adnan al-Ahmad, the Deputy Chief of Staff, in command of the areas of the Euphrates Shield and the Olive Branch operations, rural Aleppo, who is to be in charge of the first three legions.
In Idlib, however, the Deputy Chief of Staff is allocated to the Brigadier General Fadelallah al-Haji, who is to preside over the other four legions.
The merger was announced by the president of the Syrian Interim Government, Abdurrahman Mustafa, who stated that the NA and the NFL have integrated into a unified military body under the command of the Ministry of Defense of the Interim Government.
In a press conference, held in the Turkish city of Urfa yesterday, Mustafa declared that the NA and the NFL had joined forces under the same premises and are to operate in accordance with the regular military fundamentals, adding that the newly formed body is to be affiliated with the Interim Government's Ministry of Defense.
"Liberating the country of tyrants, preserving the unity and the safety of homeland, Syria, and defending the coastal areas and Idlib," these were what Mustafa listed as the goals of the integrated army.
In December 2017, backed by Turkey, the NA was founded, affiliated since then with the Syrian Interim Government, encompassing three legions, divided into several brigades.
The NFL, for its part, was founded in Idlib province in May 2018, encompassing 11 factions.
Under the NFL, the following armed groups operate: al-Sham Legion, Free Army of Idlib, 1st Coastal Division, 2nd Coastal Division, 1st Infantry Division, 2nd Army, al-Nukhbah Army/Elite Army, Jaysh al-Naser/Army of Victory, Martyrs of Islam Brigade in Daraya, Freedom Brigade and 23rd Division.
if you think the article contain wrong information or you have additional details Send Correction