Turkey And Allies Control First City East Of The Euphrates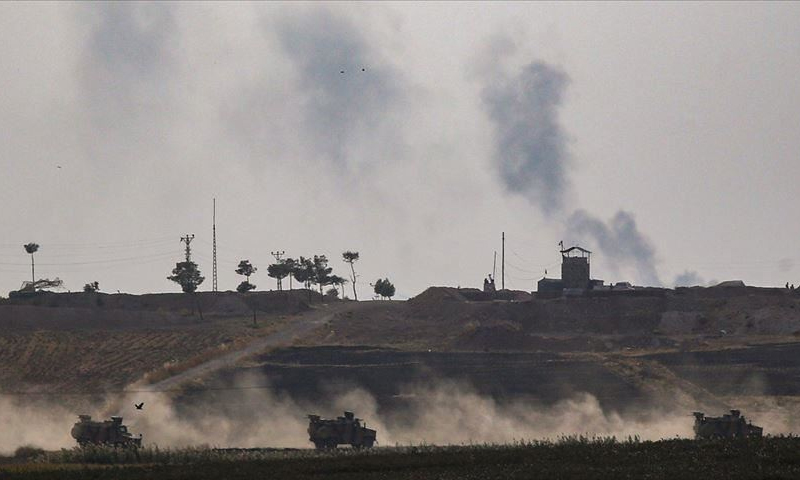 The Turkish Ministry of National Defense announced that they gained control over the city of Ras al-Ayn/Sari Kani in the northwestern part of the Hasaka province.
In a statement on its official Twitter account, the ministry said today, 12 October, that "as part of the successful operations being conducted in the framework of Operation Peace Spring, the town of Rasulayn, located east of the Euphrates, has been brought under control."
Barış Pınarı Harekâtı kapsamında devam eden başarılı operasyonlar neticesinde Fırat'ın doğusundaki Rasulayn meskun mahali kontrol altına alındı. 🇹🇷

— T.C. Millî Savunma Bakanlığı (@tcsavunma) October 12, 2019
However, the Syrian Democratic Forces (SDF), in control of the region, have denied the Turkish incursion into the town.
In an interview with Enab Baladi, the spokesperson of the National Army (NA), Yousef Hammoud, said "this morning, we completed our advance on the axis between the towns of al-Dirbassiya and Ras al-Ayn, and liberated 16 villages along that axis, reaching Road 712, which connects to the border cities."
Hammoud also claimed that the NA, along with Turkish forces, had today controlled the grain silos, the industrial zone and the entrance to the city of Ras al-Ayn.
The spokesperson, however, denied that fighters of the Operation 'Peace Springs' have reached the international highway M4.
In a statement, the media center of the SDF claimed that "a group of the Turkish Army mercenaries attempted to infiltrate up to the international highway, but units from our forces engaged with them and chased them off the highway."
The NA had announced yesterday, 11 October, that it took over farmlands and villages in the vicinity of the city of Tel Abyad and to the west of Ras al-Ayn.
The NA spokesperson, Hammoud, said in a statement that the first phase of the military operation had been a "complete success", with advancement on the villages of al-Yabisa, Tel Fandar, Mashrafat al-Hawi, Iqsas, Bir Asheq, Hamida, Mazraat al-Masihi, Mazraat al-Haj Ali and Barzan in the vicinity of Tel Abyad.
The NA also declared its control of the villages of Kashto Tahtani and Kashto on the axis of Ras al-Ayn, according to Hammoud.
The Turkish Ministry of National Defense had announced, last Wednesday, the start of its military operation, 'Peace Spring', in northeastern Syria. The operation aims to establish a "safe zone" to the east of the Euphrates.
According to the latest maps, the ground advance of the Turkish Army and the factions of the NA is concentrated on two axes: the first in the vicinity of Tel Abyad and the second, further to the east, in the surrounding of the city of Ras al-Ayn.
if you think the article contain wrong information or you have additional details Send Correction