Adnan Kadrash: Artist Whose Paintings Rebelled in Idlib Governorate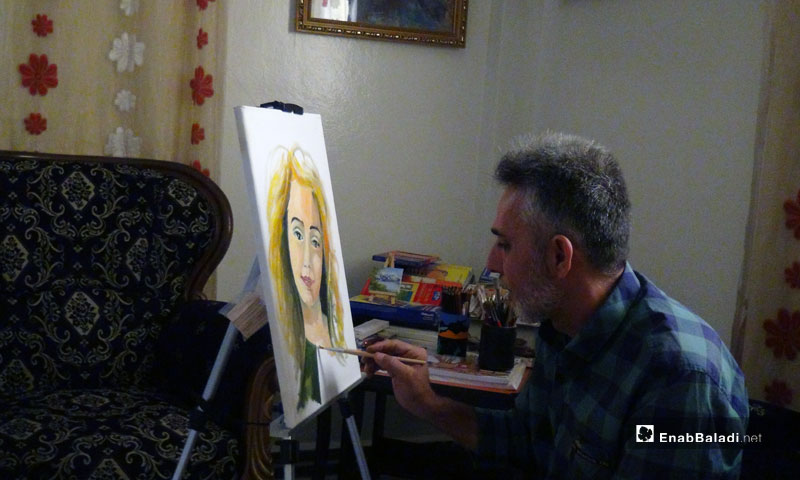 Through paintings, part and parcel of his artistic journey, the plastic art Syrian professional Adnan Kadrash seeks to bridge what he referred to as a "cultural gap," which reigned over Idlib in the Years of war, driven by a hope that helped him refuse to put an end to his art at the beginning of the war.  
While yet at school, teachers discovered the "unusual talent" of Adnan Kadrash, the son of Idlib city, which triggered in him a desire to sharpen this skill academically. Accordingly, he joined the Plastic Art Institute in his city, hoping to enter the Fine Arts University after finishing high school.
Kadrashe's desire did not completely crystalize, as he told Enab Baladi, for his financial status prevented him from enrolling at the Fine Arts University. He, thus, studied at the "Manual labour" Department, under the Teachers Preparation Institute, through which he realized a part of his ambitions, for the Institute showed further care to painters and artists, considering their various abilities.
Kadrash graduated from the Institute in 1999, and he worked as a teacher of art in the preparatory and high schools of Idlib. He also worked at a plastic art center for seven years, after which the revolution broke out in the majority of the Syrian areas, including his own city. At this crossroad, he thought of drawing a new future for his artistic journey.
Revolutionary Tableau
The artist could not detach himself from reality when his city strove with peaceful demonstrations in 2011; he, rather, chose to employee his art in the service of the revolution, as he put it. With a group of Artists in Idlib, he drew paintings that demonstrators held on the streets, calling for stopping oppression. He also painted tableau on the walls of Idlib, as a reminder of detainees and the "injustice" which Syrian civilians suffered throughout Syria.
Back then, Kadrash was still teaching at schools affiliated with the Syrian regime to leave them when the Syrian opposition captured Idlib in 2015.  After which, he thought that he will find himself an artistic space, only to be shocked with a reality equally unfair to artists and talented people under the humanitarian suffering which took control of Idlib due to the war.
Here, Kadrash found himself involved in the work of relief organizations, in the field of child protection, where he organized recreational and artistic activities for children at camps until he had the idea of founding a committee that brings together Idlib's artist and intellectuals, "so it might bridge the cultural vacuum at the city," as he put it.
Kadrash took the idea further and started working with a group of his city's artists, with whom he launched the "Diaa" Cultural Foundation last September, which incubates, intellectuals, painters, poets and drama and cinema experts, aiming to send the world a message that Idlib is a city for art, poetry and intellect, not a "city for terrorism," as some are advertising through media.
In his interview with Enab Baladi, the Syrian artist hinted at additional difficulties faced by painters in Idlib, including the lack of painting materials, especially colored-paints and the high price of available ones.
"We are forced to draw with [wall] paints and a wooden frame only, as this what we have at hand," he concluded.
if you think the article contain wrong information or you have additional details Send Correction