Sports Activities with Amputee Heroes in Idlib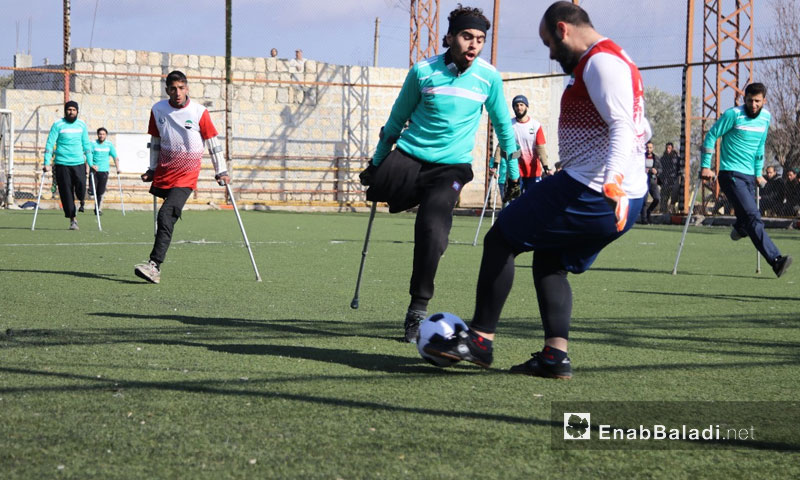 Mohammed Zakaria Kadrash, a young man in his thirties, lost his arm by a shrapnel from a missile that hit the city of Idlib in September 2017. However, his loss did not stop him from participating in a football match, which he played with his friends, who have also lost parts of their bodies, on a football pitch on the way to Maarrat Misrin.
Mohammad, whose arm has been amputated, said that he participated in the match on Monday, 15 December, to send the world a message, explaining its content to Enab Baladi: "We, as a marginalized class, can achieve many things […] It is true that we are amputees, but we love life, and nothing is difficult with determination and hope".
The match participants' amputations vary between the lower and front limbs, and between full, above and below the knee, amputation.
The game was sponsored by the Physiotherapy Center at the Specialized Internal Hospital in Idlib, in collaboration with "Shafak" and "Umaya" sports clubs.
According to Maree Sheikh al-Haddadin, the match referee and the man behind the idea of the game and the formation of a team, the initiative started with the participation of six amputee players. "Many got enthusiastic after we started, and the number is 23 young men today," he added.
Sheikh al-Haddadin pointed out that the goal of forming the team is to provide funding for the volunteering psychotherapy center, to support players psychologically and then to integrate them into society to enhance their opportunities of finding jobs that comply with their cases or to get them prostheses.
The referee explained that the activities would not be limited to football; the players will participate in table tennis, chess and strength training, in addition to swimming exercises in summer, assuring that the plan follows an integral program and private training for these activities.
The man behind the idea graduated from the Institute of Physical Education and Sports in Aleppo, 2008. He formerly worked as a journalist with the "General Authority for Sports and Youth"; he also taught sports, being the country's former champion of the 200-meters athletics. He is a first-class football referee since 2011, and a sports psychologist.
Mohammad aspires to establish a sports club for people with war-related disabilities in Idlib to support them in the field of sports, saying: "They promised to organize new sports events in the future, in which I will be participating".
In March 2016, the "General Authority for Sports and Youth" founded the "Syrian Union for Special Sports" in the rural Aleppo. Back then, the Director Mamoun al-Shoon told Enab Balad that the center is these people's starting point in the field of sports, considering that" it will be a platform to present their creativity in sports". However, the union's activities are limited to the day due to the area's circumstances.
if you think the article contain wrong information or you have additional details Send Correction