"Diyaa" Cultural Foundation: Idlib "Is Not Tora Bora"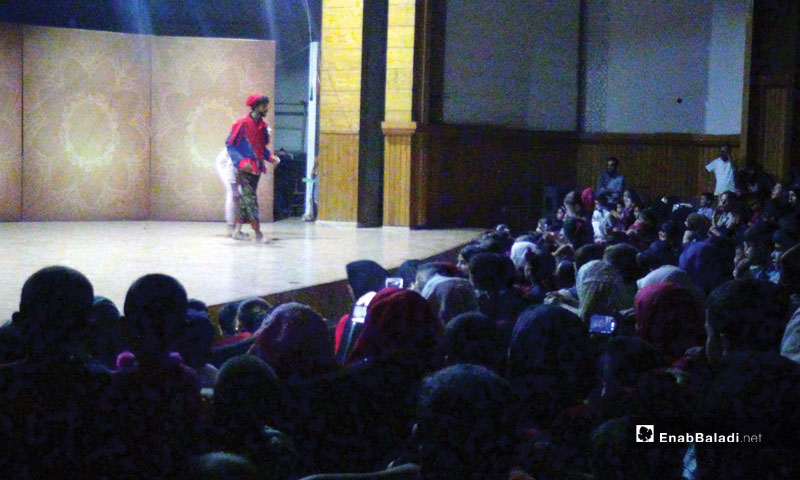 On Wednesday, September 12, a group of Idlib governorate's erudite have opened the "Diyaa" Cultural Foundation in a ceremony at Idlib city's cultural center, which included a fine art exhibition, a play and movie of produced by a Syrian team.
Fayez Qusara, the head of the Cultural Center in Idlib, started the opening ceremony with a speech about the importance of activating the role of culture in society, then the "al-Majnoun" (The Maniac), which is a "melodrama," featuring a single actor, was presented.
Adnan Kadrash, a fine artist from Idlib, told Enab Baladi about his contribution: "We, within the framework of Diyaa Foundation, tried to conduct an opening ceremony that reflects the real image of Idlib, which included a fine art exhibition of the artist Ammar Saflo and me, with intervals of poetry recital and a play."
Due to the hall's small size, only 25 paintings were presented, about which Kadrash commented saying that he will be enhancing his presence in the upcoming events, pointing out that the content of the paintings he presented varied between still life, Idlib's neighborhoods, Damascus and the villages of rural Idlib.
In terms of objectives, the exhibition is a message to the world, that following a long absence of cultural events in general and fine art in particular from Idlib's cultural landscape, the artists have said what they had on mind through their paintings, according to the fine artists Ammar Saflo.
One of the opening ceremony's events was the presentation of the movie "Life," produced by "Fox" team. Alaa Arja, the movie's script writer said: "I wrote the movie, which is part of the reality under the conditions of war. It focuses on the humanitarian situation of a little girl who is no more than six years old and whose father is wounded in an aerial attack after he lost the majority of his family members, thus she had to take care of him alone, which a thing that many people went through."
The movie has already ranked the first in the "Ebla" festival for short films.
About the foundation and the events it provides, Arja said that the idea started with a number of artists, writers and poets who decides that within the context of the circumstances that the city is living, they have to prove it to the world that Idlib "is not Tora Bora," trying to prevent the world from likening the city's events to what is happening Afghanistan. They also wanted to stress that Idlib is not a stage for horror and terrorism as the regime is promoting, and that its heart will keep beating with life.
The Cultural Center in Idlib has presented a number of plays by young men on Eid al-Adha, including a play titled "The Governor and the Fisherman," which the "Nour al-Sham" group (Light of al-Sham) presented last June
if you think the article contain wrong information or you have additional details Send Correction