Fine Art Gallery Presents Orphans' Creations in Idlib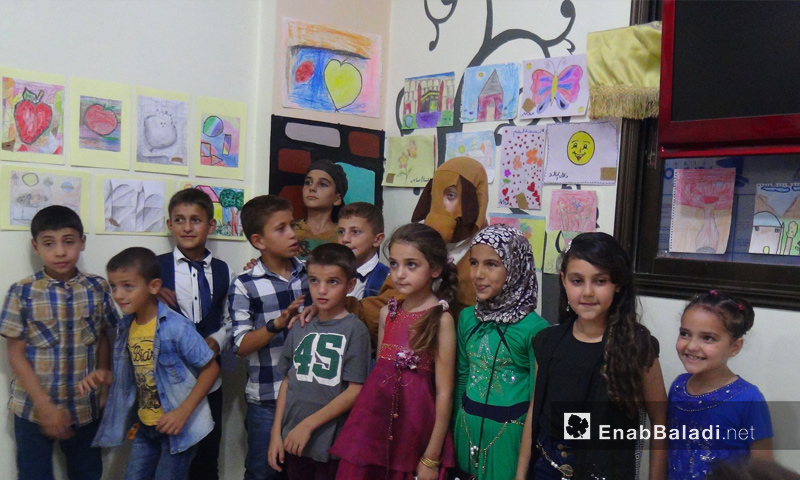 A number of "martyr's children" participated in a fine art gallery, organized in the city of Idlib to help these children develop their skills and integrate into society.
The gallery, organized in the duration between August 30 and September 1, witnessed the participation of about 70 children, whose age varies between 7 and 12 years, according to what the trainer Maan Mohammad has told Enab Baladi.
Maan pointed out that some of the children have contributed two pieces, others have presented three of four, after they were trained on painting and fine arts for two years.
The gallery, organized at "Max Café" hall, aims to encourage students whose parents died due to bombardment and the war's repercussions and to pull them out of the "depression" they are stuck in to a state of creativity, according to the trainer.
"These children possess a massive energy of creativity. We must sharpen their skills through organizing exhibitions that encourage them to continue to innovate," he added.
For his part, Alaa Qajan, one of the gallery's organizers, said that he was enthusiastic about the idea proposed by trainer Maan, telling Enab Baladi that the students have many talents that must be developed.
The UN Children's Fund (UNICEF) has estimated that about a million Syrian children have lost one or both parents since the break out of the Syrian revolution in 2011 to the end of 2017, describing this as a "disaster of every sense."
In a former interview with Enab Baladi,  Jumana Omar, the director of "AFKAR" Foundation for the care of orphans in Idlib, said that the number is way below the reality and that orphans' suffering is larger than that of ordinary children as they need financial guarantees and additional care.
There are not accurate statistics about the number of orphans in Idlib, which witnessed the death of many people during the military operations.
A number of relief and civil society organizations in Idlib are seeking to respond to the orphans' crisis in the area, resorting to financial and psychological support projects.
It has been decided to soon open an orphanage at the town of Qah, Idlib governorate, northern Syria, to offer free educational, cultural and entertainment services to its resident orphans. The orphanage's estimated accommodation capacity is about 500 male and female orphans, whose age varies between newborns to 13 years old.
In a former interview with Enab Baladi, Zaher Idris, the project coordinator at "al-Rahma" Orphans Center, said that the establishment will offer integral care to orphans who lost both their parents in the first place and those who lost either a father or a mother in the second place. The services also include special programs to rehabilitate and raise mothers' awareness.
if you think the article contain wrong information or you have additional details Send Correction