Sports Competitions between Amputees and Visually Impaired Persons in Idlib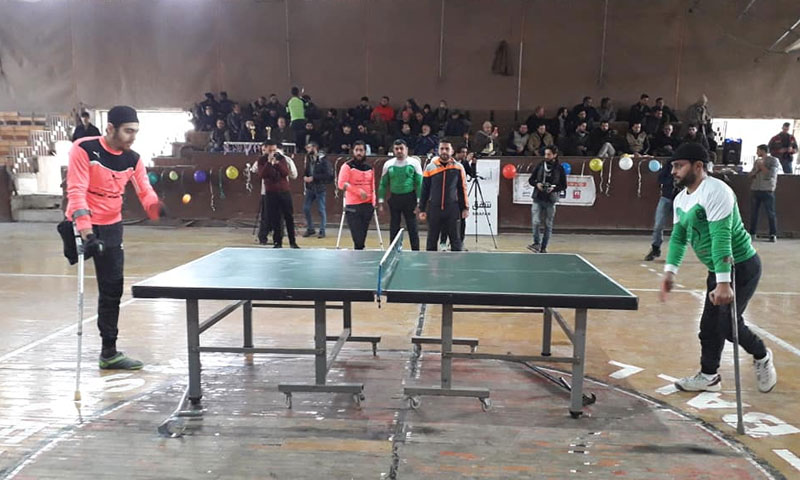 With an amputated leg, young man Abu Zakaria Kadrash participated in a sports festival, under the name of the "Ashab al-Himam" festival, Owners of Will, which brought together people with visual impairments and amputees.
Although he became a football professional, for practicing it for a whole year, Kadrash, as a member of the "Omayya" team, decided to represent his club in other sports in addition to football, including badminton.
"I have been training on football with Omayya team for more than a year, but lately I have decided to join the badminton team as a challenge," says Abu Zakaria Kadrash in an interview with Enab Baladi, pointing out that the festival was preceded by intensive training, almost every day, after they used to meet for two days a week only.
Kadrash is one in a group of participants, brought together by the "Ashab al-Himam" festival, held at the gymnasium in the city of Idlib, on Thursday, December 20, organized by the "Makani" Center (My Place), affiliated with the "Shafaq" Organization (Dawn) and in cooperation with the Omayya Sports Club.
During the festival, amputees and visually impaired persons competed in various sports, such as football, badminton, volleyball and table tennis. The event ended with awarding the winners symbolic prizes, which Abu Zakaria views as "encouraging."
The aim of the festival is to integrate persons with disabilities into society and to prove that they are able to be an effective segment of the Syrian society, said Mari Sheikh al-Haddadin, a physical therapist and member of the Omayya Club management.
The preparation for the festival started a month ago and included intensive training for the visually impaired and amputees, whose injuries varied between upper and lower limb amputations, Sheikh al-Haddadin told Enab Baladi, adding that the psychological and moral impact on the participants appeared good and clear during the festival.
The Omayya Club in Idlib governorate pays special attention to the players, as it is keen on organizing sport events, in addition to the bodybuilding club it founded for them. The club also formed a 23-member football team, mostly amputees, who participated in a carnival match in November 2017.
The club is suffering from material difficulties represented by poor funding from donors, said Sheikh al-Haddadin, a member of the club's management.
The World Health Organization (WHO) estimates that more than 3 million Syrians suffer from war caused disabilities and injuries, calling for offering them additional support and care.
In a report published by the organization in December 2017, it said that 1.5 million Syrians are disabled as a result of conflict and war in Syria after 2011, with an average of 30,000 injuries each month, noting that 86,000 of them are amputees, one third of them are children.
Idlib's sports festival, called "Owners of Will," brings together amputees and persons with visual impairments, as to prove their being an effective segment in society
if you think the article contain wrong information or you have additional details Send Correction