"ISIS" Claims to Repel Attack on its Last Stronghold East of the Euphrates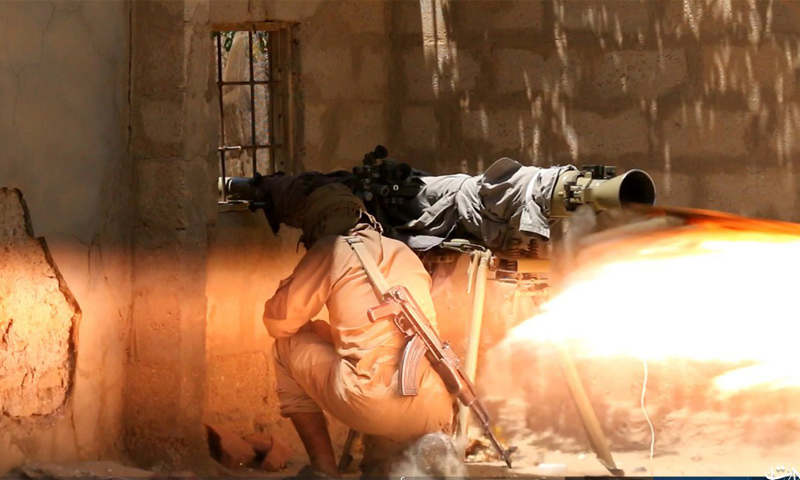 "Islamic State" (ISIS) has announced that it has repelled an attack by the "Syrian Democratic Forces" (SDF) against the group's last stronghold east of the Euphrates, in the Hajin area.
The ISIS-linked "Amaaq" news outlet claimed on 17 September that ISIS fighters had thwarted an attack by the SDF on al-Baghouz village in the vicinity of al-Sousa town, which is close to the Syrian-Iraqi border.
Amaaq said that Kurdish forces had tried to advance toward the village, supported by artillery and air cover from international coalition forces. According to the pro-ISIS outlet, however, the Kurds had entered a minefield as they were advancing, which led to a Hummer and two other military vehicles being destroyed, as well three armoured personnel carriers being damaged.
Clashes in the area are focused on two fronts – firstly, the village of al-Baghouz al-Fuqani, and secondly, al-Sakra village.
The SDF had announced several days earlier the launching of the final stage of the group's "Jazira Storm" campaign, which aims to take control of areas of Deir Ezzor Governorate remaining under ISIS control.
The "Jazira Storm" campaign has over recent days released video recordings showing its military operations against ISIS. The footage shows the artillery and rocket cover which is supporting the campaign's troops from other ground forces in the area.
Amaaq claimed that the SDF had withdrawn to its prior positions over the preceding two days, without achieving any advancement in the Hajin pocket until the present.
The SDF commander Ibrahim al-Deiri, who leads the military operations in the vicinity of al-Sousa, said that "ISIS has fortifications in the area" and that his forces "were preparing to break their defences and end the ISIS presence east of the Euphrates".
Al-Deiri had said to the Agence France-Presse network the previous week that "the currently battle is critical from our point of view, and for ISIS too". He said that he expected that "ISIS fighters will fight until the death. Those remaining especially will be suicide fighters who reject the idea of surrendering".
Hajin town, where ISIS fighters are encircled, is located on the eastern bank of the Euphrates river. SDF troops have surrounded it from three angles, where farms and residences are scattered in the Sahel Faydi area.
The area is located 110 km to the east of Deir Ezzor city and around 35 km north of al-Bukamal, and covers an area of around 250 square km (excepting the adjacent desert area).
Hajin town is considered the centre of the area, and including several villages and farms such as Granij, al-Kashkiya, Abu Hamam, al-Bahra, Hawamah, Abu al-Khater, and Abu al-Hassan.
if you think the article contain wrong information or you have additional details Send Correction