"Islamic State" Launches Attack on Different Fronts East of the Euphrates, "SDF" Says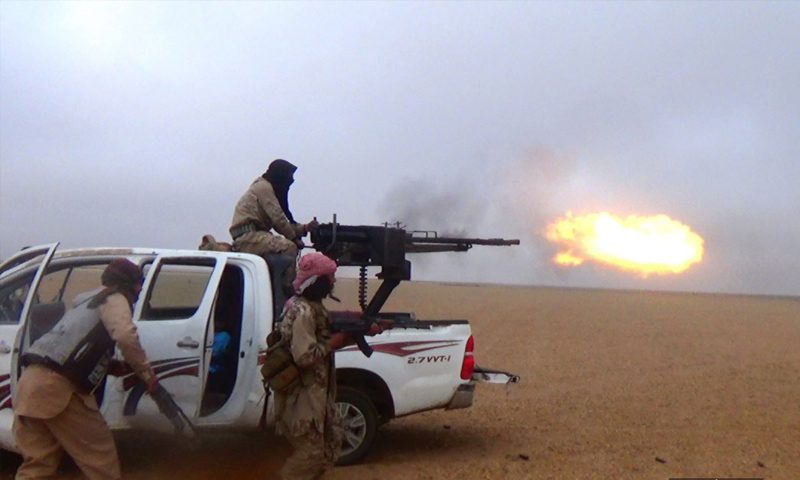 The "Islamic State" (ISIS) launched an attack on several fronts in Hajin enclave, east of the Euphrates, said the "Syrian Democratic Forces" (SDF).
"Daesh mercenaries are exploiting the weather conditions in Hajin area and, since the morning, have been undertaking attacks on the fronts of the two towns of al-Susah and al-Shaafah, while the Syrian Democratic Forces are combating them," ANHA Agency, affiliated with the Self-Management, toady, Friday, December 21, quoted a source from "SDF", who used the Arabic acronym, Daesh, for the "Islamic State."
He added that "ISIS" is using dozens of vehicles and heavy weapons, pointing that "SDF has malfunctioned several of Daesh's military vehicles."
"ISIS," however, did not announce any attacks in east of the Euphrates, and its affiliate Amaaq Agency reported attacks with explosive devices in the city of al-Hasakah, which targeted "SDF" posts.
"ISIS" attacks came two days after the United States announced that its forces started withdrawing from the different Syrian areas.
"We have defeated ISIS in Syria, my only reason for being there during the Trump Presidency," Trump tweeted on Wednesday.
"Soon, the glad tidings will be brought about the total liberation of Hajin enclave and the termination of Daesh's influence in Northern Syria, reaching the Syrian-Iraqi borders," Lilwa Al-Abdullah, "Jazeera Storm" spokes, told Enab Baladi on Friday (December 14) using the Arabic acronym, Daesh, for the Islamic State.
Al-Abdullah said that the military operations in Hajin are yet ongoing, for "some spots are still out of our control in the area."
"The battles have reached their peak, and we are advancing through violent confrontations."
"SDF's" military progress in the east of the Euphrates is achieved at two fronts; the first is adjacent to the Syrian-Iraqi borders, and the second is at the northern direction of Hajin city, the "ISIS'" key post in east of the Euphrates.
The progress of the Kurdish forces, at the expense of "ISIS," corresponds to an intense artillery and missile shelling by the U.S.-led coalition and the foreign forces on the ground.
if you think the article contain wrong information or you have additional details Send Correction