"ISIS" Attacks "SDF" and Regime Positions in Rural Deir ez-Zor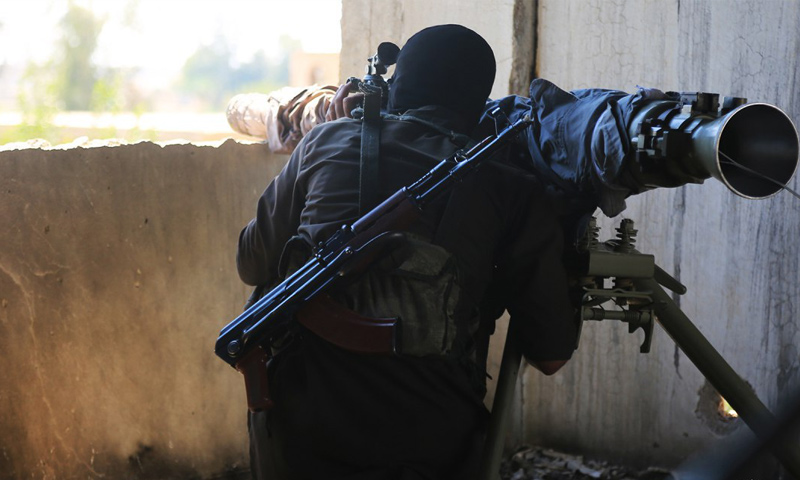 The "Islamic State" (ISIS) has launched an attack against positions of Assad's forces and the "Syrian Democratic Forces" (SDF) in the eastern rural parts of Deir ez-Zor, in sync with the latter's attempt at controlling the last of "ISIS" enclaves in the area.
Today (Saturday), August 18, Local networks in Deir ez-Zor, including "Deir ez-Zor 24," have reported that "ISIS" attack is focused on the Sbaikhan Desert, where Assad's forces are positioned, and the two deserts of Abu Kamal and al-Ashrah.
At the same time, the "Islamic State" launched an attack against "SDF" positions in "al-Melh" oil well and al-Maqsam checkpoint, in the town of al-Tayaneh, in addition to its attempt at progress towards the residential compound in al-Omar oil field.
"Amaaq," ISIS-affiliated news agency, did not report on the battles undertaken by the "Islamic State," but in the past a few days it declared a number of "security" operations that targeted "SDF" troops in Raqqa and rural Deir ez-Zor.
The "Joint Operations Command," has yesterday (Friday) reported that Iraqi "F16" fighter aircraft conducted an air raid inside the Syrian territories, targeting "ISIS" position in rural Deir ez-Zor.
In the past a few months, the "Islamic State" has lost the majority of the areas it controlled in Syria and Iraq, limiting its influence to some of the enclaves surrounding the city of Abu Kamal and the eastern bank of the Euphrates river, at the Syrian-Iraqi borders.
The enclave, yet controlled by ISIS, to the east of the Euphrates, is represented by the area of Hajin, located at the left bank of the Euphrates river, surrounding it from three sides, where its farms and houses spread over a floodplain.
Hajin is located at a distance of 110 kilometers from the eastern part of Deir ez-Zor, about 35 kilometers from the city of Abu Kamal, with an area of 250 square kilometers, not to mention its desert part.
Hajin is classified as a center to a district, administratively, including a number of villages and farms, Granij, al-Keshkiah, Hamam, al-Bahra, Hawameh, Abu al-Khater and Abu al-Hassan.
On August 14, "SDF" stated that it is committed to its schedules and plans in relation to completing the military operations which it started to capture the northern countryside of Deir ez-Zor governorate.
Adding that it is currently focusing on expelling the "Islamic State" from the last enclave it has in the central Euphrates basin.
if you think the article contain wrong information or you have additional details Send Correction