Enab Baladi launches unit specialized in investigative journalism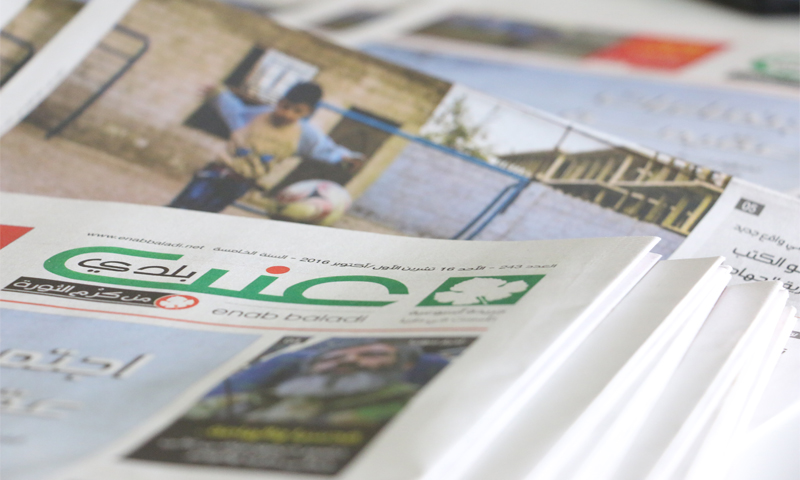 Enab Baladi has created an investigative journalism unit within the institution's divisions with the aim of developing the skills of its senior staff of journalists and editors and producing investigative reports on Syrian affairs.
The unit will be launched on the first of November 2016 as part of the strategic plan developed by Enab Baladi in May 2016. Among the aims outlined in the plan is strengthening the in-depth journalism divisions within the institution over the next three years as a step towards developing a Syrian network for investigative journalism. Such a network will include a wide range of Syrian institutions and independent journalists and will benefit from the skills of local, regional and international journalists and trainers.
In its plan, the unit developed a program to conduct five specialized workshops on investigative journalism by the end of 2017. The unit will begin with a five-day intensive workshop in Istanbul, which will be held in the first half of November 2016. Six journalists from Enab Baladi will participate in the workshop, whose journalistic experience ranges between three and five years as well as two journalists from a sister organization.
The investigative journalism unit will establish contracts with a number of local and Arab specialized journalists and trainers to oversee production of its investigative reports and train its journalists.
Over the past five years, Enab Baladi has established a wide network of trained journalists and reporters who cover most of the critical areas in Syria and who have produced dozens of field reports and in-depth investigations on different issues relating to Syrian affairs.
Today, international journalism is tending towards greater depth in its investigation of humanitarian, social and economic phenomena and analysis of political attitudes in order to reveal hidden political motives. This is taking place against the backdrop of the widespread accessibility of social media that is bombarding the public with enormous amounts of rumor and misinformation. In-depth studies, statistics and investigative reporting on Syria are largely absent due to the scarcity of trained journalists and researchers who are objective and impartial, and the inability to reach conflict areas and vital regions within the country.
if you think the article contain wrong information or you have additional details Send Correction