Homs Athletic Festival defies the siege in Al-Waer Neighborhood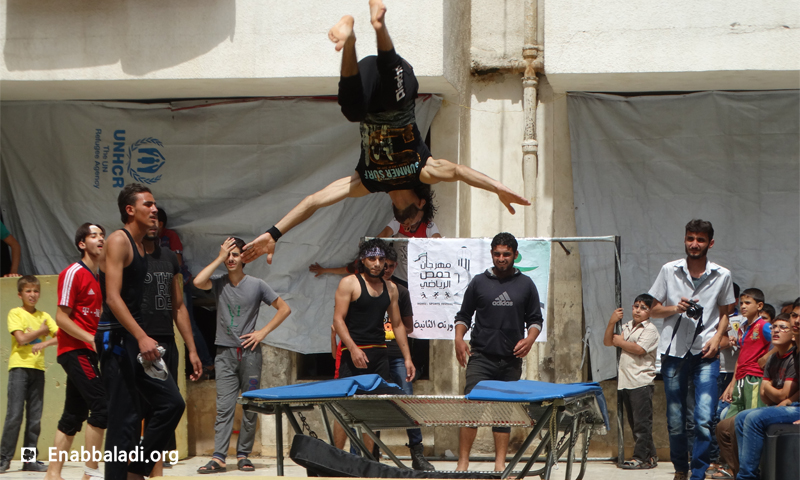 Printed Edition ‖ No.: 223
Enab Baladi – Special
Homs Athletic Festival in its second edition was held inside the besieged neighborhood of Al-Waer, in which players of different ages participated within many individual and group games.
The athletic tournaments were launched on Tuesday, May 24th, to continue for a period of 12 days, and to end with honoring the winning teams of group games, as well as the winning players of individual games.
According to Ourwa Qanawati, President of Sports Authority, to Enab Baladi, around 1000 players compete within different sports, notably: football, volley ball, gymnastics, judo, badminton, kickboxing, chess, karate, table tennis, basketball in addition to athletics (track and field 60 meters and 400 meters relay).
The festival is held in collaboration between the Public Authority for Sports and Youth in Syria and their unions, with the support of the Syrian regional program, which provides supplies, equipment and prizes at the closing ceremony.
The authority manages the festival through its executive committee in the province of Homs; they have started work in Al-Waer neighborhood last February, including 11 members and technical committees and they have sponsored soccer activities in the neighborhood, notably "Syria's buds" of the football tournament for kids in the anniversary of the Syrian revolution on 15th of last March.
Enab Baladi spoke to the President of the Executive Committee of Sports in Homs, Abdul Aziz Dalati, who says that the festival was very well received by the residents, adding "the atmosphere was enthusiastic and the competition was hot despite the weak bodies the players have due to the complete siege imposed on Al-Waer for months now."
Dalati considers the festival a cry from the athletes in Homs in the face of their enemies and the enemies of freedom, pointing out "we express our hunger, pain and feelings of oppression in a civilized way, while the regime besieges the talented and creative children in a brutal way, preventing them of the basic needs of life."
The festival comes at a time of intensified besiege on the neighborhood of Al-Waer, the thing that urged activists to launch a campaign in order to shed the light on the suffering the residents are experiencing, amid the main absence of bread, along with medical and health equipment, as well as necessary medications for patients.
if you think the article contain wrong information or you have additional details Send Correction