'Warmth and Peace' Campaign Aims to Lighten Winter Burden for Aleppo, Idleb Families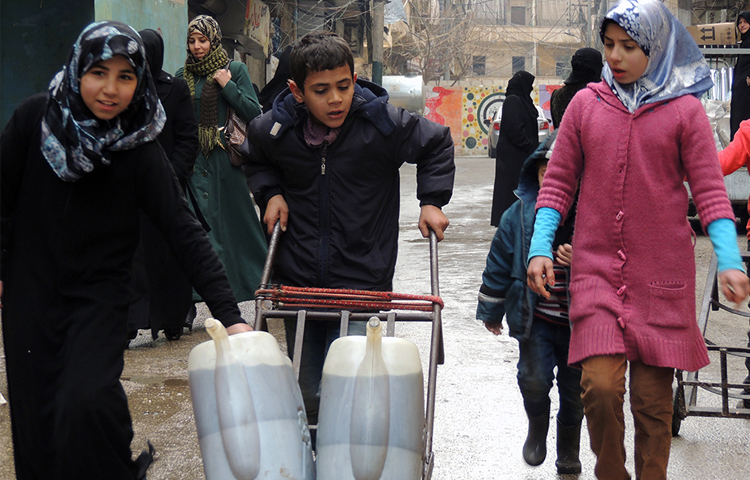 Enab Baladi
Project to distribute winter aid has already reached around 436 families throughout Aleppo and Idleb, says Ummah Foundation representative
The Ummah Foundation began its campaign distributing winter aid to residents of the cities of Aleppo and Idleb under the slogan "Warmth and peace" on Sunday, January 10.
The campaign aims to lessen the suffering of the people in Syria and in refugee camps caused by cold weather and snow storms "as much as possible", according to Asmar al-Halabi, manager of the foundation's office in Aleppo city.
The project is taking place in a number of cities, including Aleppo, Idleb, Maraa, Deir Jamaal, Kafranbel, and some camps.
The campaign includes the distribution of fuel and wood, heaters, winter equipment and clothes, according to Halabi, who said the project has already reached around 436 families throughout Aleppo and Idleb and their environs.
Halabi said the foundation conducted a survey to determine the number of families the project would cover on December 28.
Distribution started at the beginning of January in the countryside, but some of the project's beneficiaries were displaced from their homes by shelling, meaning they would receive their aid from the foundation's headquarters in Aleppo upon their return, he said.
This article was translated and edited by The Syrian Observer. Responsibility for the information and views set out in this article lies entirely with the author.
if you think the article contain wrong information or you have additional details Send Correction