Idleb Facing Shortage of Building Materials as Population Swells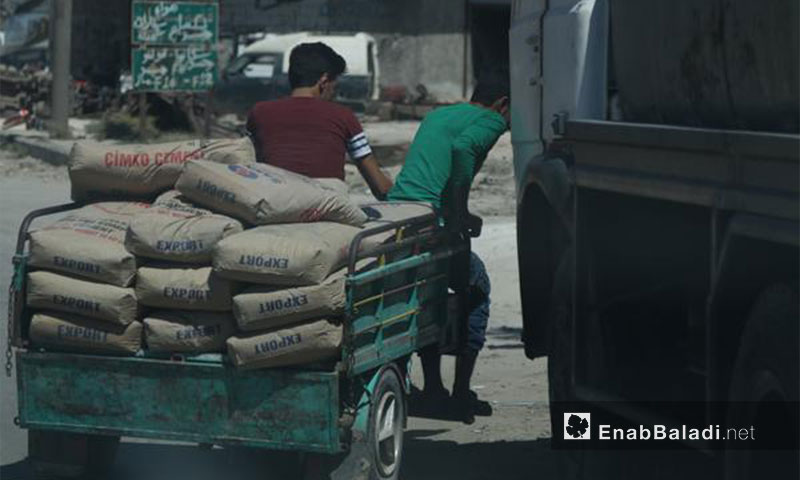 Construction goods have been banned from entering the rebel-held province from Turkey since a Nusra-led alliance took control of the border crossing, Enab Baladi writes
Building, construction and contracting activity has declined in Idleb province due to the halting of building materials entering through the Bab al-Hawa border crossing with Turkey.
Under Syrian opposition control, Idleb and the Aleppo and Hama countrysides have witnessed a building boom in recent months, especially after the truce and cease-fire agreements which included most areas in Syria, and thanks to overpopulation due to displacements from a number of areas to Idleb.
The suspension of goods, especially cement and steel, was enacted by a decision from the Turkish government after Hay'at Tahrir al-Sham took control of the crossing last month following the withdrawal of the Ahrar al-Sham rebel group, despite maintaining the same civilian administration as before. This has led to an increase in prices and a decline in building activity.
The Turkish move has had a number of effects, most prominently the increase of prices, which has led to a decline in home restoration, according to Arwa al-Qajou, a displaced person from the city of Hama.
The price increase has contributed to halting the building process and the restoration of destroyed homes by more than 85 percent in the liberated countryside, which has led to an increase in unemployment and a decline in the income of families who depend on the construction trade to live.
Foud al-Masri, a displaced person from the western Hama countryside and owner of a building workshop, said that his work has largely stopped since the entry of goods was halted. He said: "My net profits were close to $10 a day, but now the monthly amount is no more than $50." He added that he dismissed four workers who were working in his workshop.
The halting of the entry from Bab al-Hawa has opened the door for traders in the northern Aleppo countryside to send goods which enter from the Bab al-Salama crossing into Idleb and its countryside, passing through the Afrin region, which has been under the control of Kurdish forces since 2013. Afrin is the connection point between the northern Aleppo countryside and Idleb and its countryside.
However, Kurdish forces have imposed taxes on every shipment that passes through it, which has led to a large increase in prices.
These taxes are in addition to the customs fees at the Bab al-Salama crossing, which range from $5 to $30 for a single ton of construction materials, according to a decision issued by the crossing on Aug. 13.
This article was translated and edited by The Syrian Observer. Responsibility for the information and views set out in this article lies entirely with the author.
if you think the article contain wrong information or you have additional details Send Correction