Idlib: Poor quality and expensive fodder exhausts cow breeders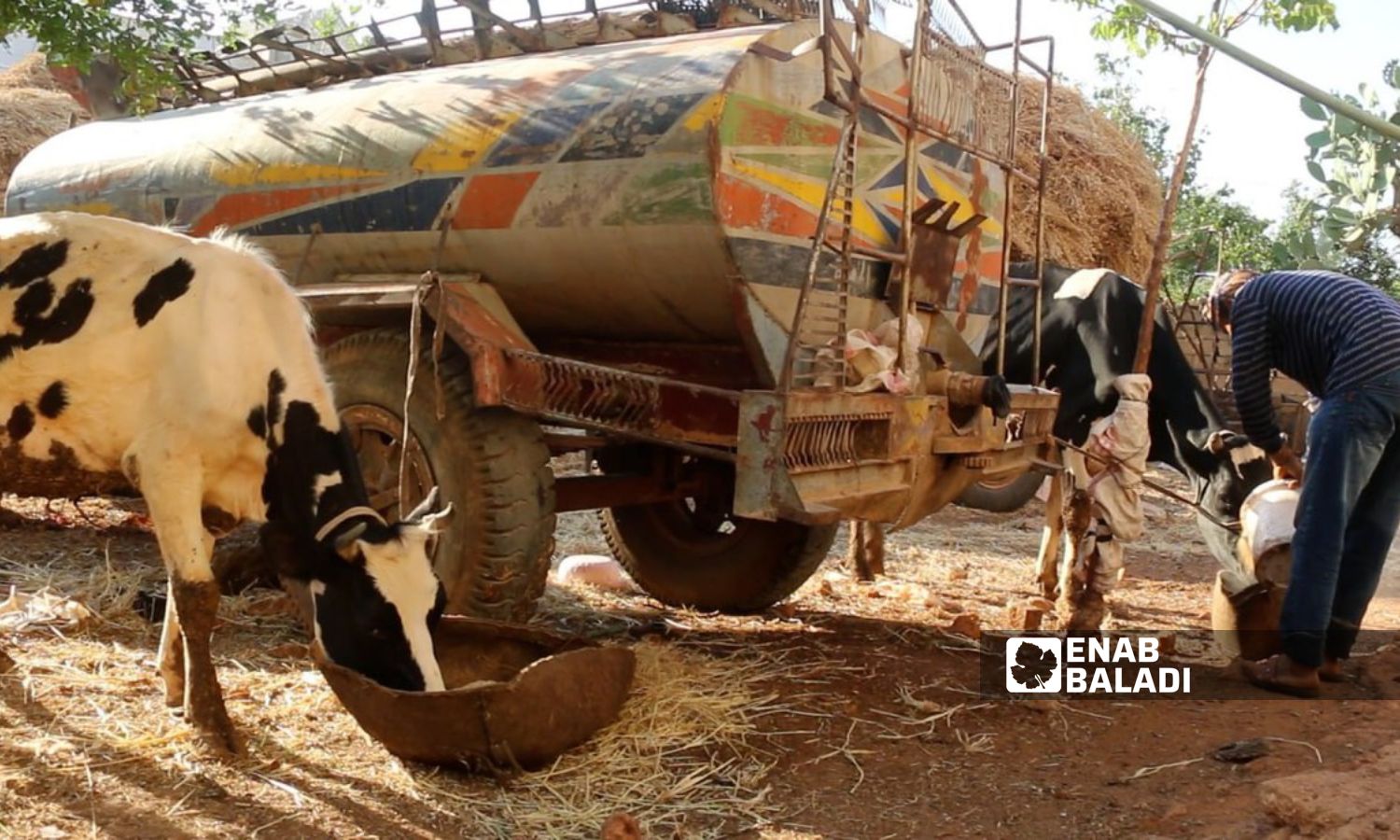 Idlib – Anas al-Khouli
Cow breeder Abdul-Qader al-Ali no longer trusts ready-made feed mixtures from mills because he believes that they do not conform to the announced specifications, after testing them and not providing the required results, which made him look for alternative solutions to feed his cows in the northwestern Idlib region.
Al-Ali told Enab Baladi that a few months ago, he bought a special milk secretion feed mixture from one of the local mills, and it was good and led to an increase in daily milk production, but the second batch of feed with the same specifications from the same mill was poor and led to weak production.
Livestock breeders in Idlib governorate suffer from the poor quality of fodder in the region and its high prices, which has inflicted huge losses on them and damaged their production projects, forcing some of them to abandon the profession of animal husbandry and look for other projects.
The price of one ton of fodder rose to $450 ($1= 27 Turkish liras). A month ago, it was about $400.
Low-quality feed
Al-Ali stated that the decline in the quality of feed is worrying him, weakening the milk productivity of his five-cow herd, and threatening his profession, which he inherited from his father, as he has been working in it since childhood.
Hussein Zahra, a cow breeder in Idlib countryside, believes that ready-made feed mixtures need strict oversight by the concerned authorities.
He pointed out that many of the mixtures do not produce the required results, which is an indication that the mixtures do not conform to the specifications mentioned at the time of purchase.
The matter does not stop at milk secretion mixtures, as Zahra previously tried other mixtures for fattening animals to increase meat production, but they led to a decrease in the weight of the animals, which caused breeders huge losses when selling them.
A number of animal breeders whom Enab Baladi interviewed called on the concerned authorities to tighten control over fodder mills, examine the extent to which the mixtures conform to the announced specifications, and provide assistance to breeders so that livestock in the region does not decline.
Salvation Government: We monitor and take samples
Abdul-Hai al-Yousef, head of the Animal Health Department in the Agriculture Ministry of the Syrian Salvation Government (SSG) in Idlib region, told Enab Baladi that the department conducts "strict control" over feed mills and mixtures to protect breeders and prevent any fraud.
According to al-Yousef, periodic tours are organized at fodder mills, and samples are taken from them. Samples of imported feed are also taken, and all of them are sent to the laboratory and quality directorate for analysis.
Al-Yousef explained that the samples are examined with high precision in dedicated laboratories and are analyzed using modern analysis devices to ensure their quality and conformity with the applicable standard specifications.
Ineffective solutions
The poor quality of fodder and its high prices forced breeders to look for alternative solutions to secure it and feed their livestock, while some of them decided to abandon raising them and look for another source of income.
Hussein Zahra tries to rely on his experience in the field of animal care to formulate feed mixtures himself without relying on ready-made mixes.
Zahra said that breeders rely on two main types of mixtures, depending on the project they intend to undertake. Some of them aim to produce milk, and others aim to fatten animals and produce meat, and each of the two options has special mixtures.
At first, he did not want to prepare the mixtures himself and tried to rely on ready-made mixtures, but the bad results forced him to do so, despite the double effort it required, he told Enab Baladi.
For his part, Abdul-Qader al-Ali said that the cow breeding project has become one of the losing and exhausting projects, and all doors have been closed in the face of breeders, as feed prices are constantly rising.
Al-Ali's five cows need 70 kilograms of fodder every day to feed on, and with a simple calculation, al-Ali needs $28 daily, in addition to other costs for caring for the cows, such as medicines and vaccines.
He said that the cows' milk production barely covers the costs of feeding and caring for them, which forced him to look for other solutions to secure fodder, including planting some plants to feed them, but the lack of sufficient water to irrigate the crops thwarted his plans.
As for Muwafaq Othman, 41, residing in the Idlib countryside, he preferred to abandon the animal husbandry project, sold all his cows due to his successive losses, and started his new project in the field of generating electricity from solar energy to sell it to the electricity company later.
The animal and livestock breeding sector in all Syrian governorates, and Idlib in particular, is witnessing a scarcity or lack of support from the controlling government agencies, except from some organizations that cover only a small part of the breeders' needs or the support of some of them is limited to annual vaccinations only.
Initiatives are emerging either individually or with the support of local entities and organizations to provide alternative fodder, including the Azolla plant, as well as the project that the Salvation Government is working on, which is producing fodder and fertilizers from the larvae of the "black soldier" fly (Hermetia Illucens) at cheap prices.
Livestock in the northwestern region is considered one of the most important sectors that provide job opportunities for the population, especially those displaced from the northern countryside of Hama and southern Idlib, in addition to the southern countryside of Aleppo city and the decline in the profession greatly affects their source of livelihood.
($1=13,400 SYP)
if you think the article contain wrong information or you have additional details Send Correction