Winter dairy supplies lack cheese in Idlib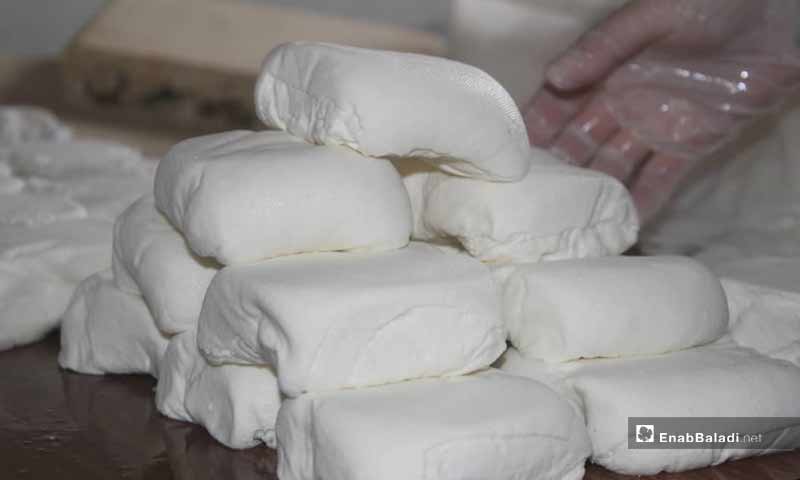 Idlib countryside – Shadia al-Taataa
Amal's family had some sheep in her town Ma'aret Hurmah, in the southern countryside of Idlib, before being forced to move and settle in Sarmada town in the northern countryside of the city. They used to sell some of their sheep milk, which is their only source of income, and use the rest to make their winter supplies of "cheese".  
However, Amal al-Hussein, a forty-year-old woman, does not intend to stockpile supplies for the current year. She used to prepare about "one hundred kilograms" of cheese annually. When asked about the reason behind her decision, her answer was that she could not even afford fresh cheese due to its high prices.
Winter Supplies without Cheese
Amal's family, like many other Syrian families in Idlib governorate, depend on stockpiling dairy and cheese products, after cooking them to be ready for consumption. The final products are placed in glass containers and kept in kitchen shelves and constitute a part of it.
However, in recent years, this dependence on milk derivatives has decreased due to the families' inability to prepare them or even store them in small quantities because of high prices.
Markets in the northwestern side of Syria have witnessed a decrease in dairy and cheese product sales, which are usually in great demand at the beginning of the spring season each year. This high demand is attributed to the abundance of cow and sheep milk which constitute the main component in producing dairy derivatives in Idlib governorate northern Syria.
Ahmed al-Dani, an owner of a dairy shop, said that majority of people have lost the desire to make ghee and butter due to high prices despite their availability in markets.
Ahmed, from Kafr Nabl city, in the southern countryside of Idlib, had to move to al-Dana town, north Idlib, where he runs a shop of dairy products.
Ahmed links the decrease in cheese demand, despite its availability, to the Syrian pound's decline. The Syrian pound's devaluation has affected cheese prices especially dairy cow products because of the high prices of cattle feed which is usually paid in the US dollar and used by most cattle breeders.
Production costs decrease sales
Compared to 2019, there is a significant decrease in the purchasing power of cheese, reaching less than half a kilogram of cheese sometimes, after families used to buy large quantities to store for winter consumption, according to Ahmed.
The retail price of milk has witnessed an increase in the current year to more than double its original in 2019 and reached SYP 700 ( USD 0.25) per one liter of sheep's milk, and SYP 500 (USD 0.18) for cow milk.
According to Ahmed, this hike in milk prices has affected cheese prices as well, as one kilogram of cheese amounted to SYP three thousand (USD 1.10). He also pointed out that cheese prices differ from one region to another in accordance with type and quality of cheese, density of population as well as the abundance of pastures in the region.
Ahmed also talked to Enab Baladi, about the various types of cheese and said there are many types in the market like "al-Azizi cheese" (named after Azaz city) known in cities and towns of Idlib governorate and the countryside of Aleppo. In addition to "Halloumi" widely consumed in Damascus governorate and its countryside as well as "Akkawi" cheese in the countryside of Idlib and Zawiya mountain. There is also "Kashkaval" and another low-fat cheese locally known by "Masshoub" widely available in markets due to its cheap prices.
Endangered pastures
Waves of displacement in Idlib governorate at the end of 2019, led to the loss of many pastures in Jabal Shahshabo, al-Ghab Plain as well as the western side of Zawiya mountain. This came as a result to the military campaigns launched by the regime and its allies on cities and towns of the governorate from April of last year till last March of the current year.
Sami al-Zawada, who works as a cattle breeder and a trader in al-Dana town, told Enab Baladi that many stock breeders had to abandon their jobs and move to other areas.
Sami said that residents of cities and towns in the northwestern of the country depend heavily on milk coming from the western countryside of Aleppo and pastures in the north of Idlib; more precisely in Ma'arrat Misrin and al-Dana.
Stock breeders find themselves obliged to sell their dairy products in the Syrian pound, while they buy feed in the US dollar, as one kilogram of feed amounts to SYP 700 (USD 0.25) with only SYP 400 ( USD 0.14)  per one liter of milk. Sami thinks that if the situation remains the same, stockbreeders may be forced to sell their cattle because of their financial losses.
if you think the article contain wrong information or you have additional details Send Correction