"Black Soldier Fly": New project to secure fodder in Idlib region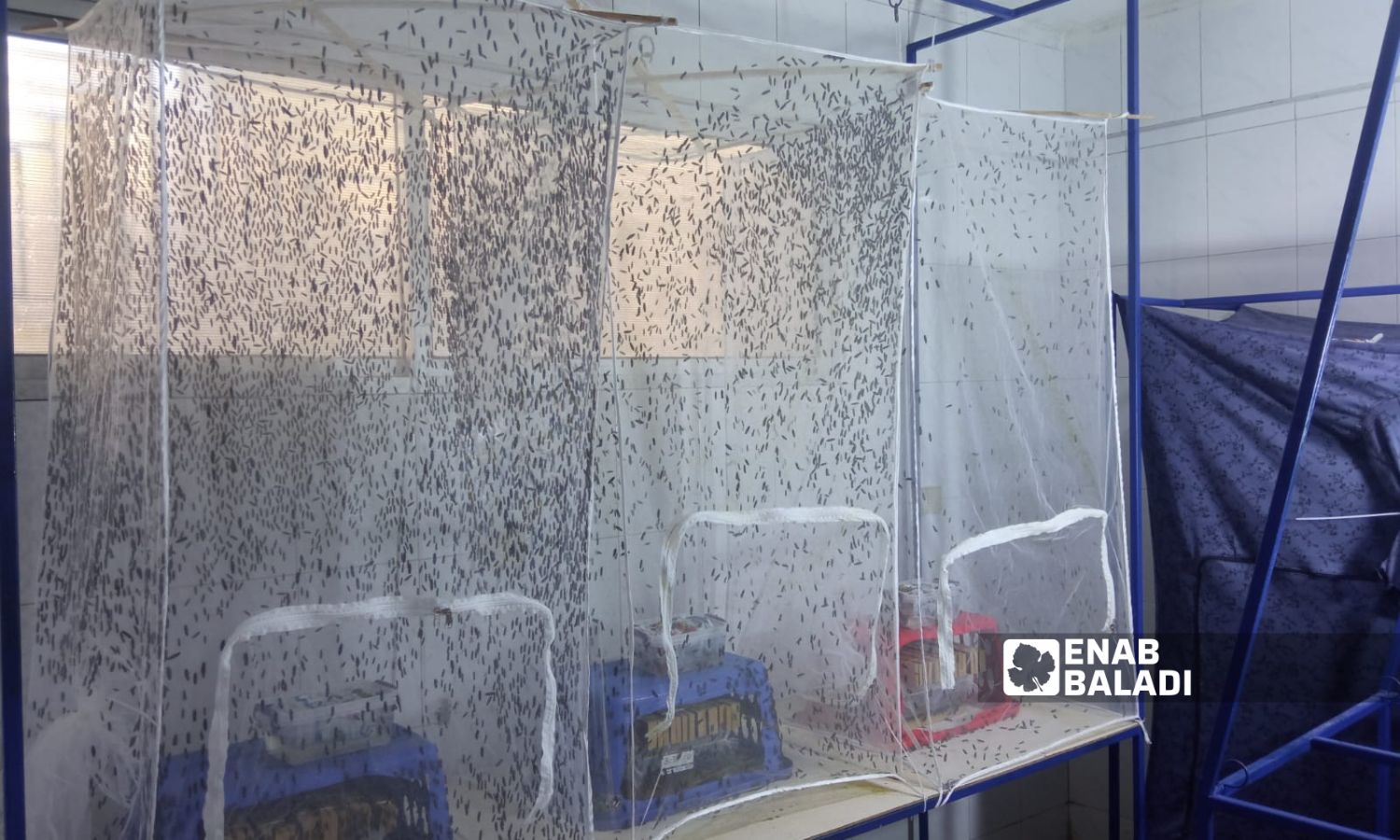 Idlib – Anas al-Khouli
Farmers and livestock breeders in the northwestern governorate of Idlib are forced to look for cheaper alternatives to ready-made dry fodder, with any rise in fodder prices, to preserve their main source of income.
Alternatives were present during the past years, including the cultivation of fodder corn, or what is known locally as "silage," and the Azolla plant.
The most recent of these alternatives was the "Black Soldier Fly" project, which is supervised by the "Agricultural Research" in the Syrian Salvation Government (SSG), the administrative body of Hayat Tahrir al-Sham (HTS).
Ali Zahra, 43, displaced from Eastern Ghouta, and works in animal husbandry in Idlib, told Enab Baladi that the search for an alternative to ready-made fodder has become difficult, as he tried to grow some types of plants to produce fodder, but he was unable to secure resources for watering.
Zahra explained that the prices of fodder are constantly rising, and the price of one ton of fodder reaches $400 ($1=27 Turkish liras), a price that exhausts animal breeders and forces them to leave their source of income.
The farmer is waiting for the idea of fodder flies after promises that the project will provide alternative fodder at a cheap price and may even reduce the price of ready-made fodder, as Zahra needs 70 kilograms of fodder to meet the animals' need for food.
What is forage flies?
For months, the General Scientific Department of Agricultural Research in the Salvation Government has been working to produce fodder and fertilizers from fly larvae at cheap prices.
Forager flies, or "Black Soldier Flies," are a type of flies that feed on waste and produce large amounts of eggs.
It is characterized by a short life cycle, and after the eggs are transformed into larvae, they are converted into animal feed rich in protein. The larvae can also be dried and turned into natural fertilizer for agricultural lands.
The Director of the General Department of Agricultural Scientific Research in the Salvation Government, Abdul Hamid al-Khaled, said that the "Black Soldier Fly" spreads mainly in tropical regions and temperate regions to a lesser extent, in addition to the rest of the world's continents, and its distribution has become global.
Al-Khaled explained that the fly's larvae feed on organic waste that must be disposed of mainly, and the larva eats twice its weight of this waste daily.
The local official stated that the larvae themselves, upon completion of their growth, become animal fodder that contains high amounts of protein for chickens, fish, and ruminant animals, and the resulting residues are used as organic fertilizers of good quality.
Production process
The breeding method can be simplified by the fact that this insect is fully developed, meaning that in entomology, it goes through four stages, which is an egg, then a larva, then a pupal, then a full insect, according to al-Khaled,
He pointed out that the egg and the pupal are two dormant stages that do not feed, while the larva is the feeding stage and is used as animal fodder.
Al-Khaled added that suitable conditions are created for adult insects to mate and lay eggs, then incubate the eggs until hatching, and then raise the larvae up to five days of age under appropriate conditions because eggs and small larvae are sensitive to environmental conditions.
After that, the resulting larvae feed on organic waste after being properly prepared until they complete their growth, then, they are served as fodder for chickens and fish with specific feeding ratios, or they are dried and ground and included with the feed mixtures instead of the meal.
Al-Khaled pointed out that at the present time, there is no production, as all works fall within the framework of research and experiments, and very soon, a mini-production unit will be launched that will gradually develop to reach good quantities.
Regarding the benefits of this project, the Director of the General Department of Scientific Agricultural Research in the Salvation Government explained that scientific studies have shown that feeding animals on these larvae improved their growth and their productivity of eggs, milk, or meat.
In addition, the nutritional components of eggs produced by chickens fed on the larvae of this fly were higher than eggs produced by chickens raised on the food used to feed chickens in poultry farms, pointing out that there is no harm to animals from feeding in the recommended proportions.
Concerning the fears of the spread of this fly, al-Khaled said that this fly has no harm to humans, and it does not even approach residential areas.
The animal and livestock breeding sector throughout the Syrian governorates, and Idlib in particular, is witnessing scarcity or non-existence of support from the controlling government agencies, except for some organizations that cover only a small part of the needs of breeders, or some of them are limited to annual vaccinations only.
Livestock in Idlib governorate is considered one of the most important sectors that provide job opportunities for the population, especially those displaced from the northern Hama and southern Idlib countryside and the southern Aleppo countryside. Also, the decline in the profession greatly affects their source of livelihood.
if you think the article contain wrong information or you have additional details Send Correction