Idlib: Consanguineous marriage affects people with disabilities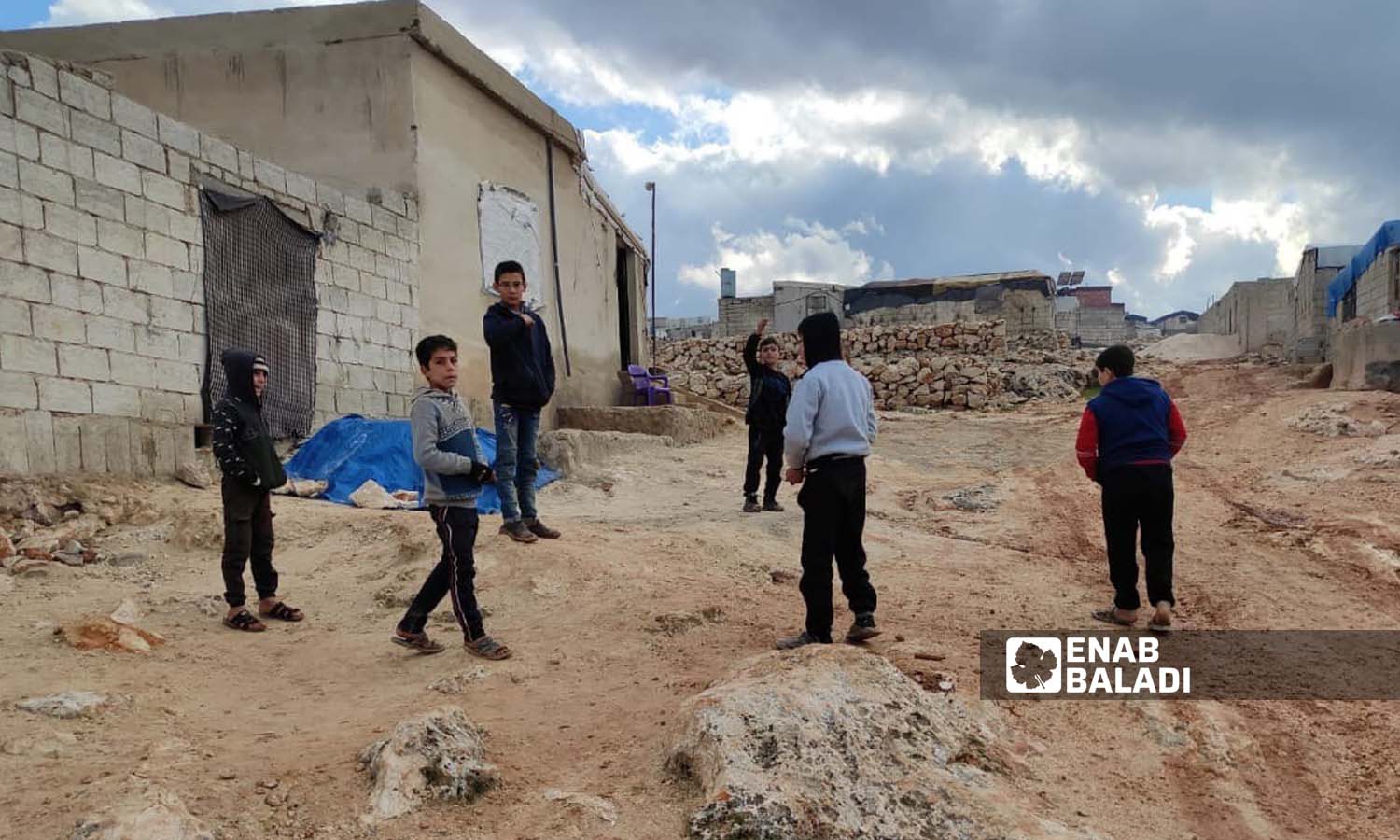 Idlib – Huda al-Kulaib
The 27-year-old Hanaa al-Zammo did not know that her marriage to her cousin would bring her so much sadness and oppression when she gave birth to two children with disabilities, one mentally and the other physically.
Al-Zammo's family decided to marry her when she was young to her cousin, under the guidance of her parents and grandmothers, which was implemented without hesitation when she turned 16.
At first, there seemed to be no problem, as consanguineous marriage is widely spread in the village of al-Rami (Hanaa's village), south of Idlib. However, what is happening with the disabilities resulting from this type of marriage is drawing her attention to the grave mistake and causing her to suffer and fear what the coming days will bring.
On the advice of doctors, Hanaa was forced to stop having children for fear of giving birth to similar cases, which put her in a difficult situation, especially since her husband started thinking about getting married again because he wanted to have healthy children.
Hanaa is now faced with two options, "the best of which is bitter." Either she bears the stigma of divorce and remarriage, or she lives to raise her children and bears the consequences of her husband's marriage to another woman.
Consanguineous marriage is one of the ancient cultural legacies that a large part of Idlib residents have not been able to get rid of until now despite the high incidence of genetic diseases, malformations, and chronic diseases among children, which end in the early death of many of them.
Rabea al-Habboush, 33, married her cousin and gave birth to four children, two of whom were born with brain atrophy. After years of visits to hospitals and specialists to treat them, their condition did not improve despite the repeated physical therapy sessions and nutritional supplements, which doctors attributed to consanguineous marriage.
Rabea told Enab Baladi, "My father refuses to marry off one of his daughters to someone from outside our family, and the priority was for the girl to marry a relative without hesitation, except in the absence of this relative who asks for her."
Al-Habboush always wondered to herself, "What is the fault of these children? She asks about the secret behind these customs and traditions, which have no justification other than preserving kinship and limiting the inheritance to the family, but the matter has become a major crime against children who are born with disabilities.
Genetic diseases
Doctor Mohammad al-Qadour explained to Enab Baladi about genetic diseases caused by consanguineous marriage, as this type of marriage stands behind many diseases, including neurological, vascular, and orthopedic malformations, Down syndrome, thalassemia, polio, and chronic diseases.
Dr. al-Qadour stressed the need not to be lenient and to work on conducting tests before marrying, to prevent the transmission of genetic diseases to children, and to limit the persistence of these diseases in the same family.
On the other hand, although consanguineous marriage is not a personal problem for some women, it often causes injustice to some of them who do not want traditional marriage, which is illustrated by Salam al-Karmou, 21, who separated from her cousin after multiple marital problems, as the couple did not find harmony in their spousal relationship. 
Salam said that consanguineous marriage is widespread in their area south of Idlib, and the years of war, displacement, and distance were not able to end these customs but rather made them stronger, especially as families preferred their relatives over strangers whom they could not know their origin or character.
However, Salam believes that family problems increase with the marriage of relatives, and division and disputes between families are common, and the relationship of the spouses is affected by the problems of the parents, and vice versa, which may cause them to separate and divorce, as happened with her.
Salam was displaced from her hometown of Ma'arshamsha three years ago during the recent military operations, and she settled with her family and her uncle's family in the Atma border camps, so she married her cousin during that period, and the marriage did not last more than one year.
Salam confirms that she did not accept her cousin's treatment of her after the marriage as a result of his constant abuse of her, which would not have bothered both families, who did not want to lose one of them to the other.
Salam, the victim most affected by the consequences of this marriage, was able to separate from her husband only after she threatened her family to commit suicide if they insisted on continuing the marriage that was imposed on her and caused her suffering.
The phenomenon of consanguineous marriage is increasing in Idlib significantly, threatening more family problems and increasing the rates of diseases and deformities among children, with the absence of any precautionary and educational measures, and despite all the devastating consequences surrounding consanguineous marriage on the social and health levels.
if you think the article contain wrong information or you have additional details Send Correction