Al-Jolani's strategy, US-led Coalition strikes exhaust Hurras al-Din group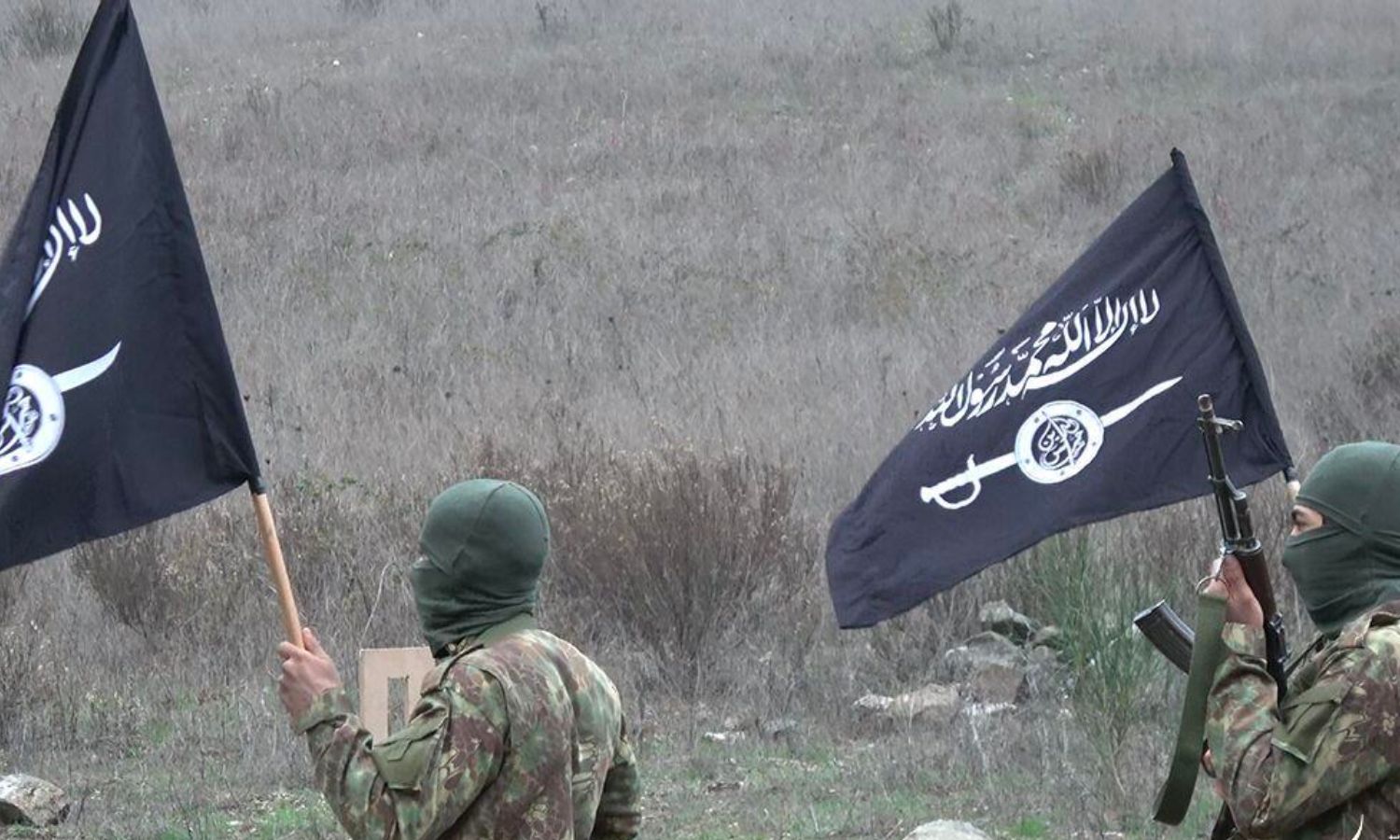 Enab Baladi – Hassan Ibrahim
The targeting of leaders and "jihadists" affiliated with the Hurras al-Din organization in northwestern Syria by the US-led International Coalition decreased after the latter focused on targeting the faction's "jihadists" by firing smart missiles from either drones or warplanes.
The Hurras al-Din faction, an affiliate of al-Qaeda in Syria and one of the most prominent "jihadist" groups, has lost the main religious leaders in its ranks over the years since its creation in Syria, in addition to being narrowed down by certain military factions.
After its leaders have been heavily targeted, the faction has not been targeted by the International Coalition for more than six months. However, this has not prevented the faction from being added by several countries to the list of banned "terrorist" organizations, which has raised many questions about Hurras al-Din's policy to maintain survival, the risks currently threatening the faction and its leaders, and the extent to which northwestern Syria is a suitable environment for its continuation.
Al-Jolani's approach depleted Hurras al-Din
The International Coalition's targeting of Hurras al-Din coincided with restrictions and prosecution by Hayat Tahrir al-Sham (HTS), led by Abu Mohammad al-Jolani, which has influence in Idlib, the western countryside of Aleppo, al-Ghab Plain north of Hama, and the hills and eastern countryside of Latakia.
With every targeting of Hurras al-Din elements, HTS is accused of being behind these operations, and of giving intelligence to the International Coalition to get rid of the Hurras, despite HTS' denial of a systematic policy towards "foreign" migrant fighters in general.
Accusing fingers towards HTS were even sturdier due to previous differences between the two factions, demonstrated by the prosecution and imprisonment of Hurras al-Din elements by HTS; the disputes reached a point of direct clash in June 2020.
Clashes also took place between HTS and the "Be Steadfast" Operations Room, which included the most prominent "jihadi" factions led by Hurras al-Din, in June 2020, causing casualties on both sides.
The clashes ended with the signing of an agreement prohibiting the deployment of checkpoints or any military action against regime forces until after coordination with the al-Fath al-Mubeen Operations Room, comprising HTS, National Liberation Front (NLF), and the Jaysh al-Izza, which is responsible for military operations in the region.
In an interview with Enab Baladi, the Syrian researcher specializing in Islamist movements, Dr. Abdulrahman al-Haj, explained that Abu Mohammad al-Jolani was able to contain the Hurras al-Din organization and the danger it posed. He was also able to prevent its activities on Syrian territory, rendering the organization ineffective even if it remained.
Al-Haj added that al-Jolani's strategy for foreign fighters goes beyond Hurras al-Din (al-Qaeda) and the Islamic State (IS), as all fighters from the Caucasus and Western countries are a target. This is the key to accepting al-Jolani as a local force to be relied upon by the Americans and regional states opposing the Syrian regime.
What is the Hurras al-Din group?

The Hurras al-Din group is an affiliate of al-Qaeda in Syria, although the latter did not officially declare that it has military presence within Syrian territory.

In January 2018, al-Qaeda's General Command issued a statement implicitly confirming the deployment of its elements in Syria for the first time since al-Nusra Front disengaged.

Hurras al-Din includes the groups Jaysh al-Malahim, Jaysh al-Sahel, Jaysh al-Badia, Saraya al-Sahel, Saraya Kabul, Jund al-Shariah, remnants of Jund al-Aqsa, in addition to a number of smaller factions that have a history of ideological and leadership ties to al-Qaeda.

In addition, there are al-Qaeda leaders in the Shura Council, which currently includes Sami al-Aridi, Abu Abd al-Rahman al-Makki, and a number of former leaders of al-Nusra Front who refused to disengage from al-Qaeda.

Many European foreign fighters have joined the faction since its creation.

Sami al-Aridi is considered the religious leader and chief of the Shariah committee in the Hurras al-Din organization and the second man in the faction after Faruq al-Suri.

The organization is not settled in a specific land or area. Small arms and light weapons, such as AK-47 rifles, mortars, and rocket-propelled grenades, are widely used by Hurras al-Din in its raids on Syrian regime positions.
Two years after the killing of Abu al-Qassam al-Urduni
This June marks the two-year anniversary of the targeting of the most prominent leaders of Hurras al-Din, including the Jordanian deputy commander-in-chief Khaled al-Aruri, nicknamed Abu al-Qassam al-Urduni, by an International Coalition drone in Idlib on 15 June 2020.
His companion, Bilal al-Sanaani, was instantly killed during the strike with drones using Ninja missiles, while Abu al-Qassam al-Urduni died of his wounds on the 22nd of the same month.
At the time, Hurras al-Din's statement said that al-Aruri and al-Sanaani were targeted as they were riding a Santa Fe type of car on their way to form the military committee of the "Be Steadfast" Operations Room.
On 24 December, the organization's machinery officer, Abu Adnan al-Homsi, was killed after being targeted by an International Coalition airstrike on Binnish road in the eastern countryside of Idlib, according to accounts close to the organization on Telegram.
Who is Abu al-Qassam?
Khaled al-Aruri (Abu al-Qassam), born on 25 July 1976, in Ramallah, West Bank, Palestine, served as Deputy Commander-in-Chief of Hurras al-Din before he was killed.
He grew up in Zarqa, Jordan after his family moved there. While in the city, he met with the leader Abu Musab al-Zarqawi, a former member of al-Qaeda in Iraq. They traveled together to Afghanistan in 1989, where they remained until 1993.
The two commanders were imprisoned for five years in Jordan; they entered prison on 29 March 1994 and left it in March 1999. After their release, Abu Musab founded an organization called Bay'at al-Imam, and they once again traveled to Afghanistan. Al-Qassam became the leader of the Abu Musab jihadi training camp in western Afghanistan.
Abu Musab and his men, including al-Aruri, left Afghanistan in 2001. Al-Aruri was one of al-Zarqawi's advisers and also his brother-in-law (his sister's husband), famously being his deputy and a liaison with the Ansar al-Islam group, which was then stationed in northern Iraq.
Al-Aruri became responsible for training camps in northern Iraq and met with Ansar al-Islam in February and August 2003. He was arrested the same year in Iran.
In 2015, Iran released him, along with other leaders, including the leader in Qaedat al-Jihad, Saif al-Adel al-Masri, with whom al-Aruri had built a relationship, as he helped al-Qaeda, and especially al-Zarqawi, in establishing his own camp in Afghanistan's Herat province in 1999.
Iran released him in an exchange; in March 2015, al-Qaeda handed over an Iranian diplomat it had previously kidnapped in exchange for the release of al-Aruri and a number of al-Qaeda leaders, including Saif al-Adel al-Masri, Abu Mohammad al-Masri, and Abu al-Khair al-Masri, who was killed during an International Coalition raid near al-Mastouma camp in Idlib, northwest Syria, in February 2017.
Abu al-Qassam al-Urdoni went to Syria to fight against the Syrian regime. Together with some fighters, he founded Hurras al-Din and became the most prominent "veteran" leader in the faction until he was killed on 22 June 2020.
Musab Kinan, the latest blow
International Coalition strikes targeting Hurras al-Din "jihadists" has continued, the latest of which was in December 2021, targeting a leader whose identity was revealed by the US Department of Defense at the time.
On 3 December 2021, a leader of the Hurras al-Din organization, Musab Kinan, who was riding a motorcycle near the village of Kafr Batikh, south of Idlib, was killed following a US drone bombing that targeted him directly. Seven civilians from one family were injured as they drove by on the road.
The Syria Civil Defense (SCD) said that one person was killed, and five civilians from one family, including three women and a child, were lightly wounded following a reconnaissance aircraft bombing that targeted a motorcycle on the Ariha – al-Mastouma road.
Speaking to Enab Baladi, Observatory 20, which monitors air traffic in the northern Syrian regions, said that the American-made MQ-9 Reaper had targeted a motorcycle east of Idlib with three missiles.
The Pentagon spokesman, John Kirby, told a press conference on 6 December 2021 that the drone strike targeted the Hurras al-Din organization, an al-Qaeda affiliate, and that "the slain leader is called Musab Kinan."
At the time, Kirby did not provide any additional information on the person's identity, adding that the preliminary review of the airstrike "already indicates the possibility of potential civilian casualties."
The Syrian researcher specializing in Islamist movements, Abdulrahman al-Haj, believes that the failure to target Hurras al-Din leaders since the last strike is due to the decline in their activities and their threat not only to the stability of the region in northwestern Syria but because of the possibility of their network expanding and posing a threat in the east of the Euphrates where American troops are located.
What is Hurras al-Din's policy today?
The current situation does not allow Hurras al-Din to engage in extraterritorial activities, nor in any activities within borders, according to al-Haj, who spoke of strict surveillance practiced by al-Jolani, as well as ongoing security operations at the slightest feeling that they might move.
The Syrian researcher added that the past years have proven that al-Jolani is serious about eliminating them and, therefore, can only survive if they stop any direct activities that pose a threat to HTS or a threat to Turkish allies, US and Western countries.
HTS Commander-in-Chief was able to dismantle most of the Hurras al-Din networks in Syria, meaning that any attempt to rebuild these networks would require long-lasting work and self-restraint, according to al-Haj, who suggested that the Hurras al-Din organization is now probably beginning to realize that the environment in Syria is no longer favorable.
It has been a long time since Hurras al-Din last declared responsibility for any military operation or targeting in northwestern Syria, as is the case with many factions after the cessation of military operations in the region since the Moscow agreement or what is known as the "cease-fire" signed between Russia and Turkey on 5 March 2020, with the exception of a few targeting operations announced by al-Fath al-Mubeen on military zones or positions affiliated with the Syrian regime, which often comes as a response to the shelling of the region by the regime and its allies.
Al-Haj stressed that the foregoing does not end the process of confronting the Hurras al-Din organization. Al-Jolani's aim and interest is to dismantle the jihadist network of migrants (foreigners) and their local allies. Although al-Jolani has come a long way so far, the organization still exists. Therefore, al-Jolani will continue to confront and besiege them until they are expelled.
Syria is no longer a safe place for the activity of Hurras al-Din, and HTS commander Abu Mohammad al-Jolani succeeded in achieving this in indirect coordination with the Americans.
Dr. Abdulrahman al-Haj, Syrian researcher specializing in religious movements
Hurras al-Din, a regional threat
On 30 May, the European Union Counter-Terrorism Office announced the inclusion of the Hurras al-Din organization and two of its leading figures on the list of proscribed terrorist organizations.
In a statement, the European Union announced the addition of the faction and its leader, Faruq al-Suri, and its religious leader, Sami al-Aridi, to the list of those subject to restrictive measures against the Islamic State group and al-Qaeda and persons, groups, undertakings, and entities associated with them.
According to the statement, Hurras al-Din operates in the name and under the umbrella of al-Qaeda and has been involved in the planning of external terrorist operations. To achieve its objectives, the group has established operational camps in Syria that provide terrorist training to its members.
A total of ten persons will now be subject to a travel ban and an asset freeze, and three groups to an asset freeze. In addition, EU persons and entities will be forbidden from making funds or economic resources available to listed persons and groups.
The statement also stated that, through propaganda activities, the sanctioned group and individuals have also played a key role in promoting al-Qaeda's violent jihadist ideology and in inciting terrorist acts in support of al-Qaeda.
The EU ended its statement by stressing that "Hurras al-Din and its two leaders, therefore, pose a serious and continued threat to the EU and to regional and international stability."
The European Union's statement came almost four months after Australia's announcement that several factions, groups, and parties were included in the list of prohibited terrorist organizations, including the Hurras al-Din faction.
Karen Andrews, the Australian Minister for Home Affairs, said that her country had included the Hurras al-Din faction on its terrorist lists on 17 February.
Andrews considered Hurras al-Din to be "a violent extremist Sunni Islamist group with religious motives that was established in Idlib, Syria, in early 2018, as part of the global (al-Qaeda) network".
if you think the article contain wrong information or you have additional details Send Correction