Consumer cooperatives to confront price hike in northern Syria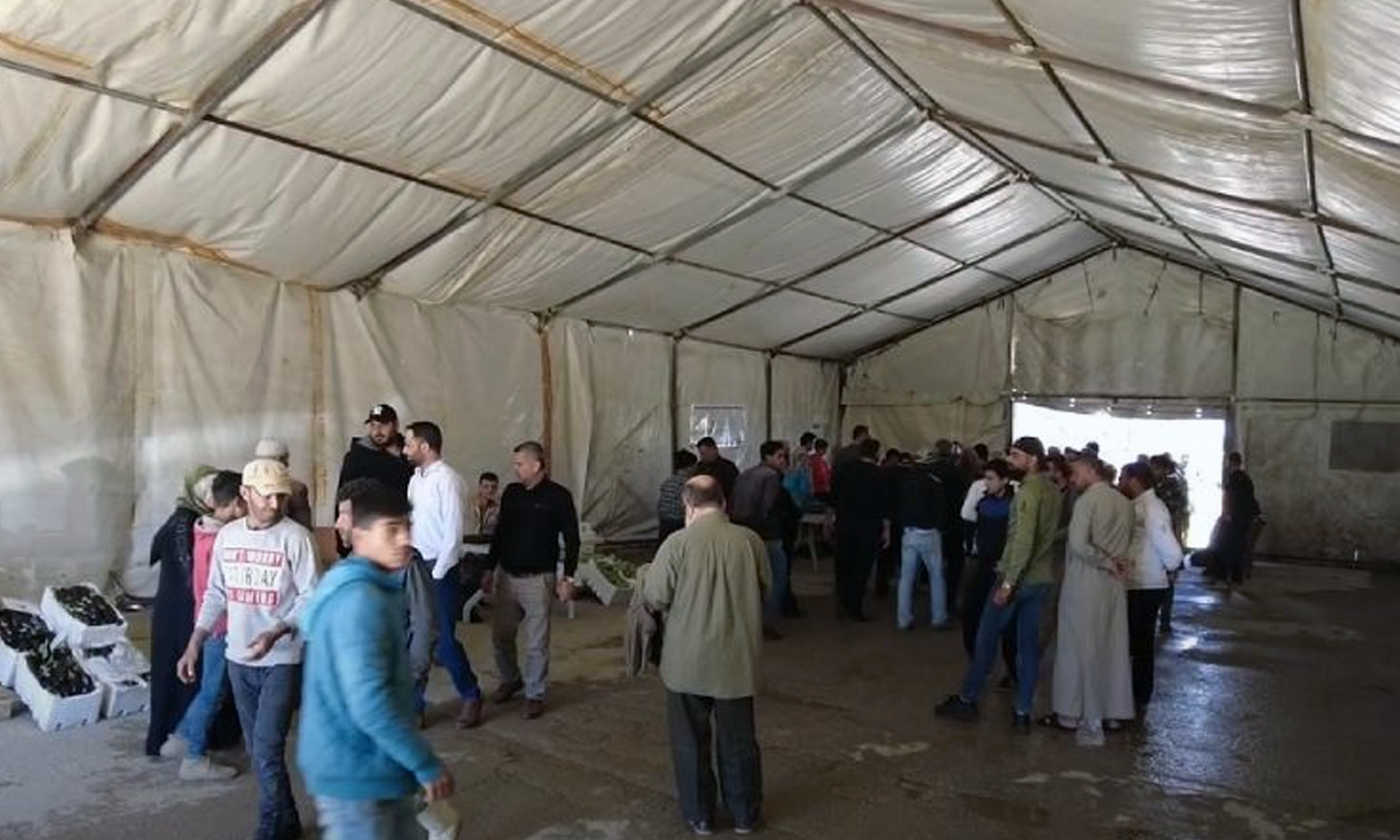 Enab Baladi – Zeinab Masri
As a solution to cope with rising vegetable prices in the northern countryside of Aleppo governorate, the local council of Azaz city opened a popular market selling products at "competitive" prices on 9 April, in a move that makes one wonder about the possibility of establishing consumer enterprises in northern Syria that provide goods at subsidized and reduced prices compared to their market prices.
Syrians' options in northern areas under the influence of the Salvation and the Interim governments are narrowing in light of inflation and price hikes. There are no job opportunities and no stable income in light of the de facto authorities' inability to take action to alleviate the livelihood challenges of some three million people in the region, who suffer as a result of the deteriorating economic situation.
The popular market was opened with the cooperation and support of al-Jabha al-Shamiya Front, a key unit in the Syrian National Army (SNA), the military police, and in coordination with the city's volunteer teams.
According to a statement issued by the council, vegetables will be sold in the said market at competitive prices, which would limit the hike in commodity prices in the city and aid citizens experiencing difficult living conditions.
The subsidy policy is one of the most prominent policies adopted by governments to alleviate livelihood burdens on low-income people by subsidizing and providing basic goods and services at reasonable prices, contributing to improved quality of life and social solidarity. However, the application of such policy is limited in northern Syria.
Governments usually allocate a proportion of public resources to subsidize many goods and services with the aim of providing basic needs (bread, sugar, oil) for those with low incomes at suitable prices, in addition to subsidizing commodity exports, loans, and a variety of services.
In order to ascertain the extent of subsidy provided by the Salvation and the Syrian Interim governments to citizens in their areas of control and the possibility of opening consumer enterprises through which citizens can sell products at subsidized prices, Enab Baladi reached out to the ministries of economy of both governments.
A consumer cooperative is under study 
The Interim Government, which runs the areas of Turkish military operations Peace Spring, Euphrates Shield, and Olive Branch, subsidizes bread and flour. It also subsidizes animal feed, of which 5,000 tons will be distributed free of charge to livestock breeders.
According to the Minister of Economy, Abdulhakim al-Masri, there are indirect subsidies in the form of reduction of customs duties or the exemption of some basic and essential goods and industrial raw materials.
As al-Masri told Enab Baladi, the Interim Government does not possess the resources to establish consumer enterprises but is currently preparing a study to launch a "consumer association," in which people can make a small contribution (100 – 200 Turkish liras per share) to raise sums with which basic materials are imported to be sold at cost price.
The Minister attributed the ministry's inability to establish consumer enterprises to the lack of resources, and to its collection of taxes and fees from residents solely in certain cases, through local councils and in exchange for substantially required services.
Al-Masri said that the price hike is global and that it is directly reflected in northern Syria, considering that most of the materials are imported, in addition to inflation and higher oil prices that raise the costs of agricultural production and, consequently, product prices.
How much subsidy is there in Idlib?
The Salvation Government operating in Idlib and parts of the western countryside of Aleppo directs subsidies to beneficiaries through humanitarian organizations. The government is also working on development projects that would provide jobs and reduce reliance on relief and aid, according to Hamdo al-Jassem, Director of Public Relations at the Ministry of Economy and Resources in the Salvation Government.
The Ministry of Economy's policy is to protect local products and promote agriculture with a view to securing jobs, as al-Jassem explained to Enab Baladi while denying that the policy is based on subsidies.
Al-Jassem pointed out that subsidies provided by the Ministry of Economy, such as the bread subsidy project, are emergency subsidies.
On the idea of presenting goods at subsidized prices and dedicating consumer lounges to citizens in the north of Syria, al-Jassem said that there is an open market and that competition exists among traders, which lowers prices.
In his view, the solutions were to reinforce ration control patrols, reduce imports, work on achieving food security through agriculture, cultivate grains and oilseeds, and protect local industrial products with the aim of securing job opportunities for the people.
Unmet conditions
The establishment of consumer enterprises and directorates of general trade in northern Syria requires clear resources and a body that has great capacities, according to Osama al-Kadi, an economic researcher and head of the Syrian Economic Task Force.
There is insufficient income to sustain two or three million people in that region, and resources are limited both for the Interim and Salvation governments, as al-Kadi said in an interview with Enab Baladi. This is not feasible to be done for the Interim Government. The Salvation Government may have resources, but it needs more transparency.
Al-Kadi says that, in order to succeed in the idea of establishing consumer enterprises that provide services to the north, the two governments operating in northwestern Syria must integrate into one.
After the merger, this government will need genuine and clear resources and qualified staff, as well as clear budgets so that it can establish enterprises that sell finished goods at subsidized prices.
According to the researcher, this "integrated" government must be supported by the Turkish government, for instance. Or, the northwest and northeast could be integrated into one single region, so it would be supported by both the Turkish and the American governments.
In so doing, such issues would be regulated because they require clear budgets and food supplies in the event that safety conditions are met following a cessation of shelling and the vanishing of militias randomly spread throughout the area.
First step: a sovereign government
Al-Kadi stressed that the idea of creating consumer enterprises requires a sovereign government, and there is no government entity in the north that is sovereign or one with the institutional form of a government for that matter. Therefore, a political deal must be reached, through which the region's borders, resources, population, and income levels would be defined.
Normally, governments' resources (real governments, not de facto authorities) come from trade, industry, agriculture, and people's taxes.
According to al-Kadi, as long as there is neither sovereignty nor an elected government, taxes collected from the citizens of that region (northern Syria) will be viewed as a tribute and an "injustice to the people." Al-Kadi justified this by the absence of transparency in tax collection, resources, or in the management of institutions, as well as the fact that said institutions were not established in an elected manner based on a constitution, law, judiciary, and genuine government institutions.
The researcher, therefore, considers that consumer enterprises in northern Syria are currently an impractical solution but that it could be a practical solution should there be a truly sovereign government, which has the nature of normal government administrations.
Al-Kadi emphasized on security being provided for that to actually work while stating that this requirement would not be met unless there was a political solution that protects the area from the bombing of the regime, Russian forces, or the fighter militias.
He considered that the entire project could simply be threatened if the Bab al-Hawa border crossing with Turkey was closed, if not extended as a gate for cross-border aid delivery, as it could be the main resource for certain areas outside the regime's control.
Multiplying humanitarian needs
One-fifth of displaced people in northern Aleppo and about 28 percent in Idlib lived critically below the Survival Minimum Expenditure Basket (SMEB) of essential food and non-food items, according to a report issued by the United Nations Office for the Coordination of Humanitarian Affairs (OCHA) on 20 April.
The figures were higher for those living in displacement sites. The cost of the Basket increased from 129 US dollars in September 2021 to 144 US dollars in February 2022 (the food component alone of the Basket was worth 105 US dollars in February).
Food prices went up across Idlib and northern Aleppo in March; one liter of cooking oil cost about 45 percent higher at the end of the month, and lamb meat and chicken prices went up by 25-45 percent. The rapid depreciation of the Turkish lira has impacted the prices of basic commodities, especially food items, particularly in the last quarter of the year.
Most of the electricity in the region is sourced from Turkey. Fuel prices have been steadily increasing, and electricity prices have already gone up by 125 percent from January to March of 2022.
According to said report, northern Syria now depends on imports from Turkey for wheat and flour. The latter's price for one ton went up from 390 US dollars to about 450 US dollars in early March, and bread prices are fluctuating. In January, an amount of five Turkish liras could buy about 775g of bread in Idlib, while the same amount could only buy 625g at the end of the month. Some 55 percent of the population in northwest Syria cannot meet their daily bread needs.
Inflation is impacting cross-border humanitarian response to the northwest. Cash vouchers no longer have the same purchasing power as originally intended, as value assessments are becoming outdated.
Support to bakeries is also affected as projected budgets still reflect earlier wheat prices. This can result in the suspension of subsidies by different actors, according to what the report had indicated.
if you think the article contain wrong information or you have additional details Send Correction