Northern Syria people condemn Turkish rapprochement with al-Assad; "We die and do not reconcile"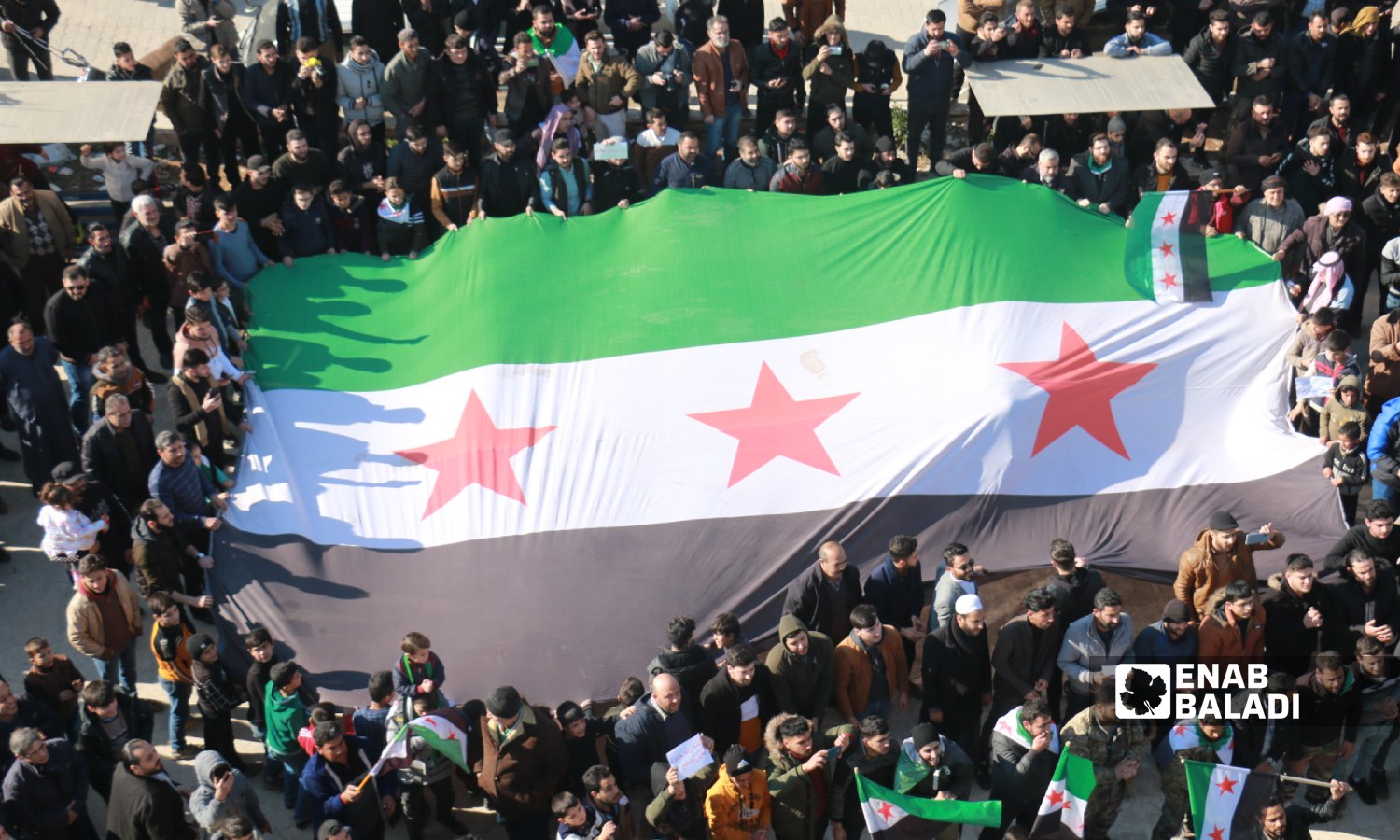 Demonstrations took place in the cities and towns of northwestern Syria on Friday, denouncing the Turkish statements about the rapprochement with the Syrian regime and affirming the continuation of the Syrian revolution.
Dozens of cities and towns, such as Idlib, Jisr al-Shughour, al-Atarib, al-Dana, Taftanaz, Azaz, Akhtarin, Marea, al-Bab, Jarablus, Afrin, Tal Abyad, Ras al-Ain, and others, witnessed demonstrations under the title "We die and do not reconcile with al-Assad."
The demonstrators chanted slogans rejecting any reconciliation with the Syrian regime, which has killed hundreds of thousands, displaced civilians, and is still detaining tens of thousands of people. They also carried banners denouncing the Turkish authorities' statements of rapprochement and restoring relations with the regime.
The banners carried statements and slogans like "The ally of the Syrian people's enemy is an enemy of the Syrian people," and "Turkey, we do not want permanent peace with those who killed our families and children," and "Our never-failing stance, will not reconcile (with al-Assad)" and "We want to overthrow the regime."
The demonstrations came in response to calls launched by activists and local pages under the headline "Uprise to restore the life of the first revolution," in reference to the resumption of the popular movement in the streets, as it began in 2011.
Turkish defense minister Hulusi Akar and the head of its National Intelligence Organization (MIT), Hakan Fidan, met with Syrian defense minister Ali Mahmoud Abbas and Syrian intelligence chief Ali Mamlouk in Moscow along with Russia's defense minister Sergei Shoigu, the Turkish defense ministry said on Wednesday, Reuters reported.
"Syrian crisis, the refugee issue, and efforts of joint fight against all terror organizations on Syrian soil were discussed in the constructive meeting," the Turkish ministry statement said.
The Turkish, Russian, and Syrian sides agreed to continue trilateral meetings, the statement added.
Turkish President Recep Tayyip Erdogan announced this month that he proposed to his Russian counterpart Vladimir Putin to form a trilateral mechanism with Russia and Syria to accelerate diplomacy between Ankara and Damascus. He also said he wanted to meet Syria's regime president Bashar al-Assad, according to Reuters.
For its part, the regime's defense ministry said in a statement that it was a "positive" meeting in which many files were discussed.
Erdogan said at the time that, as of now, "we want to take a step as the trio of Syria, Turkey, and Russia."
Erdogan added that the intelligence should band together first, then the defense ministers should meet, then the foreign ministers should meet, and after these steps, he will meet with Putin and al-Assad as leaders, explaining that Putin viewed this offer as "positive," confirming the start of a series of negotiations.
if you think the article contain wrong information or you have additional details Send Correction