No free treatment in Aleppo's public hospitals, patients appeal to businessmen for help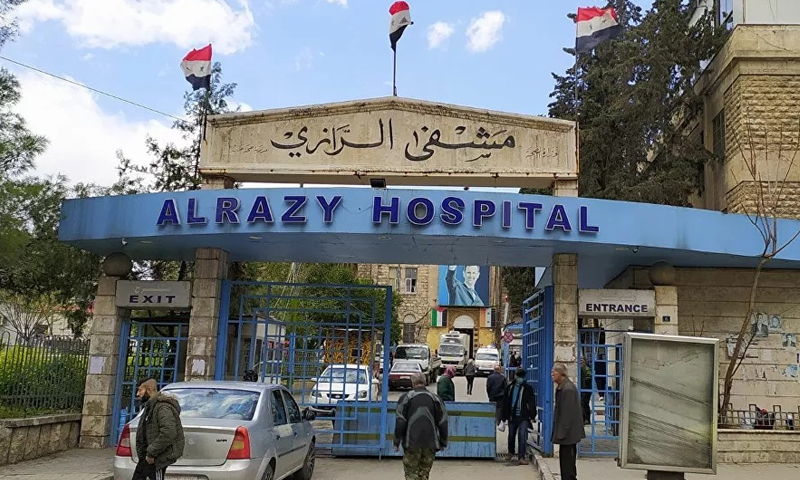 Patients of state hospitals in the Syrian regime-controlled areas in Aleppo governorate continue to appeal to merchants and industrialists to help them pay medical bills or the security deposit sum required to admit patients for expensive surgeries. 
Enab Baladi's correspondent in Aleppo reported that the deteriorating living conditions and continued rise in prices, including hospitalization fees and medication costs, have forced people in Aleppo to appeal to wealthy businessmen for help.
The correspondent added that some merchants respond to these calls and interfere to save patients' lives or help those in need of surgical operations. 
Forty-seven-year-old Afifa al-Ahmad told Enab Baladi that her son had suffered from a medical condition requiring heart surgery, but her dire financial situation, which she shares with many people in the governorate, has impeded her from arranging the surgery.
Al-Ahmad resorted to wealthy merchants and industrialists for help, and her appeals got answered. She received financial assistance to pay for the surgical operation and necessary medication. She pointed out that she was somewhat lucky because the hospital was expelling those unable to pay treatment costs.  
The deteriorating living situation and high medical costs coincide with a near-total absence of any role for charitable associations and organizations involved in securing the essential needs of Syrians living in regime areas. 
Mohammed Nouri, 49, told Enab Baladi that he repeatedly sought the help of charitable associations to secure money for his daughter's medical problem, but to no avail. 
Nouri added that he reached out to charities to cover his five-year-old daughter's treatment costs, as she needs regular blood transfusion sessions. 
A worsening crisis
The University and Ibn Rushd hospitals in Aleppo canceled free dialysis sessions for patients with kidney diseases early last April.
The number of dialysis equipment in Ibn Rushd Hospital is 45 machines, 31 are out of service, leaving patients at the mercy of only 14 devices.
The majority of patients were notified of their sessions' postponement; however, over 38 patients were later told that their dialysis treatment will be suspended entirely, Hamada, a male nurse working in Ibn Rushd Hospital, told Enab Baladi.   
Some patients made several visits to the Hospital's administration to inquire about the issue, and on every visit, they were told that "technical reasons" stand behind the suspension of their dialysis sessions. The patients were advised to seek alternative hospitals to continue their treatment. 
Hamada told Enab Baladi that technicians frequently maintained dialysis machines, but the repercussions of the coronavirus (COVID-19) pandemic affected hospitals' capacity and led to neglecting the nephrology department. 
Aleppo charities ignore patients' appeals
Discouraged by charitable associations' lack of help and under financial failure to treat his daughter, Nouri decided to appeal to merchants' help. He hoped to cover the costs of the blood transfusion procedures, and fortunately, one of the city's merchants offered to pay the monthly sessions' costs.  
Enab Baladi reached out to charities in Aleppo to comment on their refusal to cover patients' medical costs, especially those of surgeries, hospital accommodation, dialysis and blood transfusion sessions, but received no answer. 
An employee of one of Aleppo city's charities told Enab Baladi on the condition of anonymity that there are conditions for financial assistance, adding that those who had previously been granted financial aid were accepted by favoritism and even the families of the regime's killed soldiers and elements are subject to the same mechanism.
No free treatment in regime's public hospitals
The Syrian government's public hospitals have started charging patients large amounts after they used to offer semi-free medical services. 
Last August, the regime's Ministry of Health canceled free dialysis sessions in public hospitals.
A single dialysis session costs between 275 and 350,000 Syrian pounds in private hospitals. 
Health workers in Syria suffer from a lack of medical supplies and low incomes in light of the worsening living conditions in the country. Moreover, they are systematically targeted in various Syrian regions.
---
Enab Baladi's correspondent in Aleppo Saber al-Halabi contributed to this report.
if you think the article contain wrong information or you have additional details Send Correction