Let down by medical system: Kidney dialysis patients in Aleppo denied treatment sessions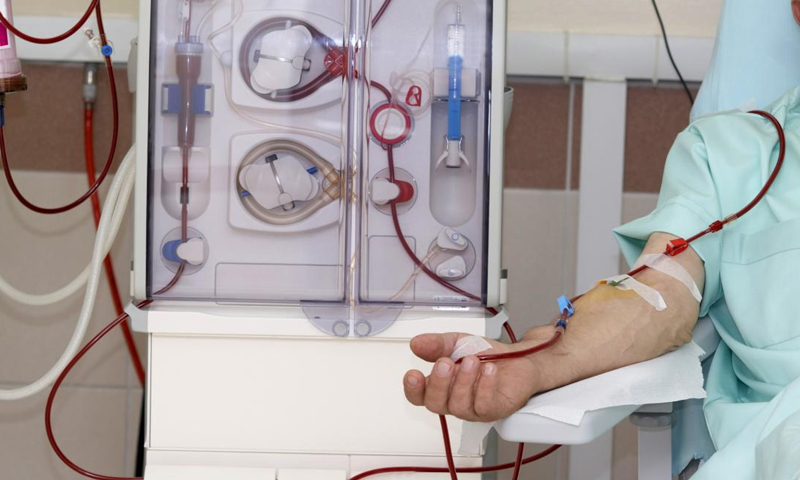 Aleppo – Saber al-Halabi
Ahmed was shocked by the fact that two of his three scheduled dialysis treatment sessions were canceled in the government University Hospital in Aleppo province, where he used to be treated at nominal charges.
Ahmed's financial concerns grew with the treatment's cancelation, especially with his inability to afford the cost of this medical procedure at private hospitals, with one dialysis session costing more than 75 Syrian pounds (SYP = 25 USD).
"I have no personal income. My two sons, who work in construction and tailoring, give their salaries to the house. Their money is barely enough to pay for food, ampere generators' subscription, and electricity and water pills," Ahmed told Enab Baladi.     
Several government hospitals in Aleppo have canceled their patients' almost free-of-charge dialysis sessions at the start of April, leaving patients to face difficult options to secure treatment costs at private hospitals amid a continued deterioration in living conditions. 
Malfunctioned dialysis machines 
The number of dialysis equipment in Ibn Rushd Hospital is 45 machines, 31 are out of service, leaving patients at the mercy of only 14 devices.
The majority of patients were notified of their sessions' postponement; however, in the last two weeks, over 38 patients were told that their dialysis treatment will be suspended entirely, Hamada, a male nurse working in Ibn Rushd Hospital, told Enab Baladi.    
Some patients made several visits to the Hospital's administration to inquire about the issue, and on every visit, they were told that "technical reasons" stand behind the suspension of their dialysis sessions. The patients were advised to seek alternative hospitals to continue their treatment. 
Hamada told Enab Baladi that dialysis machines were frequently maintained by technicians, but the repercussions of the coronavirus (COVID-19) pandemic affected hospitals' capacity and led to neglecting the nephrology department. 
Some patients sought treatment in the University Hospital, al-Razi, and Zahi Azraq Hospital and managed to receive only one free dialysis session after paying the medical examination fees of about 3,000 SYP (about 1 USD).
One patient, Hasna, went to the University Hospital after her treatment sessions were suspended at Ibn Rushd Hospital.  There, she was informed that she will receive only one out of three needed dialysis sessions. "Government hospitals exhibit deliberate negligence towards patients, especially if they didn't have strong connections. In such a case, patients could die before they receive a single free dialysis session," Hasna said.
She added that she has a medical record that gives her the right to obtain free dialysis sessions; still, the University Hospital canceled the sessions and refused to treat her. She went to al-Razi Hospital to find that the sessions there were also canceled.
Hasna's only option was to pay 75,000 SYP (25 USD) for every session at the University Hospital. "We were told to buy medications and materials used for dialysis at our own expense. Charity organizations did not help us because their priority is focused on supporting wounded army members and affiliated forces and their families," Hasna said.
Charities overlooking patients' sufferings
There are several community-based charity organizations in Aleppo province, some of which are civil organizations, and others are affiliated with the regime. These charities have been visited by dozens of dialysis patients seeking financial aid to cover their treatment costs; however, they received nothing but empty promises or excuses.  
Farouk is one of these dialysis patients who reached out to the Syria Trust for Development (STD), a charity organization founded and chaired by Asma al-Assad, the wife of the Syrian regime president Bashar al-Assad.
Farouk told Enab Baladi that the STD offers financial assistance only to the families of wounded regime army members and affiliated forces. Civilians rarely receive financial support from the STD and only by favoritism after a regime officer calls the STD to accept some patient's file. 
He added, "Since 3 April, I have been reaching out to the STD to cover the costs of my dialysis sessions. The charity's employees refused to take my file, and one of them told me that I may obtain the STD's support if a strong connection aided me. I followed the employee's advice and sought the help of one of the regime's officers; still, I was denied financial assistance to pay for my treatment, scheduled as three dialysis sessions every week." 
A quest for financial help
Some merchants from Aleppo secretly donate money to families in need. Their money covers up the treatment costs for some of the chronic illnesses patients, whose conditions require periodic or ongoing treatment, such as dialysis patients, who are sometimes helped out by benefactors' financial assistance.
Ahmed is one of the dialysis patients who sought after merchants or philanthropists' financial help to cover his treatment sessions. He told Enab Baladi, "Some merchants have met patients' needs and donated their sessions costs, while others secured necessary medications. These people's benevolence extended to ask whether we knew other patients who couldn't afford their treatment expenses." 
Kidney dialysis patients undergo three treatment sessions a week in the regime's government and private hospitals. In each session, waste products and fluids are removed from the patients' blood through a dialysis machine, which replaces the kidney's role and maintains homeostasis within the body. 
if you think the article contain wrong information or you have additional details Send Correction