Aleppo has no longer access to free dialysis sessions, leading to rising deaths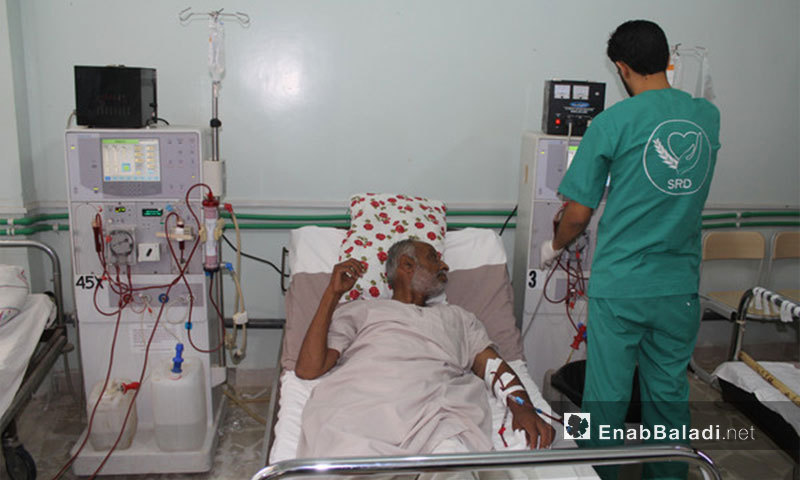 Aleppo – Saber al-Halabi
Mazen had to bury his father after he died due to the cessation of free kidney treatments in Aleppo's governmental hospitals. Mazen could not obtain financial assistance for the costs associated with his father's dialysis sessions after several unfruitful attempts.
Earlier, Mazen tried to get his father dialysis sessions at the University Hospital; however, he failed, and his father died of complications resulting from renal failure. 
Like Mazen's father, dozens of people have died in Aleppo because of cancelling free dialysis sessions for patients with kidney disease. In addition to that, many patients were not able to afford treatment in private hospitals. Burial procedures of patients with kidney disease are conducted typically. Mazen, a 39-year-resident of the Salah al-Din neighbourhood in Aleppo city, told Enab Baladi. 
"Public hospitals show no mercy or compassion when they refuse our serious health requests. They say that they are no longer offering free-of-charge-dialysis sessions for patients with kidney disease in Aleppo, due to the absence of financial support, knowing that the hospital linked with the Syrian government used to conduct the sessions almost free of charge."
However, due to the economic deterioration in the regime-controlled areas, this free medical service has been cancelled in government hospitals. According to Mazen, dialysis sessions in private hospitals cost about 275 to 350 thousand Syrian pounds (SYP- 1 USD=3,310). 
Ministry provides no support
Aleppo's hospitals receive no support or funding for the dialysis equipment and supplies. Furthermore, a large number of dialysis equipment have been out of order for a very long time because they were not subject to regular maintenance due to the neglect of the health sector. 
Civilians are not adequately provided with healthcare services.
Military personnel of the Syrian regime forces chose treatment at a private hospital because of the poor services in the Syrian government's hospitals, a doctor working in one of Aleppo's hospitals told Enab Baladi. 
The doctor added that the financial department in the hospital in which he works intends to perform repairs and maintenance of broken devices. Nonetheless, the Syrian regime's Ministry of Health has not approved its request. 
The doctor argues that the ministry has no budget to repair medical equipment, or maybe the ministry has an intention to destroy these devices.
High prices of private healthcare
After three sessions, Hind, a 52-year- resident of Aleppo, stopped going to dialysis sessions at the city's Salloum Hospital because of their high costs. 
Private hospitals charge 350 thousand SYP(around 105 USD) for each session of dialysis.
Hind's brother told Enab Baladi that her health condition worsened very quickly after she discontinued dialysis treatment.
Hind used to undergo three sessions a week at the University Hospital, which is a public hospital. Then, the dialysis sessions were scaled down to one; in other words, two sessions were cancelled. After that, the dialysis sessions were cancelled entirely.
Consequently, Hind's family had to send her to a private hospital. However, Hind decided to stop dialysis treatment because she could not afford the additional dialysis treatment costs.   
Nearly a month and a half ago, Hind died after she stopped dialysis treatment, her brother said.  
No health insurance… No dialysis sessions
Aleppo's private hospitals refuse to treat uninsured patients or patients who cannot afford dialysis sessions.
Moreover, dialysis patients should first pay the weekly sessions at each first session in advance, a doctor working in the Naif Specialized Hospital in the district of Sayf al-Dawla told Enab Baladi.
The doctor added that some dialysis patients were being held prisoners at some private hospitals because they could not pay their medical bills.
Moreover, the dialysis patients, who were detained, got worse because dialysis sessions were stopped. Even though they were held at hospitals, they did not receive dialysis treatment. And they could leave the hospital only when they pay their accumulated bills, the doctor said. 
The governor of Aleppo made no response
Dialysis sessions were gradually stopped at the beginning of last Ramadan. A few weeks later, they were completely halted, which prompted civilians to demand to know the reason behind this. Yet, they have received no response from the office of the Governor of Aleppo. 
Ayman,42, went to the governor's office several times to file a complaint after his mother's sessions were cancelled. Still, he did not receive a response. 
The governor's office usually replies that the governor is not here, but he could be present in the University Hospital, al-Razi Hospital, or the Police Hospital. 
Sometimes, the office says, "You have to handle the situation on your own. Dialysis sessions are cancelled here [ Public hospitals ]."
Muhammad, an interior doctor and a surgent in Aleppo, suggests that people visit the city's health directorate and file a complaint against the cancellation of the sessions. And if there is no response, then they should head to the minister's office. 
The doctor told Enab Baladi that if people receive no response at all, this illustrates that the dialysis sessions have been deliberately and intentionally stopped.
He added that the cessation of dialysis treatment in governmental hospitals has caused a rise in the number of deaths, especially during the summer. Dialysis patients need to drink water more than usual because the deficiency of fluids negatively impacts their health, especially during high temperatures. 
Enab Baladi observed earlier that some of Aleppo's merchants secretly cover the cost of chronic disease patients' treatment, including kidney patients, who need a kind of costly treatment periodically and continuously.
Hemodialysis sessions include the removal of waste products and excess fluid from the blood when the kidneys stop working properly. Dialysis also aims to keep the patient's body in balance by correcting the levels of various toxic substances in his blood. 
The names of people interviewed or mentioned in this article have been changed or withheld to protect their identities 
if you think the article contain wrong information or you have additional details Send Correction