With no hope or wish to return, Syrians sell destroyed properties in Homs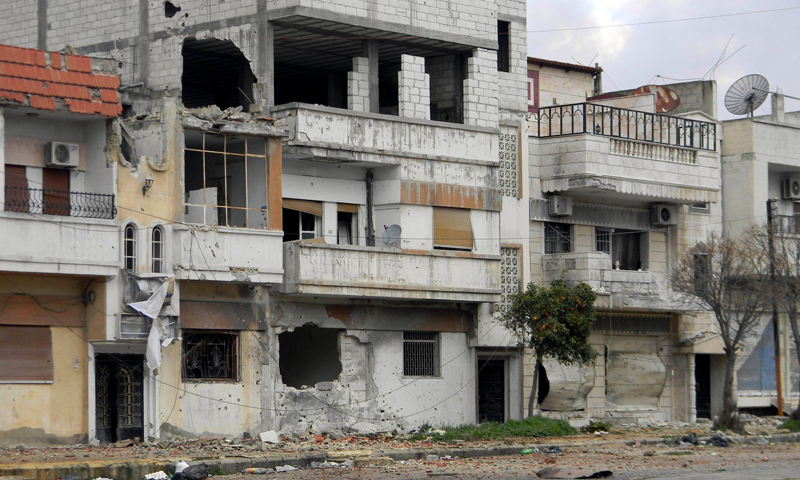 Homs – Orwah al-Mundhir
"Dogs and rats are everywhere in the neighborhood, wandering in and out of destroyed buildings and hiding under rubble. Unfortunately, the area has been provided no solutions and continues to lack basic life necessities and services."
Thirty-something-year-old Mamoun, who fled the al-Khalidiyah neighborhood in Homs city to the Homs northern countryside, described to Enab Baladi his area's current condition and said that he is not likely to return to his house any time soon and that the return issue is "out of the question."   
Mamoun's reluctance to return home is motivated by concerns regarding the al-Khalidiyah neighborhood's adverse security situation and the possibility of getting arrested by the intelligence services because he participated in several demonstrations during the 2011 protests in Syria.
Security concerns drive former residents to sell properties in Homs
Mamoun, who requested his last name to be withheld for security reasons, said that the Council of Homs Governorate's supervision of demolition operations and removal of ramshackle buildings' rubble in the al-Khalidiyah and other neighborhoods in Homs would not guarantee the return of the displaced residing in northern Syria or in refugee countries to their homes. 
These people's return is contingent upon changes in the Syrian security apparatus's methods of dealing with anyone opposing authorities, Mamoun added.
"The demolition of some destroyed buildings in the al-Khalidiyah would not help solve the problem. People have already started to sell their almost completely destroyed houses at low prices. They lost hope of return," Mamoun said. 
Last May, the Council of Homs Governorate started bringing down dilapidated buildings and cleaning rubble in some neighborhoods of the province.
On 17 June, the al-Qusour neighborhood committee's Facebook account addressed the locals and requested them to head to the Public Works Directorate in the municipality to submit buildings demolition and removal of rubble application forms "as the first step to their reconstruction."
The committee's account did not name entities who might invest in or undertake reconstruction works to any destroyed building.
The city of Homs was destroyed by the Syrian regime's repeated military bombardment on opposition factions besieged in the city from early 2012 to mid-2014.
In 2019, the United Nations Institute for Training and Research (UNITAR) published the "Syrian Cities Damage Atlas" report, in which it mentioned that there are 3,082 totally destroyed buildings, 5,750 severely affected buildings, and 4,946 partially damaged buildings in Homs governorate, out of a total of 13,778 damaged buildings.
In the ancient city of Palmyra in Homs governorate, there are 45 completely destroyed buildings, 112 severely destroyed buildings, and 444 partially destroyed buildings, bringing the total number of damaged buildings to 651.
The al-Qaryatayn town in Homs governorate also had its share of destruction where 79 of its buildings were fully destroyed, 190 severely destroyed, and 256 partially destroyed, with a total number of 525 damaged buildings.
The majority of destruction in Homs city is concentrated in its old neighborhoods, namely al-Khalidiyah around Khaled Ibn al-Walid Mosque, Bab al-Seba'a, Bab al-Draib, al-Bayadah, and al-Hamidiyah, and in some modern neighborhoods, including al-Qusour, Jurat al-Shayyah, and al-Qarabees.
Property selling on the rise in Homs
Abdul Rahman, a young man who works in a real estate office in Homs city, told Enab Baladi that some owners of destroyed dwellings have started selling their property shares at prices below the normal market price to avoid losing their rights to their properties after getting demolished. Meanwhile, many real estate brokers affiliated with the Syrian regime have started buying these buildings at cheap prices.
Abdul Rahman, who asked Enab Baladi not to reveal his family name for security concerns, pointed out that at the beginning of this year, the selling of real estate had increased significantly, owing to the fear of apartment owners in buildings about to be demolished that they would lose their rights after demolition takes place.
It is noted that many sellings are taking place in the same building, where residents feel forced to sell their properties to another inhabitant of their building at a low price so that the property rights of the rest of the apartments' owners would not be at risk of loss. 
The risks of demolition on ownership rights
The demolition and clearing of old and almost entirely destroyed buildings' rubble erased the traces of the buildings and turned property locations into dirt fields, risking the loss of ownership rights of these dwellings' owners. 
Ramshackle buildings pose a serious risk to people, particularly children, and their demolition is a necessity; still, the majority of these buildings' residents are displaced outside their region, and their properties are threatened with Law No. 10 of 2018 that came as an amendment to Legislative Decree No. 66 of 2012.    
Law No. 10 allows the creation of redevelopment zones across Syria within the general master plan of administrative units at the proposal of the Local Administration and Environment Minister. The law provisions impose many requirements on property owners; when not met, the property becomes subject to expropriation under the law.
Unsurprisingly, most property owners will not be able to meet the requirements because of displacement or migration. 
The Syrian regime and its affiliate militias systematically forced out more than half of the population of Homs city between 2012 and 2014, according to a study by PAX Peace Institute on the case of forced displacement in Syria entitled "No Return to Homs."
Practices adopted by regime forces during the Syrian conflict include arrest, torture, rape, massacres, full-scale land and aerial military attacks, siege, and systematic destruction of civilian infrastructure.
In Homs, former residents face many obstacles hampering their return, and reconstruction alone cannot overcome these challenges. In fact, the rebuilding of conflict-affected areas can cause damage related to ownership rights. 
The reconstruction process overseen by the regime's government must be accompanied by legal mechanisms to address the rights, interests, and priorities of the displaced because the return of the displaced is essential to re-establishing stability in Syria.
Jeopardizing the property rights of the displaced and alienating them from the reconstruction process would decrease chances of stability and leave little likelihood of repatriation to Syria.
if you think the article contain wrong information or you have additional details Send Correction