Syrian regime issues lists of new names allowed to return to al-Qusayr city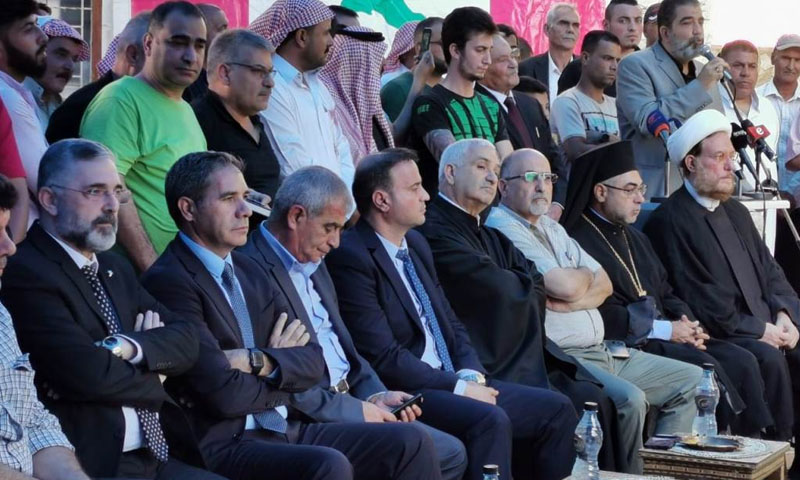 The Arab Socialist Baath Party branch in Homs governorate has announced that 1,603 persons from the al-Qusayr city were granted permission to return to it.
The al-Baath Party branch in Homs, al-Qusayr, issued on 15 November, lists of 1,603 names of al-Qusayr residents allowed to return to their city.
The party branch pointed out through its "Facebook" account that these lists include the fifth batch of names that had been approved to return to the city.
The number of returnees to the al-Qusayr city in the western Homs countryside since the announcement of the first batch of residents' arrival in July 2019 until last September has reached about 5,000 people; journalist Ahmed al-Qusayr told Enab Baladi in a previous talk.
Whether internally displaced in other Syrian provinces or refugees in Lebanon, those wishing to return need to seek security approvals that may be accepted or denied.
As for refugees in Lebanon, no clear guarantees were provided to them; nevertheless, some of them are forced to return for fear of security pursuits by Lebanese army intelligence, as many of them do not have legal documents to stay in Lebanon.
In the meantime, the al-Qusayr city continues to suffer from destroyed infrastructure and poor essential services, while the returnees work on rehabilitating and restoring their houses with all of their individual capabilities.
The shelling of al-Qusayr caused almost total destruction of the northern and western parts of the city where the opposition was based, while the pro-regime eastern neighborhood suffered minor damage.
The Syrian regime's forces, backed by the Lebanese Hezbollah militia, took control of the al-Qusayr area in June 2013, after a major offensive in which the regime and Hezbollah used all types of weapons. The two parties also used concentrated airstrikes that forced civilians to leave the area on stages at first.
This was followed by a forced displacement that was the largest in numbers during the second military campaign in May of the same year, leading to full control by the regime's forces and the city's exit from the opposition factions' control map.
Since the destruction of the city, thousands of residents were displaced to northern Syria, while others resorted to the nearby Lebanese town of Arsal.
In recent years, Hezbollah turned al-Qusayr into its main base and a starting point for its military operations, which have expanded to the rest of the Syrian regions, especially those on the borderline with Lebanon.
if you think the article contain wrong information or you have additional details Send Correction