Influx of foreign goods disrupting clothing industry in northwestern Syria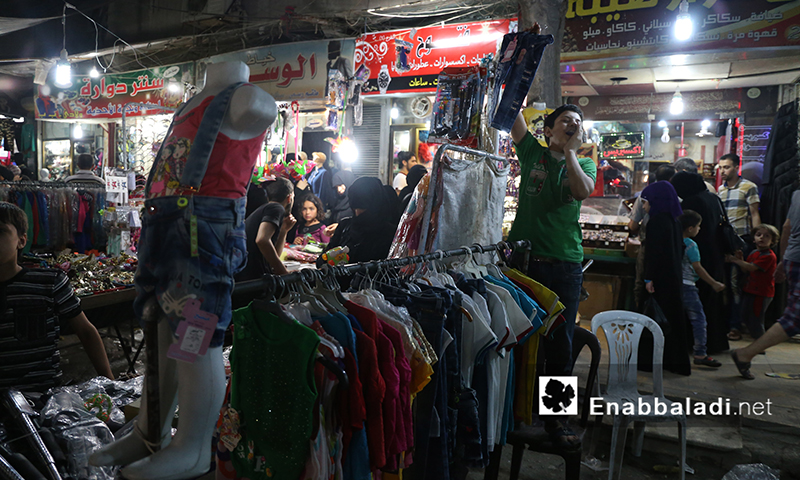 Enab Baladi – Ali Darwish
These days, apparel markets of opposition-controlled areas are filled with ready-made Turkish cothes, which are sold almost by all stores besides locally made clothes that are manufactured with fabrics imported  from Turkey.
Clothes are not the only Turkish goods invading opposition areas' markets. Many other items are sold there thanks to commercial border crossings linking opposition areas with Turkey, following the closure of internal crossings with regime-held areas and Syrian Democratic Forces (SDF)'s areas in northeast Syria.
Opposition areas also trade second-hand clothes imported from Europe and ready-made Chinese clothing, which enter the region through Turkey. 
Turkey-made clothes dominate garment sector in northwestern Syria
Basil al-Okda, a fabric merchant and owner of a ready-to-wear tailoring workshop in Killi town, north of Idlib, told Enab Baladi that cloth and ready-made garments imports from Turkey have adversely affected the region's clothing sector.
To protect the local garment industry, encourage it to prosper, provide job opportunities, and revitalize domestic markets, merchants are required to import only fabrics from Turkey considering that most fabric manufacturing companies have closed in Syria, particularly in Aleppo — the country's capital of industry — making Turkey the only source of fabrics coming to the northwestern region.
Moreover, importing fabrics promotes merchants' trading activity and stimulates tailoring workshops, al-Okda said.
He added that imported used clothes cover an estimated  5 to 10 percent of the local market's demands in winter, while in summer, the demand for second-hand clothes decreases significantly for lacking desired outfits by locals.    
Al-Okda pointed out that tailoring workshops are able to make various types of clothes that suit the local taste and produce goods better than those currently imported from Turkey or China if provided a suitable atmosphere devoid of obstacles.    
According to the merchant, Turkish laws ban importing and selling China-made clothes in Turkish markets to support its domestic industry and markets. Nevertheless, it allows the passage of Chinese goods to northwestern Syria.
The northwestern Syrian regions import goods and commodities from Turkey through official crossings, mainly Bab al-Hawa, Bab al-Salam, Jarablus, and Tall Abyad. 
The imports usually include foodstuffs and construction materials. Other foreign goods are brought to opposition areas through these crossings, with Turkey serving as a transit country.
Ninety percent of all foreign goods entering opposition areas are coming from Turkey. These goods are either made in Turkey or just pass through Turkish territories, the Minister of Economy of the Syrian Interim Government (SIG), Abdul Hakim al-Masri, told Enab Baladi previously. 
Zakaria Hamsho, an owner of a clothing sewing atelier in Aleppo countryside, told Enab Baladi that the effect of Turkey-imported ready-made garments (RMG) on local manufacturers is limited. Hamsho based his opinion on the ground that the local clothing sector focuses on producing low-cost clothes that are in line with the region's living standards and other working conditions, such as cheap labor.   
Aside from their high cost, Turkish clothes are of better quality than locally made ones, making them appealing to the local market, Hamsho said.
Opposition areas are ruled by two de facto authorities, the Syrian Salvation Government (SSG) and the Syrian Interim Government (SIG). The SIG controls Aleppo countryside and the cities of Ras al-Ayn in northwestern al-Hasakah governorate and Tall Abyad of northern Raqqa, while the SSG controls Idlib and its surroundings.
The import-export operations of goods from and to Turkey and the entry of goods through Turkey as a transit state are carried out the same in the two authorities' areas. 
Challenges faced by local garment industry
The competition with Turkish and Chinese imported goods does not stand as the only obstacle to manufacturers of RMG in opposition-controlled areas.
Ahmed Jamal, a cloth merchant from Azaz city, northern Aleppo, told Enab Baladi that imported Turkish goods had affected the local RMG industry, which "has received zero support or facilitation in terms of garment production or exportation."
On the other side of the issue, Turkey does not allow the importation of clothing from opposition areas, and local manufacturers of RMG are unable to sell their products in the Syrian regime markets or those of the SDF's in northeast Syria due to internal crossings closure. As a result, commercial activity between the opposition territories, the SDF, and the regime became limited to smuggling points. 
According to Hamsho, challenges faced at selling locally made clothes and the competition of Turkish goods are made worse by the difficulties in securing raw materials and inputs needed for garment making, including threads, fabrics, and accessories. These materials are no longer available in Syria, forcing merchants to buy them from Turkey without first-hand checking, having to bear freight costs and taxes at crossing borders.
Moreover, the absence of electricity in opposition areas has caused tailoring workshops owners additional costs, having to rely on generators to operate their workplaces.  
However, the impact of this problem was reduced after Turkey executed electrification and maintenance projects in opposition areas, particularly in main cities. 
Displacement forced by the Russian-backed regime forces' military offensives remains one of the top factors that affected the garment industry in opposition areas. 
Al-Okda had a sewing atelier in Kafr Rumah town that is administratively part of the Maarrat al-Numan city south of Idlib and suffered great financial losses after his displacement. He told Enab Baladi that 90 percent of all ateliers in territories recaptured by the regime had lost their capital.  
Supported by Russia, the regime's forces launched successive military operations between late April 2019 and 5 March 2020, recapturing strategic cities and towns, such as Maarrat al-Numan in southern Idlib and Aleppo's western countryside. 
"The revitalization of the garment industry in northwestern Syria requires the existence of garment dyeing facilities, threads and fabrics manufacturers, and big factories to produce ready-to-wear clothes. It also requires local authorities to facilitate export operations and encourage local production."
Zakaria Hamsho, an owner of a clothing sewing atelier in Aleppo countryside
Why Turkish clothing?
Residents in opposition areas prefer Turkey-made clothing because they are of better quality and more fashionable, cloth merchant Ahmed Jamal said, noting that merchants buy whatever clothing desired by people.
Enab Baladi correspondents surveyed the markets of northwestern Syria and reported that several people in Aleppo and Idlib countryside expressed a preference for Turkish goods even though they are more expensive than local ones. Some people said that they would opt for Turkey-made clothes had they been able to afford them.
Ibrahim al-Mustafa, one of the surveyed residents, said that he prefers to purchase locally made garments encouraged by their low price and good quality.  
The devaluation of the Turkish lira against hard currencies has increased the demand for local clothing, for Turkey imported garments' cost became too high to afford, Firas Sbei', a clothing store owner, wholesaler, and retailer in Korkanya village of northern Idlib told Enab Baladi.
Residents have complained about Turkish clothes' high cost and demanded lower prices; however, such demands are challenging to achieve because Turkish goods are subjected to customs, freight, and manufacturing costs, Sbei' added.
There are 2.8 million persons in northwestern Syria who rely on humanitarian assistance to meet basic needs such as food, water, shelter, healthcare, and education, a report by the United Nations Office for the Coordination of Humanitarian Affairs (OCHA) mentioned. 
The report said that the economy's volatility is further undermining people's resilience, potentially impacting all 4.1 million people living in northwestern Syria, of which 76 percent are women and children, while 2.7 million persons are internally displaced residing in the northwest region. 
---
Enab Baladi's correspondents Iyad Abdul Jawad in Idlib and Walid Othman in Aleppo's countryside contributed to this report. 
if you think the article contain wrong information or you have additional details Send Correction