Ali Darwish | Khalid Jar'atli
One day, Ahmad was alone at home in Maarat Hurmah village, in the southern countryside of Idlib. The sound of bullets and rounds died away a long time ago, but still the roar of unmanned aerial vehicles (UAVs) continued to cut into the silence in the depopulated village. Hostilities forced the people to flee and damaged the larger part of their homes and other buildings.
A UAV tracked Ahmad's relative, an opposition fighter from the area. The fighter was riding his motorbike headed to Ahmad's home. Only a few minutes into his arrival, artillery weapons, stationed in the towns of Hobait and Khan Shaykhun, started hitting the area surrounding the house, Ahmad told Enab Baladi.
The uncrewed reconnaissance aerial vehicle located the house; updated the coordinates so that artillery could precisely hit the target. Artillery struck, and the two young men dispersed, terrified. The shock overwhelmed the two experienced fighters.
It took the two young men 30 seconds to evacuate the house, following the first burst of missiles. They sought refuge in a house that had some sort of a cave. However, the UAV managed to capture all their moves and relocated them. The artillery struck their new hiding place.
Ahmed and his relative survived the bombing, which was target-focused given the input from the UAV.  Ahmad's account matched with information that Enab Baladi obtained from opposition fighters, who spoke of drones' role in the military operations of the Russian- and Iranian-backed regime forces launched in the last enclave held by the Syrian armed opposition in the northwestern parts of the country between February 2019 and March 2020.
Fighters deployed to active fronts said that UAVs forced them to take additional measures. They stopped holding meetings at military posts and limited their communication to walky-talkies.
In this article, Enab Baladi sheds light on the role of UAVs, commonly known as drones, in the Syrian war, the sides that used them, and their effect on combat outcomes.
Breakthrough in military technology
 Local forces cannot afford it
Pilot Major Youssef Hammoud, the spokesperson of the Syrian National Army (SNA), told Enab Baladi that the drones are a major breakthrough in military technology. They revolutionized how wars are fought, particularly reconnaissance UAVs, which became the most important weapon used by armies, especially ground forces and the navy.
Pilot Major Hammoud said that drone technology has become combat's driving force. Owning drones is indicative of an army's superior reconnaissance abilities. This technology boosts armies' combat capabilities and can be used for small-scale military operations of a group of fighters targeting a military post, up to large-scale ones.
The Syrian regime does not own developed drone technology. However, drones used by Russia, Iran and the Lebanese Hezbollah provided regime forces with greater reconnaissance inputs, including accurate images of locations in opposition-controlled areas.
Withholding his name for security purposes, a former Syrian colonel who defected from the Air Defense Forces, told Enab Baladi that the Syrian regime uses Phantom camera drones. Phantom is deficient in range and flight time, the longest transmission distance it can achieve is one kilometer, capable of spending only half an hour in the air.
The defector colonel said that the Scientific Research Center in Hama is currently working on developing loitering munition, or suicide drones, similar to those operated by Israeli forces, but with shorter wings.
For their part, armed opposition groups own drones, with reciprocating engines, reserved for simple tasks. These drones cannot fly at a high altitude, and thus could be brought down by Shilkas— self-propelled, radar-guided anti-aircraft weapon system (SPAAG)—,or 23 mm caliber cannons.
Unlike Turkish forces that back them, armed opposition groups rely on drones for monitoring and reconnaissance purposes on the front lines, but rarely for combat.
Turkish military bases operate jamming systems upon sending drones into the air, causing the opposition factions' tactical drones to underperform.
Pilot Major Hammoud said that some factions' use of drones during active combat, provided them with substantial information about the bases and locations where regime forces are deployed, as well as about their weapons. Drones could cover up to one kilometer of the frontline, giving fighters on the ground access to the areas ahead of them.
Colonel Mustafa Bakour, Commander of Jaysh al-Izza (Army of Glory), operating under the National Front for Liberation (NFL), confirmed that drones were used by the factions for filming, reconnaissance, observation and guiding fighters and vehicles moving on the ground, through real-time monitoring and providing instructions. He added that drones have done the factions "a great service" in relation to surveillance and battlefield navigation.
Colonel Bakour said that to his knowledge none of the opposition factions has loitering munition drones because this technology requires state-level budgets, not the modest resources available to "revolutionary factions."
How do UAVs operate?
The tasks that UAVs carry out depend on their type. They are either combat UAVs—armed drones that carry and fire ammunitions; or surveillance drones equipped with cameras.
UAVs may have any of the following three operation modes; either human operator-guided aircraft through remote control, remotely-piloted aircraft (RPA), or with various degrees of autonomy, the max of which is aircraft that do not need human intervention.
UAVs are designed to be recovered and programmed to return to the launch location or any other spot defined by the operations room command, should it not be hit while on a mission, or jeopardized by a malfunction.
Surveillance systems: How to manage UAVs' threats?
Observatory 80—monitoring military air traffic in northwestern Syria—told Enab Baladi that aircraft spotters are now capable of warning opposition fighters to Russian or Iranian reconnaissance aircraft once they kick-off. This gives the fighters a chance to either hide, camouflage, or minimize movement. However, it remains difficult to detect the kickoff of loitering munition drones, often surprising spotters when they are already in the air.
The observatory developed several detection skills that spotters could today tell aircraft types based on their sound. The observatory also had compiled a catalog of the aircraft used in Syria, whether by the Syrian regime, Russia, Iran, or the US-led collation.
Colonel Bakour said that it is possible to reduce the risks that drones pose by taking countermeasures, such as camouflage, constant relocation of personnel, and minimizing vehicle and personnel motion when drones are in the air.
Pilot Major Hammoud suggested raising fighters' awareness on drone threats, their characteristics, and the means to maneuver them.
Less costly wins
UAVs livestream images to operations rooms while in the air. This helps armies achieve quicker and more precise artillery and aerial shelling.

UAVs connected first-line troops with commanders at the operations rooms, enhancing battlefield situational awareness.

Drones' long flight durations, along with their day and night high-resolution cameras helped armies have access to continuous reconnaissance inputs.

Drones created cheaper alternatives to manned military aircraft, in relation to fuel consumption, control systems, and other attachment equipment. Drones also introduced changes into the command of operations that grew relatively easier, more distant from the battlefield, with less presence of humans. Furthermore, drones have significantly improved military performance.

Having very small radar cross-sections, drones are hard to detect and thus target with anti-aircraft guns. This also enables drones to infiltrate and strike air defenses (systems or machine guns), facilitating the path for manned aircraft to carry out attacks.

Drone attacks are so accurate and akin to surgical strikes, which are intended to damage individual or point targets, which have small dimensions, barely 150*150 m. Drones are often used in operations in populated areas so as not to cause civilian casualties, where blind ammunitions, inert ammo, are prohibited, such as mortar shells and Grad system.
Foreign military UAVs used in Syria
Even though drone technology is rarely used by the opposition and the regime, regular foreign armies and military militias present on Syrian territory incorporated drones heavily into their activities and managed to significantly influence the course of battles.
Drones were used for various purposes, including assassinations.
All three Russian air defense systems, Tor-M2, Pechora-2M, and Pantsir-S1, were rendered helpless by the Turkish Anka and Bayraktar drones during the battles in northwestern Syria in late February and early March 2020.
Turkish drones destroyed defense systems used for downing near- and medium-range targets. The Turkish army also used drones to hit tanks and vehicles of the Syrian regime forces in Idlib governorate, causing the regime forces massive human and material losses. For the attack, Turkey used MAM-L smart ammunitions developed for UAVs.
Turkey opted for drone attacks after 30 Turkish soldiers died in regime forces' shelling, while Ankara could not use air forces due to the no-fly zone that Russia created in Syria.
The defector colonel told Enab Baladi that Bayraktar drones dramatically changed the course of combat, because the regime had established control over large areas in the countryside of Idlib, Hama and Aleppo.
He added that Bayraktar drones are jam-proof because they are operated via satellite and are equipped with electro-optic reconnaissance, surveillance and targeting systems.
Pilot Major Hammoud said that the Turkish army had introduced a new drone warfare technique, which is collective-drone strikes, using the multi-capable Bayraktar and tactical drones for localization and filming.
Hammoud said that Turkish forces dedicate an entire operations room to command drones, "using this new warfare tactic that surprises and frustrates the enemy to make it vulnerable."
Turkey developed the first UAV prototype in 2007, conducted its first flight in 2009, and began production in 2011.
In September 2020, Forbes said that "Turkey's upcoming Aksungur drone, built by Turkish Aerospace Industries (TAI), completed a 28-hour-long test flight."

The magazine added that "the turboprop carried 12 Turkish-built MAM-L (Smart Micro Munition) guided missiles under its wings — a much bigger payload than what can be carried by the Bayraktar TB2 or Anka-S."

"MAM-L missiles weigh 22 kilograms and can hit targets up to 14 kilometers away. They can also be fitted with different kinds of warheads – from high explosives to warheads specialized in penetrating tank armor," the magazine added. 

"The Aksungur reportedly became the first drone to drop a Mark 82 general-purpose bomb attached to a Turkish-built Teber guidance kit, which converts 'dumb' conventional bombs into precision guided 'smart' bombs."
Iran and Russia: Complementing each other's work
According to the National Interest, Iran and Russia are among the five top countries in drone technology, including also the U.S., Israel, and China.
Iran and Russia have used different types of drones in Syria against the opposition factions or the Islamic State (IS), mostly using suicide or kamikaze drones.
Kamikaze drones killed several farmers while working in agricultural lands in opposition-held areas in northwestern Syria.
In October 2020, the Syria Civil Defense documented the death and injury of five civilians, including children, in a drone strike. The UAVs dropped  POM-2 mines on a farm inhabited by civilians near the village of Sheikh Bahr, west of Idlib.
Suicide aircraft were first used in World War II by Japanese (kamikaze) pilots to hit the US Navy.
According to observatory 80, Russian drones, often Orlan-10, that target the eastern suburbs of opposition-controlled areas fly from a base in the villages of al-Ghadfa and Ma'ar Shoreen, south of Idlib.
As for aircraft and larger drones targeting the coastal areas, these take off from the Khmeimim Air Base
According to the observatory, Iranian tactical drones take off from Hama airport. Loitering munition drones usually start their flights from Jurin camp in the Al-Ghab Plain, northwest of Hama.
Russian and Iranian drones used in Syria
According to one military expert's observations of Russian and Iranian UAVs use, the types both armies deployed in Syria were:

Ababil-CEL (Swallows) — it is a two-tailed, attacker UAV, used for targeting personnel and machinery.  It carries rounds weighing between 30 and 50 k and explodes 15 m above the target. It has a range of 30 KM.

Mohajer-1 – Aarmed opposition groups call it the Eagle. It is used for filming purposes, as well as guiding artillery attacks.  

Mohajer-2, variant M —Lebanese Hezbollah calls it Raad-85 (Thunder-85). It is a suicide TV-guided UAV, loaded with explosives of about 5 k. It was used to hit Watad Petroleum and for assassinations. It has a 50 km range and launched from the 46th Regiment, west of Aleppo.

Ababil-3, a two-tailed attacker UAV, loaded with laser-guided missiles with a range of 6 KM, aimed at moving and stationary targets. It is compiled at the T-4 Military Airbase, west of Aleppo and is often used against the Islamic State (IS) in the Syrian Badia (Desert).

Mohajer-6—  is used for reconnaissance and it has been detected at the Hama Airport, as well as in the al-Buhamadn in al-Bukamal, west of Syria.

For its part, the Russian military has been using the A-50, called Swan and Il-20, for large-scale military operations, in addition to Orion and Orlan.

According to Sputnik news agency, from 30 September 2015, the beginning of Russia's, military intervention alongside the Syrian regime, until March 2019, Russian forces used over 70 drones on Syrian territory.

Of the many UAVs deployed by Russian forces is Aileron-3C, a small, close-range drone used for reconnaissance and surveillance, with over an hour and a half flight time.

They also used the small Takhyon UAVs, which have a wingspan of about 2m. They are used for surveillance and target identification tasks, with a flight duration of about two hours.

They also used Orlan-10, a large and medium-range UAV, with a flight time up to 16 hours, and the ability to carry 5 K of equipment.

Among other Russian UAV systems in Syria is Forpost, which can carry 100 k of equipment, with a flight time of up to 17 hours. It can monitor locations as far as 250 KM. Forpost is assigned surveillance tasks and the observation of attacks.  

According to Sputnik, Russian forces have attacked armed opposition groups with prototypes of Corsair, LANCET-3, and Orion.
US-led coalition use of UAVs
Tool for eliminating jihadist
The international coalition against IS, notably the US used UAVs to assassinate commanders of "jihadist" groups, including Hurras al-Din (Guardians of Religion Organization)— Qaeda branch in Syria.
Over five months in 2020, between May and September, UAVs killed 11 military commanders and fighters in northern Syria, a number of these are independent military trainers, some are leaders of Hurras al-Din, the rest were unidentified.
Most of these assassinations were carried out using American-made Ninja missiles.
The coalition usually does not claim responsibility for such assassinations, but Navy Capt. Bill Urban, US Central Command Spokesman had previously responded to an email from Enab Baladi, requesting answers regarding the coalition's responsibility for similar attacks. Capt. Urban said that the command is informed of the reports on raids in northern Syria.
He added that the US completely backs all operations aiming to eliminate the Islamic State (IS), at every opportunity.
Syrian armed groups experimenting with UAVs
Drone technology is not exclusively used by regular armies. UAVs, with limited capabilities and for specific purposes, can be developed when support and expertise are available. In Syria, similar efforts were limited to jihadist groups.
Hardliner groups weaponizing drones
Quoting the Conflict Armament Research (CAR), in late 2020, BBC reported that IS had "sophisticated production capabilities for improvised weapons".
In 2016, military group Jund al-Aqsa used drones for the first time to attack Syrian regime forces. Back then, the faction's media office published a video of drones being armed for use against regime forces in the northern countryside of Hama.
These improvised combat drones were used in Maardes village as the regime forces tried to regain control over lost locations.
At the time of the attack, Abu al-Baraa, commander of an air defense unit and a defector from the Syrian regime, took to his Facebook page to say: "Praise be to God, who enabled me to arm the reconnaissance drones in the possession of our Mujahideen brothers with a circuit and an anti-personnel bomb that I named Sijil 2."
The drone used by the faction is originally manufactured by China-based DJI company, specialized in developing UAVs. The company also released Phantom 3 in May 2015, which is used for photography.
According to said video, Jund al-Aqsa managed to develop Phantom 3 into a loitering munition drone, equipping it with mortar shells.
"Opposition should develop their drone capacities"
The SNA spokesperson Hammoud called the opposition factions to foster the development of drone technology and training a large number of units on the use of drones to provide factions with information.
"The more information you have about the enemies, the more you are capable of thwarting their attacks, surpassing them in attack positions, and costing them casualties," Hammoud said. "Today's wars are wars of information."
He added that current and upcoming wars are hybrid in structure. Accordingly, regular armies would not leave the political borders of their states. Instead, they will rely on tactical weapons, air forces, and mercenaries.
Colonel Bakour, for his part, stressed that the opposition factions' possession of these systems, in addition to their abilities to operate them effectively "will change things in the interest of the revolution."
Since the onset of the military conflict in Syria, the opposition has demanded creating a no-fly zone over Syria, to prevent the regime from resorting to airstrikes or providing the opposition with anti-aircraft systems. However, the opposition's demands were left unanswered neither by the UN Security Council nor by countries that back the opposition factions.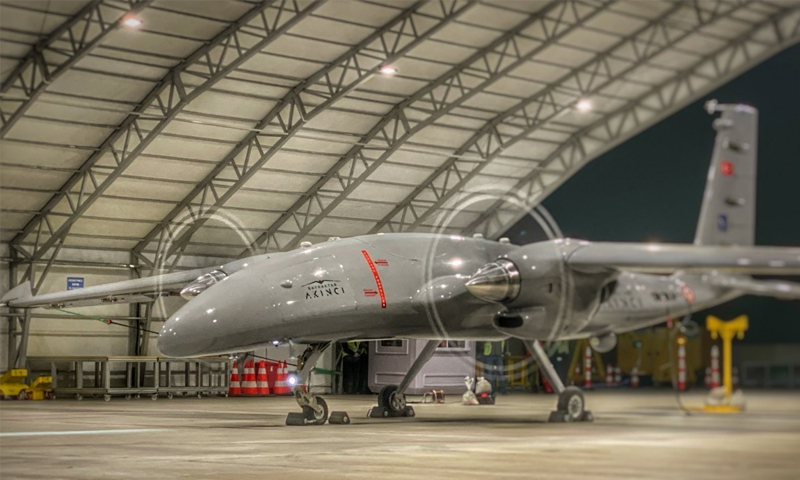 Combating drones
A report by the Asharq Al-Awsat newspaper listed some of the new technologies used to combat drones, most notably the Japanese Anti-Drone Squad 1. A police unit was established operating net-carrying drones attacking other drones.
One of the key ways to tackle drones, according to the report, is jamming their signals and controlling them via a directional antenna to hold the drone still in the air for a short period, deceiving the operator that it has a malfunction, or for a longer period until it's the drone is out of charge.
The Russian company Avtomatika developed several systems to detect, track and destroy a drone by affecting its radio signals, according to the report. One is the Taran system. "When UAVs are detected, it instantly "erects" above the object a protective invisible dome with a radius of at least 900 meters, impenetrable to drones."
The second is the portable Pishchal system. "It is manufactured in the shape of a gun weighing three kilograms. It is designed to combat single targets or drones in motion. The battery, which feeds the "gun", lasts for an hour of continuous operation."
In addition to traditional methods, such as using defense systems and machine guns to ground drones, there were other innovative no-armed means to tackle them. In the Netherlands, in 2016, the Dutch police used eagles to combat drones. The method was then copied by security services worldwide. This method is cost-effective, but it takes about a year of training.  One of this method's shortcomings is that it cannot be used in all locations, such as at airports that tend to have vast areas.
if you think the article contain wrong information or you have additional details Send Correction