New military map of Idlib set up by Turkish drones and Syrian opposition factions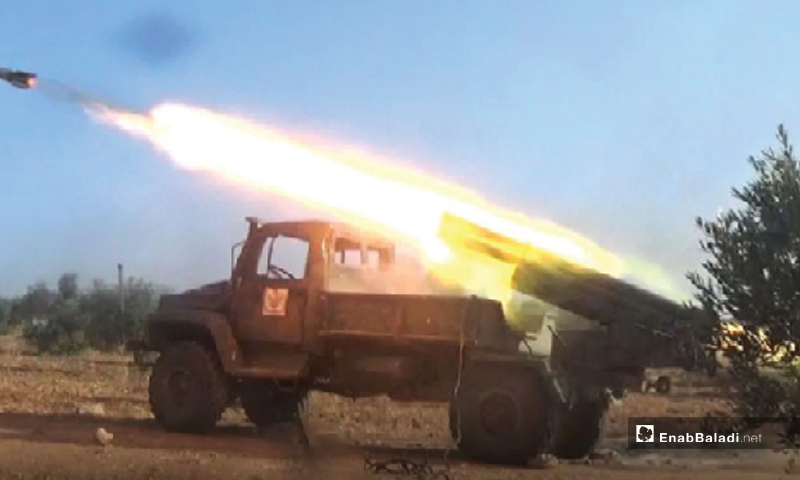 The "February deadline" set by Turkey's President, Recep Tayyip Erdogan, for the Syrian regime forces' withdrawal from the territory that Turkey says is part of the Idlib de-escalation zone (meaning behind Turkey's observation posts) in north-western Syria has timed out. Thus, the end-of-February deadline has opened doors to new possible scenarios and questions in the area.
The latest developments have given Turkey a stiff card of Idlib file, which it can use in the negotiation process with Russia in the future military and political tracks.
Erdogan, in a formal speech on 27 February in the capital, Ankara, confirmed that "the course of events in Idlib started to change in favor of Turkey."
Erdogan signaled that in case of the failure of diplomatic efforts, Turkey would resort to military force to drive the Syrian regime forces back from Idlib. Erdogan's statement was supported by the Ankara-backed opposition factions' control over the strategic city of Saraqib in eastern rural Idlib.
Turkey seeks support of U.S. and EU 
With "Turkey's February deadline" winding down, Turkey tried new diplomatic approaches with its "temporary ally" Russia in the Syrian crisis to set a final perception in Idlib. The delegations of both Turkey and Russia held four rounds of negotiations, the most recent of which was in the last week; however, the two parties did not reach any agreement.
Nonetheless, after 33 Turkish soldiers were killed on 27 February in an attack by the Syrian government forces, Turkey abandoned its political diplomacy and replaced it with a sharp tone to avenge for its soldiers, considering the regime as a target for Turkey inside and outside of Idlib.
After the killing of the Turkish soldiers, Erdogan chaired an emergency security meeting with senior state officials alongside the Turkish opposition to mobilize the public opinion as a support to any move taken in Idlib.
Erdogan also sought international support through making a series of phone calls with presidents who are critical players in the Syrian file—Erdogan made calls with the U.S. President Donald Trump, the Chancellor of Germany Angela Merkel, and the President of the European Commission Ursula von der Leyen. Turkey also requested an urgent North Atlantic Treaty Organization (NATO) security meeting that was held on 28 February.
The Secretary-General of NATO, Jens Stoltenberg, emphasized in a press conference held on 28 February that the Alliance continues to support Turkey through many procedures among which is the reinforcement of Turkish air defenses. In the same context, the U.S. Secretary of State Mike Pompeo announced that the U.S. is reviewing options to assist Turkey after the attack.
"The U.S. is engaging with our Turkish Allies and reviewing options to assist Turkey against this aggression as we seek to prevent further Assad regime and Russian brutality and alleviate the humanitarian suffering in Idlib," Pompeo said in a statement on 28 February, according to Reuters.
However, Erdogan, in his first speech after the killing of the 33 Turkish soldiers on 29 of last February, accused the U.S. of not fulfilling its promises in the eastern Euphrates region.
He added that the European Union failed to support the Syrian refugees in Turkey. The Turkish president's statements pointed out that these countries are all about talking support with no concrete actions on the ground.
Turkish drones target Syrian regime forces
The killing of 33 Turkish soldiers brought the world's attention to Turkey and to what reaction it would take especially that the "February deadline" is coming to an end, amid expectations that Turkey will launch a massive military operation against the Syrian regime forces, which could cause a clash with Russia.
However, the Syrian political analyst, Hasan al-Nifi, excluded the possibility of a near massive war between Turkey and Russia in Syria. He believes both sides, Turkey and Russia, are engaged in a diplomatic game.
In an interview with Enab Baladi, al-Nifi said: "Turkey will carry on its local battles for a long time targeting specific points to expel the Syrian regime, similar to what happened in Saraqib."
Al-Nifi expected similar battles in other regions, pointing out that Erdogan's statement that the Turkish Armed Forces (TAF) will strike Syrian regime forces anywhere, which means that the regime is no longer Safe from Turkey.
In the meantime, the opposition factions launched military operations against the Syrian regime forces on several axes, shuffling cards in the region. The factions were able to regain control over some strategic areas, the first of which was Saraqib city and its surrounding area, located at the intersection point of the two international highways Damascus-Aleppo (M5) and Aleppo-Lattakia (M4) Which includes four Turkish observation points.
The opposition factions also launched a military operation in southern rural Idlib. They took control over Kafr Oweid, a strategic village that includes seven high hills in the Jabal al-Zawiya area, overlooking several villages in Jabal Shahshabo, south of the village.
The factions also controlled al-Ghab Plain on the western side of Kafr Oweid village, amid expectations that military action will continue to include all of Jabal al-Zawiya and al-Ghab Plain, which most of its villages were controlled by the Syrian regime forces recently.
The Turkish drones joined the fight with the opposition factions after some difficulties faced by the Turkish military air force, which was not allowed by Russia, which controls the airspace over Idlib.
Erdogan previously referred to this issue in a statement when he said, that "the biggest problem we have is that we cannot use the airspace [in Idlib]. Hopefully, we will soon find a solution to this too,"
The Turkish Defense Ministry has released videos showing the extensive targeting of the regime's forces in and outside of Idlib. The videos revealed the destruction of tanks, armored vehicles, and rocket launchers for the regime.
According to the Turkish side, it also targeted vital installations, most prominent of which is a chemical weapons factory in rural Aleppo. It killed many military personnel and officers, including the commander of the "Brigade 124 "in the Republican Guard, Major General Burhan Rahmoun.
Erdogan stated in his speech on 29 February, that TAF "neutralized" more than 2,100 members of the Syrian regime forces, and destroyed about 300 sites and military mechanisms, including 94 tanks, 37 artillery, 28 rocket launchers, and 17 armored vehicles.
TAF also destroyed some sites, which have runways, ammunitions depots, air defense systems, aircraft hangars, as well as a chemical weapons factory.
The Turkish president stressed that pressure will increase on the Syrian regime day after day and that Turkey will show its firmness to the regime and its supporters, considering that Turkey did not wish to escalate the situation to this extent. Still, the Syrian government forced it to do so, calling on it to bear the consequences.
The attacks of the Turkish drones and opposition factions created a new reality for the military situation in Idlib. Besides, the situation in the area will be more intense as the factions prepare for conducting a massive operation, according to Enab Baladi.
Turkish drones
In the past, Turkey used to import unmanned aerial vehicles (UAV), commonly known as "drones," from the U.S. and Israel, to move later to the almost entirely local manufacturing of drones.
Turkey manufactured and developed drones, starting with ANKA, Bayraktar, Akıncı, and SONGAR UAV to be ranked sixth globally after the US, Israel, China, Pakistan, and Iran.
(ANKA)…first Turkish-made drone
Turkey announced in 2010 the manufacturing of its first local UAV to replace the Israeli Heron drone and included it in its armed forces.
The first drone was called  ANKA, which means phoenix in Arabic.
Anka was manufactured by (TUSAŞ), the Turkish Aerospace Industries (TAI) company.
In its first model, Anka was intended for tactical surveillance and reconnaissance missions. In May 2019, it was equipped with a locally made radar system and developed to be loaded with weapons under a new name "ANKA 2" with new capabilities.
ANKA 2 can carry out its missions over the seas, gather real-time intelligence remotely, point targets on the surface of the water, and monitor sites.
Moreover, the radar system provides essential features. Its sensors can photograph in rainy or cloudy conditions, and the dark. It gives a survey of the highest accuracy permitted within the surrounding circumstances. Its wing is about 17 meters in lengths, and around 20 ANKA 2 drones were used in Turkish military operations inside and outside the country.
(Bayraktar TB2) …the pride of Turkish industry
In 2005, a young engineer, Selçuk Bayraktar, was able to persuade a group of Turkish officials to attend a demonstration of a locally made drone that he manufactured, after the military denied him the permission to test his UAV with live ammunition.
The first phase of development for the model "Bayraktar TB2", a medium altitude long endurance UAV, started in 2007, and it made its first flight in 2009. The drone went through other developmental stages and officially entered service with TAF in June 2015. The Bayraktar TB2 model was a success; thus, about 98 drones were delivered to the Turkish General Directorate of Security.
Bayraktar TB2 system consists of six drones, two ground stations for command and control, three ground data stations, two video stations, and ground support equipment.
The TB2 is classified as tactical military aircraft for surveillance and attack, and it can fly to an altitude of up to eight kilometers, and carry equipment with a weight of 150 kg, and fly up to 25 hours straight.
Besides, it conducts monitoring, surveillance, and real-time destruction missions for targets in the day and the night.
The UAV provides the TAF operational centers with timely information monitored during its missions in the airspace and can target specific threats with ammunition and missiles on board.
The superior (Akıncı)
Akıncı is a high-altitude long-endurance UAV with a wingspan of about 20 meters, and a flying performance that exceeds 24 hours and 15 km in height, as well as carrying a load ranging between 450 to 900 kg. The drone is capable of transmitting and launching long-range cruise missiles, precisely oriented bombs, and other advanced equipment that includes a well-developed radar and a specialized electronic warfare system, and satellite communication systems.
(SONGAR)
SONGAR armed drone system is the first indigenous drone equipped with a machine gun that is also able to perform a set of critical tasks, such as identifying and destroying targets, monitoring the number of losses after operations are completed, and photographing areas of operations.
Furthermore, SONGAR performs operations at a distance of ten kilometers while carrying 200 bullets of caliber 5.56 x 45 mm, and fire from its machine gun, which has a rotation capacity between 0 and 60 degrees. The SONGAR entered service for the Turkish army at the beginning of last February.
if you think the article contain wrong information or you have additional details Send Correction