Aleppo residents cannot afford fruits due to skyrocketing prices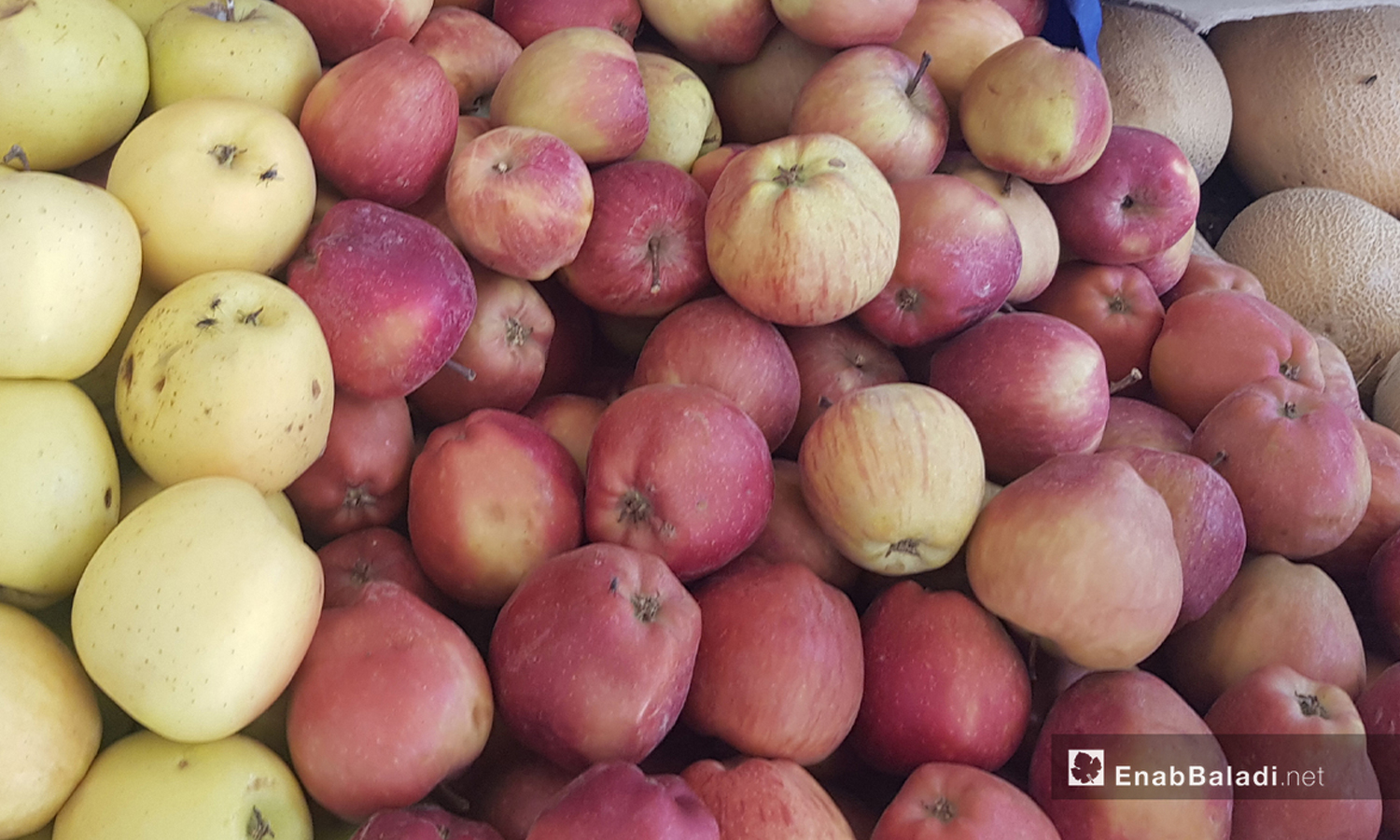 Aleppo – Saber al-Halabi

Kamel left Bab al-Jinan market, in the center of old Aleppo, unable to buy the fruit he intended to please his kids with after he was shocked by its prices that go far beyond his purchasing power and his limited salary.
Kamel is an employee in the Directorate of Education in Aleppo, who earns a salary of about 21 USD. He complained he cannot afford to buy fruit, like before, for its high prices. A kilo of cherries is 4,500 Syrian pounds (SYP-1.4 USD), while per kilo of apricots amounted to 5,000 SYP (1.5 USD) when first headed to the market shelves, only to drop to 3,500 SYP (1.09 USD) later. 
Families forgot the taste of fruit
Kamel said that people cannot afford even the most available fruit in Syria such as apples and oranges. 
"One kilo of apples is not enough for my family. And if I want to buy two kilos of apples in addition to two kilos of oranges, this will cost me 6,000 SYP. With this amount of money, I prefer to buy vegetables so that my wife can cook us our main meal. It is almost impossible to buy fruit because of their high prices."
 Purchasing habits of Aleppo residents have changed, as people who once bought fruits by the kilo now buy single pieces.
Furthermore, Aleppo residents used to buy fruits when visiting relatives, friends, or patients. However, this custom went "extinct." If someone buys one type of fruit, that will not be enough and may be considered "vulgar."
Umm Fadi pointed out that their purchasing options have become limited after the rise in fruit prices despite being prescribed for their therapeutic benefits especially to sick people and children. 
She added, "I cannot buy bananas for my son who suffers from severe diarrhea and intestinal infections even though the doctor recommended that I should feed him two bananas a day." This is because one kilo of bananas costs about 2,900 SYP (0.9 USD).
Merchants blaming price hikes on exporting 
The prices of domestic fruit go up because of exportation, not to mention, they are typically expensive at the beginning of their harvest season. 
Ahmad, a greengrocer at Bab al-Jinan market, told Enab Baladi that the prices of domestic fruit rise at the beginning of their harvest season, noting the demand for fruit is low as well.
"Before fruit hit the domestic market shelves, large volumes are being exported abroad, which increases prices."
In addition, Aleppo residents have stopped buying certain types of fruit, such as kiwi, mango, and pineapple, despite their availability in the markets.
Ahmad said, "if an employee earns only 60,000 or 70,000 SYP,  while the price of one pineapple reaches 9,000 SYP (3 USD), he absolutely will not be able to afford pineapples."   
Greengrocers do not abide by prices set by the Syrian regime's Directorate of Domestic Trade and Consumer Protection, Ibrahim, a fruit vendor in Aleppo, told Enab Baladi. 
He added that transportation and bag costs also contribute to the rise in fruit prices. 
A kilo of plastic bags costs about three 3,500 SYP, while a kilo of poor-quality bags costs 2,500 SYP. However, they are not suitable for packing fruit or vegetables because of the materials used in their manufacture, Ibrahim said. 
Aleppo is seeing high prices in general. Fruit and vegetable merchants usually add to the sale price the traffic fees they pay at the checkpoints through which they transport their products, especially the 4th Division checkpoints, which control the city's entrances.
As a result of the SYP depreciation, food prices remain at "historically high levels," as described by the United Nations Under-Secretary-General for Humanitarian Affairs and Emergency Relief Coordinator, Mark Lowcock in his briefing on the humanitarian situation in Syria to the Security Council, on 26 May. 
He added that "More than two households in five–more than 40 percent– report not having sufficient, or sufficiently nutritious, food."
if you think the article contain wrong information or you have additional details Send Correction