Aleppo's secret office, security checkpoints, and living conditions driving residents to flee Syria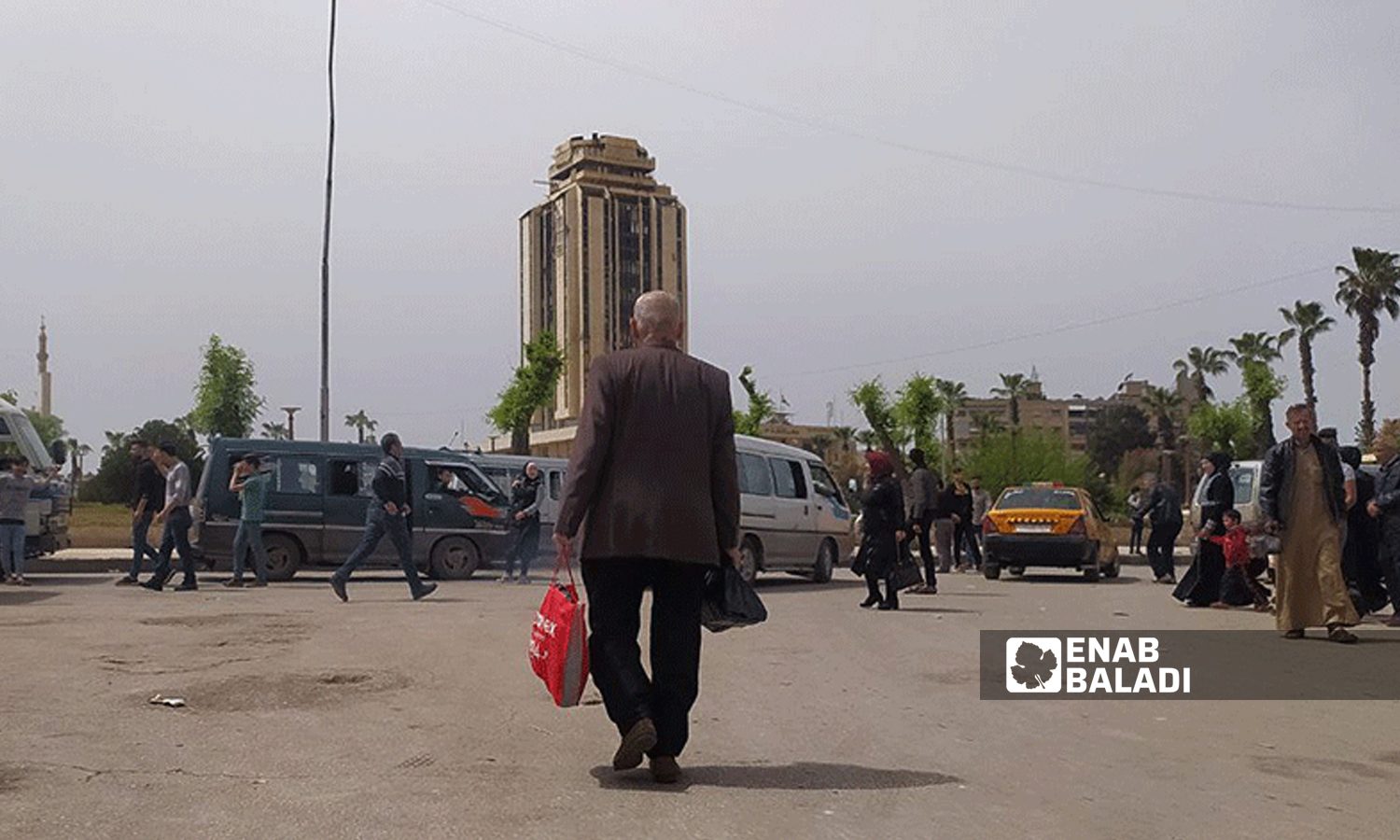 Aleppo – Saber al-Halabi
Forty-four-year-old Abdul Aziz from Aleppo governorate obtained passports for himself and his family last August, after completing the standard process and receiving the validation of the recruitment division, the governmental entity responsible for granting travel permissions to males between the ages of 17 and 50 in Syria.   
However, Abdul Aziz, who requested Enab Baladi to withhold his last name for security reasons, could not travel to this day, after failing to sell his house, having decided to settle abroad and never come back to Syria. 
Abdul Aziz, who works in a pharmaceutical factory in Aleppo's western countryside, told Enab Baladi that harsh living conditions had prompted him to contemplate leaving Syria with his family, who also support the traveling option.  
Abdul Aziz said, "The situation is unbearable in all respects. I am waiting for my house to be sold, and then I will travel before things get worse." He added, "life has become horrible in Aleppo, with high prices and increased thefts. Civilians' mobile phones and money are being taken from them on security checkpoints."
Long queues at the Immigration and Passports Directorate
Enab Baladi's correspondent in Aleppo has reported that the Immigration and Passports Directorate has been witnessing daily congestion since the early morning hours, as people line up in long queues to apply for or complete their passports' procedures.   
Those applying for a passport document are required to pay 300 US dollars with 100 US dollar bills unstamped from money transfer and exchange offices to the directorate's finance department to validate the notes with the stamp of the Central Bank of Syria.
Civilians in Aleppo are seeking various methods to secure unstamped 100 US dollar banknotes, which they mostly buy from gold jewelry shops or unlicensed money transfer and exchange shops.        
Moreover, people undertaking passport obtaining or renewal procedures are getting robbed at security checkpoints deployed by the Syrian regime forces in the governorate. They are forced to hand over whatever money they have before crossing the checkpoints. 
"As if the insecurity and horrible living conditions are intended to force people to travel abroad and empty Aleppo of its residents to be inhabited by Iranian militia elements and grant them citizenship," Abdul Aziz said.
Thefts at security checkpoints 
Raghda (aged 47) told Enab Baladi that members of the regime's 4th Division forcibly took 400 US dollars from her while she was on her way to the Immigration and Passports Directorate.  
She said she tried to demand the money back, but the division's members did not respond. "This amount, whether in the US currency or its equivalent in the Syrian pound, is needed as fees to obtain a passport; otherwise, the process will not be completed."
Raghda added, "There is no escape from the elements at the checkpoints. They force us to pay large amounts to cross; otherwise, we will be denied permission to pass."
"I asked them to return the money, but they refused. I then threatened to file a complaint against them, to which they responded with curses and shouting, saying, 'We can arrest you on the accusation of dealing in foreign currency.'" 
Unfortunately, Raghda failed to claim back her money, despite pleading to the 4th Division members and showing them papers proving that she needed the money for her passport procedure. 
Raghda also commented on the "terrible" treatment of government employees at the Immigration and Passports Directorate, which has been "encouraging people to leave Syria and never come back, for the directorate granting passports is the same entity pushing citizens towards abhorring their country, serving as a gate to immigration," according to her. 
Selling houses for undervalued prices or half of their real value
Dozens of houses in several neighborhoods of Aleppo are offered for sale, with some put on the market for undervalued prices or half of their real value. Meanwhile, real estate dealers are seizing the opportunity to buy properties at the prices they decide. The dealers are taking advantage of property owners' urgent selling through accelerating the sale procedures and obtaining security clearances in a short time.    
Forty-nine-year-old Mahmoud, an employee of the Aleppo Water Company, was forced to sell his home in the al-Ethaa neighborhood in return for half the amount he was offered before when the real estate market was booming and houses' prices were high.
Several years ago, Mahmoud was offered 35 million Syrian pounds (approximately 14,000 US dollars) for his house in the Sulaymaniyah neighborhood, but he refused to sell, thinking that living conditions would improve after the presidential elections, which did not happen.
Mahmoud does not anticipate any improvement in living conditions whatsoever; instead, he expects the situation to worsen, adding that his monthly salary barely covers the expenses of daily needs for a couple of days. 
Mahmoud told Enab Baladi that he is currently waiting for his house to be sold to use the money in the passport procedure and leave Aleppo to Lebanon temporarily before heading to Jordan and from there to Europe, as planned.  
Saeed, aged 39, agreed with his brother Naji to sell their family's home in the Ismailiyah neighborhood through a real estate office in the area. The two men were trying to sell the house for 400 million Syrian pounds (125,000 US dollars), which property dealers refused to pay.
Saeed told Enab Baladi that real estate brokers have manipulated the market and exploited people's circumstances, who sold their properties to collect money and travel abroad. 
The secret office's arbitrary procedures 
Economic and living conditions continue to deteriorate in Aleppo, with several factories, plants, and warehouses closed down by the Customs Directorate's secret office, which also seized these establishments' contents before closing them.
Aleppo merchants are coerced into paying large sums to protect their goods through governmental protection services, or the militias and security branches will prosecute them for money.
Abdul Karim (aged 41), a clothing factory owner, is preparing to travel out of Syria after closing his establishment in the coming week and selling its goods at half their value.
Abdul Karim told Enab Baladi, "The continued tightening by the secret office of the Customs Directorate, the confiscation of goods by the 4th Division elements during their transportations, the imposition of taxes, the high costs of living, and civilians' low purchasing power are the factors that encouraged me to decide to leave Syria and go to Egypt."
He added, "I got the passport shortly after I bribed an officer at the Immigration and Passports Directorate to accelerate the process. All my merchant friends did the same because there is no future for trade in Aleppo anymore."
The closure of some factories and plants in Aleppo is reducing job opportunities and increasing unemployment.  
The head of the textile sector in the Damascus and Rif Dimashq Chamber of Industry, Mohannad Dadoush, said in an interview with the local radio station Sham FM last August that a huge number of irreplaceable Syrian industrialists have departed to Egypt after suffering lots of difficulties. 
According to Dadoush, these difficulties include the lack of power necessary to operate factories, customers' low purchasing power, and inadequate export arrangements.
Migration has present and future impacts on Syria, on the economic, social, and demographic levels, particularly in areas witnessing a rise in real estate sales with the aim of fleeing the country. The repossession of property in those areas will not be easy in the future for those selling their houses during this period.
if you think the article contain wrong information or you have additional details Send Correction