Rehabilitation works underway for Aleppo's Directorate of Cadastral Affairs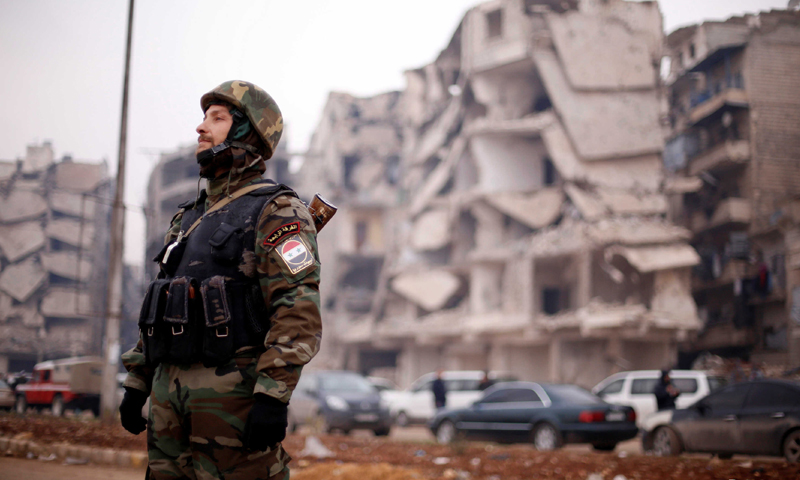 Aleppo Governor Hussein Diab has said that work is underway to rehabilitate the Directorate of Cadastral Affairs building to put it back into service.
Following an inspection visit to the project site on 28 April, Diab noted that half of the work required for the rehabilitation of the directorate's building in the al-Sabe' Bahrat area of Aleppo city has been completed.
He stressed the importance of implementing rehabilitation works as soon as possible to begin transferring the Directorate staff members from the temporary headquarters in Merdian neighborhood to the main headquarters. "This would contribute to facilitating and meeting work needs on a better level," Diab said.
For his part, the Director of cadastral affairs in Aleppo, Mohammed Mayel, pointed out that the renovation project includes the directorate's seven-story building that was severely damaged during the conflict, noting that rehabilitation works had started at the end of last October.
"Basic construction works have been completed with an implementation rate of about 50 percent by the third branch of the Military Housing Establishment," Mayel said.
More than four years have passed since the regime and its affiliated militias regained control over the eastern neighborhoods of Aleppo province at the end of 2016. 
Thousands of civilian houses, along with several schools and hospitals, particularly in the city's eastern neighborhoods, were destroyed by the regime and its allies' bombardment when the eastern neighborhoods were under the control of the armed opposition.
According to the "Syrian Cities Damage Atlas" report issued by the United Nations Institute for Training and Research (UNITAR) in cooperation with the REACH initiative, Aleppo province has witnessed the highest level of destruction in Syria, with more than 35.7 thousand destroyed buildings.
Residents who have returned to some eastern neighborhoods in Aleppo city have restored their houses like in the districts of Masaken Hanano, al-Shaar, the al-Bab road, and the al-Maysar. Their rehabilitation was mostly limited to partial maintenance.
For its part, the Syrian regime government has limited its restoration and rehabilitation activity to government facilities and some schools in the neighborhoods of al-Jazmaty, al-Ferdous, and al-Saliheen, without restoring damaged residential buildings and houses despite its previous promises to civilians.
The regime rehabilitated 52 health centers and hospitals, in addition to 1,620 schools, with over one thousand projects being announced by the local administration sector, the state-run Syrian Arab News Agency (SANA) reported last December.
if you think the article contain wrong information or you have additional details Send Correction