Draft centers in northwestern Syria: Are opposition factions mandating conscription?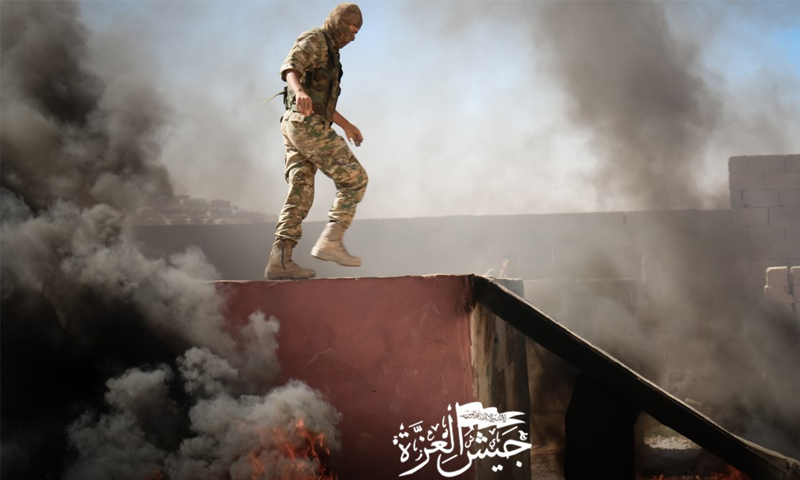 The opposition-affiliated armed groups Hayat Tahrir al-Sham (HTS), Jaysh al-Izza (Army of Glory), and Ansar al-Tawhid, operating in northwestern Syria, launched recruitment drives to enlist new elements into their ranks. Recruitment was promoted through three separate statements.
However, the statement made by HTS —controlling most of Idlib governorate and parts of the western countryside of Aleppo governorate— had a different tone than the other two recruitment announcements. The HTS proposed the establishment of draft centers across northwestern Syria.
Draft centers are a strange concept to the opposition-held areas, even though it is familiar to Syrians because such centers are the stations through which the regime forces run mandatory draft operations.
Prelude to mandatory conscription?
Requesting that his name be withheld, a defector from the regime forces and a current commander on contact lines told Enab Baladi that the HTS proposed the idea to monitor the people's reaction.
The officer added that the HTS had already boosted its combat readiness. The HTS actually has other objectives in store for the draft centers. If the proposal is implemented, mandatory conscription will follow. Through these centers, the HTS wants to convey a message to all parties to the Syrian issue that there are civil and military institutions in HTS-held areas.
Contacted online, the HTS military spokesperson, Abu Khaled al-Shami, told Enab Baladi that draft centers are an upgrade of the enlistment centers that are already in action. He added that draft centers will regulate and organize the affairs of conscripts and those wishing to join the faction.
Persons willing to enlist with draft centers must be between 18 and 38 years old. The centers will be stationed in eight key areas and operated by two types of commissions— supervision commissions consisting of military experts and evaluation commissions to assess the performance of recruits against an established set of criteria. What follows is a vetting process, under which conscripts are assigned tasks according to specialties and qualifications.
At this juncture of the Syrian conflict and given its demands, al-Shami said it is important to build a modern army, trained in various military specialties. He added that "it is our duty as a people, as the generation of the revolution, to be on the same side against occupying invaders."
Routine recruitment ad
Simultaneously, Jaysh al-Izza, an affiliate of the National Front for Liberation (NFL), announced it will be admitting recruits wishing to join its military training programs as of 17 May. Recruits must be between 18 and 27 years old, healthy, and capable of handling pressure and training.
Jaysh al-Izza spokesperson, Colonel Mustafa Bakour, told Enab Baladi that the army makes similar recruitment announcements early every month, which aim to maximize the army's manpower. These announcements are part of the army's new plan that has been running since it established the training camp in 2015.
Applicants undergo initial training ahead of deployment to brigades and battalions. Then, they are offered specialized training before they are allowed to engage in combat.
In the recruitment announcement, Ansar al-Tawhid said that its affiliated Jaysh al-Ansar (al-Ansar Army) will admit only recruits aged between 16 and 30. Persons wishing to join the army must first pass an admission test and should be healthy, without any permanent impairments. They should also get a reference from a member of the armed group.
After attending military and sharia training, conscripts must commit themselves to all training programs mandated by the army.
Ansar al-Tawhid has been operating as an independent armed group since May 2020 after it disbanded from the former Wa Harid al-Mu'menin (Rouse the Believers) Operations Room, which consisted of several jihadist military factions. Subsequently, these jihadist factions established the Fathbutuu (So Be Steadfast) Operations Room.
The military group is an offshoot of the military faction Jund al-Aqsa, founded in mid-2021 by commander Abu Abdulaziz al-Qatari. The commander died under suspicious circumstances in 2014. His body was found in Deir Sunbul Town, near the headquarters of the former military faction Syrian Revolutionaries Front. The front's leader was accused of assassinating the commander.
Idlib governorate is currently subject to the Moscow ceasefire agreement, signed by the Turkish President Recep Tayyip Erdoğan and his Russian counterpart Vladimir Putin. The deal provided for establishing a humanitarian corridor and operating joint Turkish-Russian patrols on the M4 International Highway. The patrols cover the highway starting from the Tronba village, east of Idlib, to opposition-held Ain Hoor village, west of Idlib.
Russian and regime forces have been repeatedly violating the ceasefire with the ground and aerial shelling on opposition-held areas.
Since early 2021 up to 6 May, the Civil Defense teams have responded to over 420 attacks by Russian and regime forces. The hostilities caused the death of 53 persons, among them 10 children and nine women, in addition to the injury of 136 others.
The attacks mostly aimed at civilian homes, agricultural lands, and several vital facilities in northwestern Syria.
if you think the article contain wrong information or you have additional details Send Correction