Hayat Tahrir al-Sham dismantling "jihadist" groups to win international recognition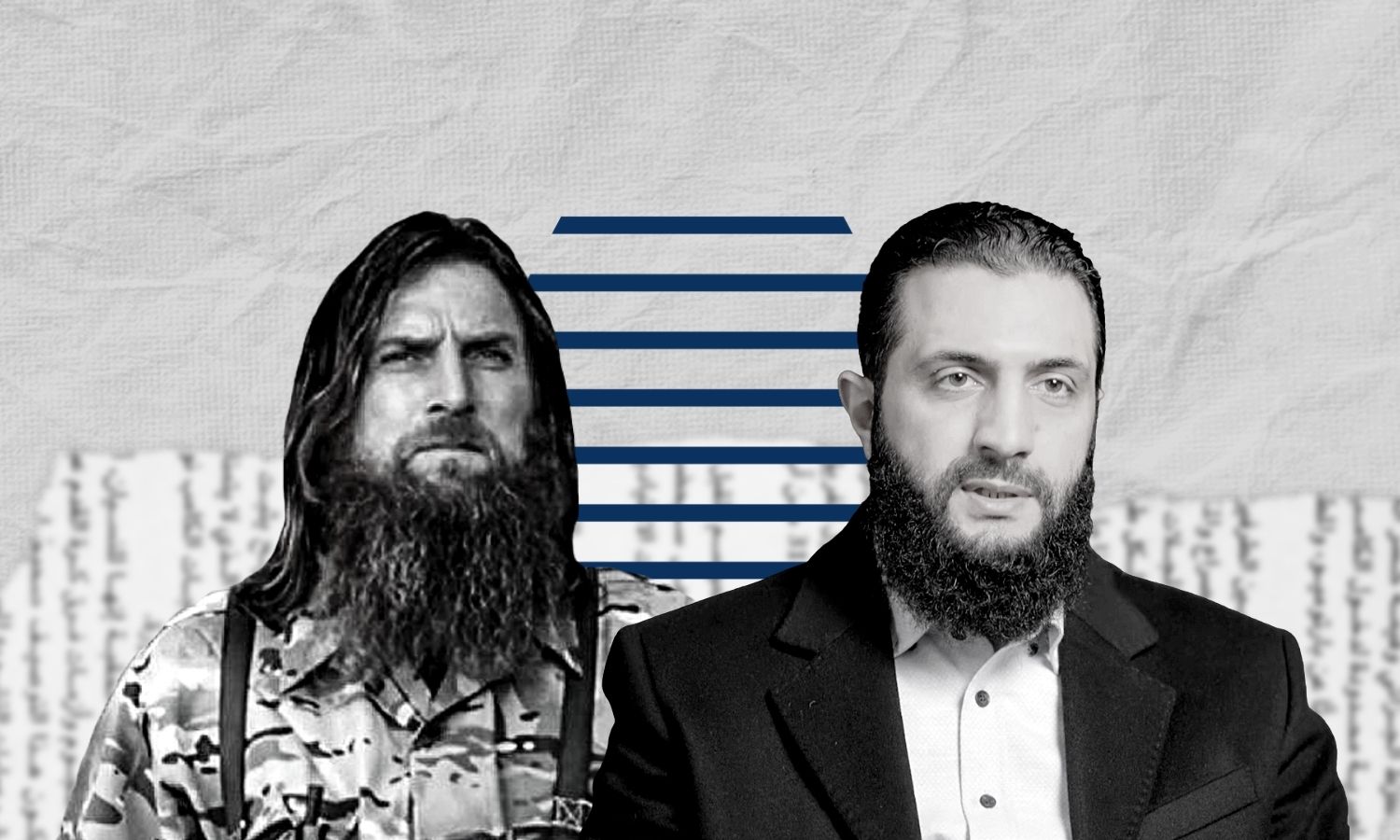 Enab Baladi – Ali Darwish
Having consolidated its power and hegemony on Idlib governorate and Aleppo's western countryside by pushing back major military factions like the Ahrar al-Sham and Nour al-Din al-Zenki movements from its region, Hayat Tahrir al-Sham (HTS) shifted its focus to "jihadist" groups, especially those whose military composition is predominantly foreign fighters.
Since 2018, HTS has expanded its control over Idlib governorate, part of Aleppo's western countryside, the Syrian coast's mountains, and the al-Ghab Plain in northwestern Hama. HTS is considered the dominant military group in the aforementioned regions despite the presence of the National Liberation Front (NLF) and the Jaysh al-Izza that have merged under the al-Fath al-Mubeen operations room.
Today, HTS adopts a new strategy towards "jihadist" groups that had previously assisted it since its early emergence in Syria under the name of al-Nusra Front for the People of the Levant, which later became known as Jabhat Fath al-Sham in 2016 to merge then with other factions under the current name of Hayat Tahrir al-Sham (HTS). 
The recent case of Junud al-Sham, a multiple Sunni Islamic "jihadist" militant group led by Muslim al-Shishani, has caused heated debate between HTS supporters and opponents who encourage "jihadist" groups after HTS asked al-Shishani to dissolve the Junud al-Sham faction and leave Syrian territories or else join HTS ranks.
HTS's new policy towards Junud al-Sham was preceded by several similar approaches, through which HTS sought to oust "jihadist" groups from the region to rebrand itself before the west, according to HTS opponents.
The case of Junud al-Sham
HTS' intentions towards Junud al-Sham appeared to the surface at the end of last June and continue to exist to this day, that is, to give the faction of Chechen militants the choice of either to join HTS ranks or leave Idlib. 
In a voice recording released on 16 July, al-Shishani mentioned that HTS raided military headquarters in Jabal al-Turkman searching for him after a week's notice to leave Syrian territories, which he considered insufficient to prepare himself and the faction for leaving. 
Al-Shishani pointed out that all Chechen militants in the Junud al-Sham faction, including himself as their leader, intend to leave Syrian soil.
Al-Shishani's original name is Murad Margoshvili, also known by his nom de guerre Muslim Abu Walid al-Shishani. He descends from Chechen tribes living in Georgia.
In September 2014, the United States' State Department listed al-Shishani as a leader of an armed terrorist group in Syria and accused him of establishing a base for foreign militants in Syria.
Disbanding "jihadist" groups; a further step towards rebranding
Professor and researcher in Islamic groups Abdul Rahman al-Haj told Enab Baladi that the dismantling of military groups classified as "terrorists" falls within the framework of "combating terrorist organizations in compliance with international agreements."
Al-Haj added that HTS aims at rebuilding its image by erasing its classification as a "terrorist" group to be viewed instead as a local and national organization that could serve as one of the local forces ensuring the region's security.
Even though Junud al-Sham is no rival to HTS, the presence of foreign fighters, especially those who belong to countries that are part of the Russian Federation, constitutes a source of constant pressure on Turkey, the influential force in opposition-held areas, and on HTS. Moreover, the existence of "terrorist" classified groups in the region provides Russia with an excuse to continue its hostilities.   
According to al-Haj, the dismantling of Junud al-Sham could be understood in different contexts, first of which is that this move comes to strip Russia of any ready-made justifications to attack the region even though Junud al-Sham represents no danger to Russia.
In a local context, HTS wants to rebrand itself within the framework of international relations and international perspective on the subject of terrorism. In addition, HTS is seeking to have a role as a potential local partner in the region.
Junud al-Sham is not among the top known factions in northwestern Syria, with its formation limited to hundreds of fighters deployed on the battlefields of the Syrian coast, of which the majority are foreigners. 
Junud al-Sham was formed in Syria in 2013 by foreign fighters, mostly Chechens in northwestern Syria. With military experience gained during the first and second Chechen wars against the Russian army, al-Shishani was considered eligible to lead the faction.

After frictions between opposition factions and the Islamic State (IS) in early 2014, al-Shishani pledged allegiance to IS and took command of the Junud al-Sham faction. He positioned his fighters of about 300 on the Syrian coast's battlefronts because of his great experience in battle planning in rough mountain terrains. 

Matching sources from opposition leaders told Enab Baladi that Junud al-sham fighters do not interact much with the Syrian society because of the language barrier. The majority of them do not speak Arabic and communicate using the Chechen language.

Early in 2016, weakness started to creep into Junud al-Sham faction as many of its fighters joined IS, following a deepened disagreement between opposition factions and IS and between opposition factions themselves.
A continuous approach
The disbanding of Junud al-Sham is part of HTS' efforts to expel foreign fighters from its areas of control. Foreign fighters constitute a challenge to HTS and place the area in a tense situation given that some foreign factions are linked to al-Qaeda, the mother organization of HTS, prompting the latter to want to remove any potential threat.  
According to al-Haj, all circumstances on the ground necessitate the eviction of foreign fighters, which remains the main challenge to HTS. The HTS succeeded so far in this mission and will continue to dismantle other groups.
"HTS has sought a very clear and ongoing policy towards foreign fighters. It is doing whatever it deems necessary to gain the international community's acceptance, which seems not far away from happening," al-Haj said.
He added that HTS will continue to pursue foreign fighters and that it will not allow the emergence of any group designated as "terrorist"  to avoid another burden. 
Foreign fighters are likely to be evicted from Syria in the near future, with possible exceptions for some individuals but not for factions or groups, al-Haj said.
The exceptions include the Turkistan militants who are part of the Syrian branch of the Turkistan Islamic Party (TIP). They have a special situation, particularly after the TIP Syrian branch was delisted as a terrorist organization for having strong ties with regional powers. 
According to al-Haj, HTS managed to bring about significant changes in its relations, role, and discourse. "Today, HTS is the only organized group that possesses a centralized security force and discipline. It has abandoned the 'jihadist Salafist ideology, and played significant roles in removing other 'jihadist' organizations classified as 'terrorist' from the region."
All "jihadist" organizations (Salafist jihadist groups) whose ideology has not changed, or which still have foreign fighters, "will be dismantled, including the Guardians of Religion organization, to gradually rid the region of foreign fighters," al-Haj said.
"Jihadist" groups, mainly the Guardians of Religion (the Syrian branch of al-Qaeda), accused HTS of acceding to international agreements, primarily the Astana talks between the three guarantors (Russia, Turkey, and Iran).
Since the first half of last year, HTS tightened the noose on "jihadist" groups and pursued those who defected from it and established independent factions, such as its former leader, the prince of Qalamoun and Rif Dimashq Abu Malik al-Tali.
It also went after internationally wanted leaders, particularly by Russia, such as Abu Salah al-Uzbeki. HTS arrested and released the "jihadist" leaders last year, forcing their presence to diminish. 
June 2020 witnessed clashes between HTS and the Be Steadfast operations room, which included prominent "jihadist" factions, primarily the Guardians of Religion. The fighting ended with an agreement preventing the deployment of any roadblocks or military action against Syrian regime forces unless coordinated with the al-Fath al-Mubeen operations room, which includes HTS and other moderate factions.
if you think the article contain wrong information or you have additional details Send Correction