No security permits: Aleppo residents hit by regime's new arbitrary real estate measures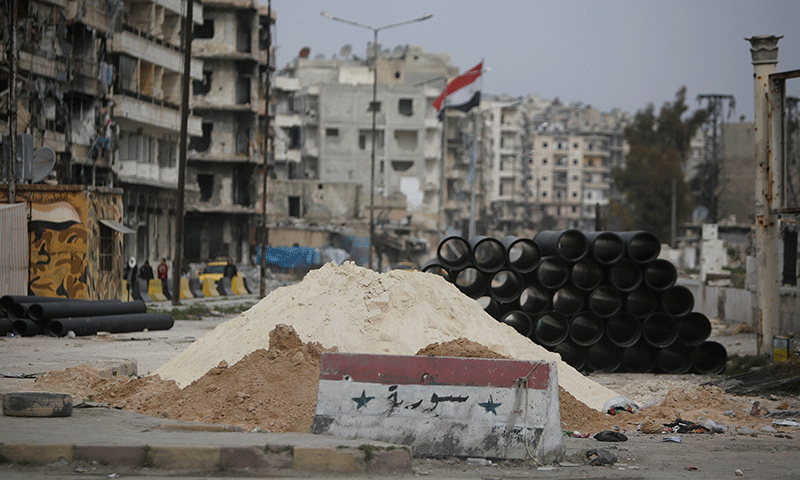 "The granting of security permits became subject to close scrutiny, turning inaccessible to certain [applicants] about two weeks ago. Evaders of compulsory military service and reserve service and those prosecuted, particularly relatives of opposition fighters who remained in Aleppo, are denied these permits," Jawad told Enab Baladi.
Using a pseudonym, Jawad—who owns a real estate office in the al-Ethaa neighborhood in Aleppo city— said that people wishing to transfer their real estate ownership in Aleppo governorate, northern Syria, have been lately forced to undergo the arduous process of obtaining a security permit, mostly getting none.
He added that "security permits were always at hand, but recently [authorities] stopped granting permits almost entirely." 
In 2015, the Syrian government issued circular No. 4554 instructing the Local Administration Ministry to include property sell, lease, and leasehold assigning of houses and commercial shops to transactions requiring an in advance security permit from relevant authorities. This measure posed additional challenges to already burdened Syrian citizens and hampered their access to the right to freely dispose of their properties.
Regime officials claimed that the circular was issued to prevent the purchase or rent of real estates by "terrorists," who would transform them into headquarters, as well as protect property ownership rights from loss or forgery.
The circular authorized the real estate registrar to demand a security permit before registering transactions of property transfers in the cadastre, even when parties to the transaction are granted a final court decision.
Those willing to pay an amount of up to two million Syrian pounds (625 USD) can still obtain security permits in less than an hour, according to Jawad.
During property sale transactions in Aleppo, relevant authorities contact the seller or property owner, or their agent— holder of a power of attorney, to confirm the identity of persons involved in the transaction, Jawad added.
He mentioned that, in Aleppo, parties to a transaction have to adhere to two measures to be allowed to proceed with real estate selling transactions. "A fingerprint analysis conducted by the Criminal Security Branch to verify the identity of the seller or agent, thus preserving property rights. And obtaining a security permit from the Political Security Branch." 
A resident of the al-Kalasah neighborhood in Aleppo, who asked not to be named for security reasons, recounted to Enab Baladi his experience in trying to obtain a security permit from the Political Security Branch of Aleppo governorate.
He said, "I started the selling procedures after my family traveled abroad and assigned me as their agent to sell our house in the al-Kalasah neighborhood and complete all related undertakings."
He went on to say, "The Political Security Branch refused to grant me a security permit. I even offered one million Syrian pounds (SYP = 300 USD) to a warrant officer in the branch, but he refused to help me because one of my brothers was involved with the opposition factions while they were in our region and died in the bombing. Without the permit, I will not be able to proceed with the selling."
Enab Baladi's correspondent in Aleppo city said that security permits are issued by the security and military committee, founded for this exact purpose.  
Due to the security permit prerequisite, people might fall into a long and complex legal struggle, while only seeking to implement a court decision granting them the right to transfer property ownership.
Individuals are required to obtain a quittance certificate from the finance directorates of the Syrian Ministry of Finance, which is only possible after submitting a security permit application that may take up to ten days to be answered. 
Parties to the property transfer transaction are denied the security permit if any is wanted for security-related issues, regardless of what they may be, or is an evader of mandatory enlistment or reserve military service. 
Offenders or felony-charged individuals who served an imprisonment sentence would not be granted the security permit too.
The security permit prerequisite has been contributing to stagnation in the real estate market and the Syrian economy, which might turn into a long-term situation. Ungranted permits have impeded citizens' access to cash coming from real estate sales and hindered potential investment projects.
The security permit prerequisite imposed by security apparatus to dominate various aspects of social life in Syria is at odds with the Syrian Constitution, which guarantees individuals' right to a variety of practices, including those pertaining to properties. 
The selling of houses and shops increased in Aleppo city, following statements by Brigadier General Elias Bitar, the head of the Exemptions and Reserves Branch in the Syrian regime's army. Appearing in a video, on 6 February, he said that a decision could be passed, enabling the seizure of monetary assets and property of military service evaders or their relatives for not paying the exemption fees after reaching the age of 42.
The Syrian Ministry of Foreign Affairs and Expatriates denied the decision less than 10 days after the release of Bitar's video. However, residents in areas controlled by the Syrian regime are still concerned over the statements.
Families inside and outside Aleppo city offered their houses and properties for sale in February, fearing that they would be seized because some of their relatives abroad might have evaded mandatory service or failed to pay the exemption fee.
---
This report was prepared with the contribution of Enab Baladi's correspondent in Aleppo Saber al-Halabi
if you think the article contain wrong information or you have additional details Send Correction